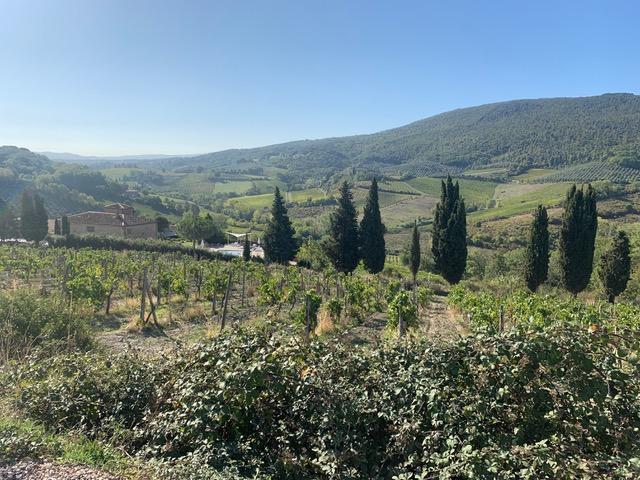 I really love Italy. Last month's trip was my fourth visit there. But each visit always feels like the first time. It is truly a breathtaking place. And the Tuscany region, famous for its dramatic landscapes, picturesque old towns, food, art, and history, is more than everything I expected.
The last time I was in Italy, I was single and had just ended a long-term relationship. I was traveling alone and worrying about ending up single and alone for the rest of my life. I was not exactly young at that point in my life. My heart ached excruciatingly for most of the time, but there were moments that I was surprisingly fine. Looking back, I believe my last trip to Italy has helped me become a stronger person. Ten years later, I came back with my husband and two kids.
San Gimignano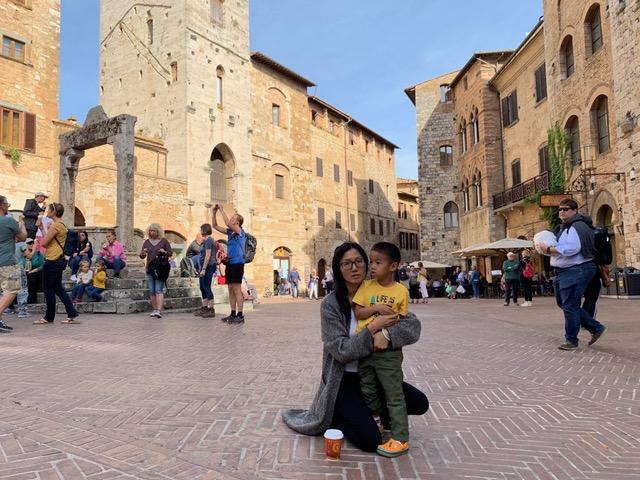 It felt good going back to San Gimignano. The town with more than ten of its original 72 towers still standing dates back to the ancient times. I think it is one of those popular destinations that are worth a visit even if you do not like being around places that tend to get crowded with tourists. Strolling around the town's historic center is one of my favorite things to do here. I also love the spectacular views of the surrounding countryside.
Siena
Like many of Tuscany's charming old towns, Siena dates all the way back to the medieval times. Its historic center is a UNESCO World Heritage Site. It is one of those places in the city where you can still see well-preserved traces of the past. Seeing the clock on the façade of the iconic Torre del Mangia (Tower of the Eater) again brought me back to ten years ago. Being there reminds me of how time changes everything and yet some things have a way of enduring. If I can tell my old self what I know now, I would say: Go enjoy yourself and stop worrying about the future. Go backpack and travel for a few months, all will be good.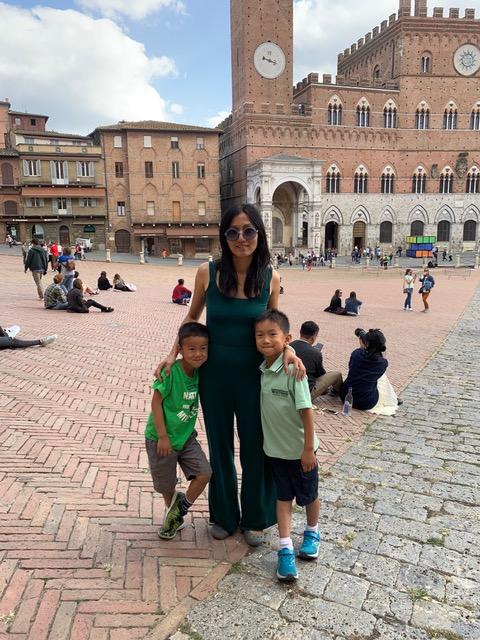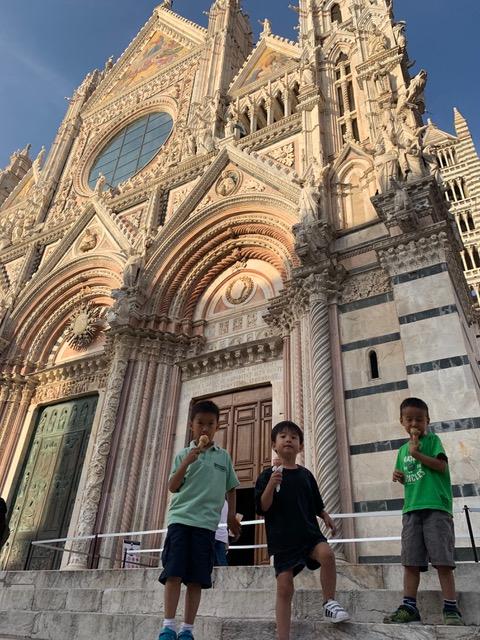 Siena Cathedral (Duomo di Siena)
But of course, I did not take that advice ten years ago. My mind was too focused on being single and finding a husband. I do not know where this single-minded focus on getting married came from. Maybe from the pressures of meeting societal and cultural standards.
I thought that as long as I get married and have kids, I would be happy and all my problems would go away. That is the farthest from the truth. I love my family and I am extremely grateful that they are in my life. But the funny thing is I find myself still worrying and this time it about losing all that I love.
So I guess the point is it is easy to set some kind of future goal and think once you obtain that you will be happy. Well, I got news for you. It does not work that way. You have to be happy and content in the present moment otherwise it will always be a vicious cycle.
Volterra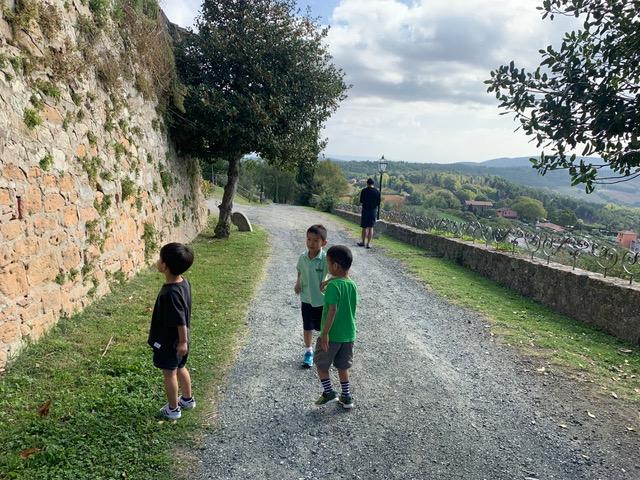 Looking for lizards on the wall. In Gambassi Terme on the road to Volterra.
Another place we visited was the walled medieval town of Volterra also in Tuscany. Some of the interesting sights here are Etruscan Acropolis and other archaeological finds. Not to mention the natural scenery.
While I find Tuscany to be not as veg-friendly as other places I have visited, Volterra has a few surprises. I was happy to find Lisola Del Gusto Gelateria that has a delicious vegan vanilla gelato.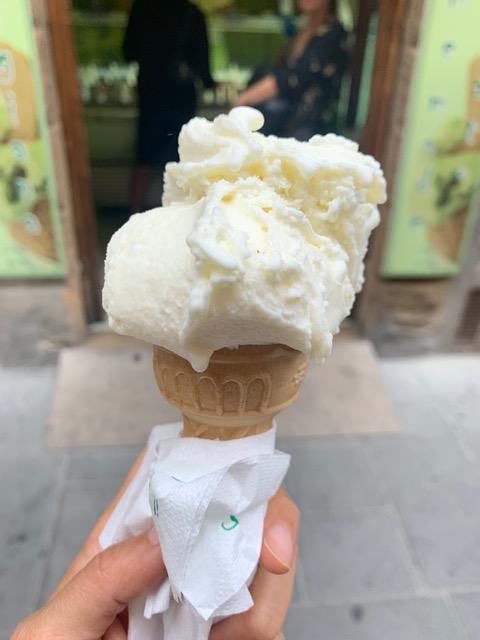 We also stumbled upon a 100% plant-based breakfast and lunch place called Life Bistrot. It was the only vegan restaurant in Volterra that we can find. It seemed almost ahead of its time to be there.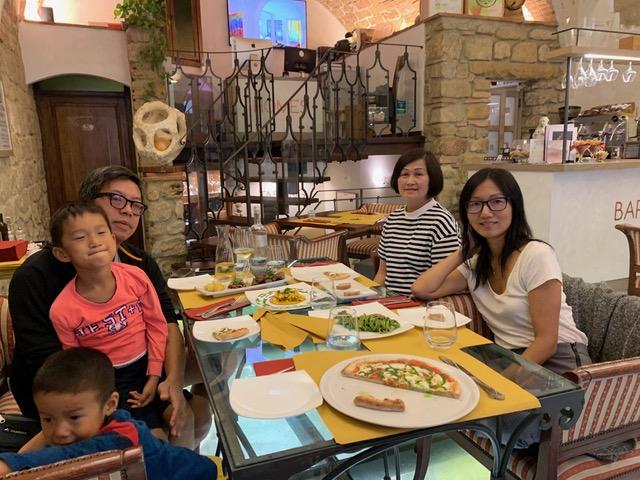 Life Bistrot was fascinating not just because of its commitment to sustainability. It is also home to an interesting attraction – a well-preserved Etruscan Well dating back to the 5th to 4th century B.C. which can be seen through the transparent glass floors. I enjoyed our lunch there as well as the brief chat I had with the hospitable and kind owner.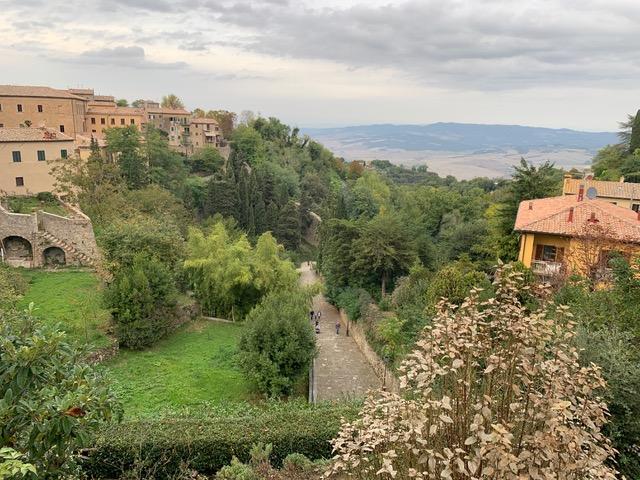 Italy is enchanting in ways that no words or photos can truly capture. There is this feeling of timelessness. And a distinct sense of the enduring. Ten years have passed since my last visit. I am different, but still the same in many ways – much like this place that I love.