Lockdowns in the Philippines started at midnight on March 15, 2020 in Metro Manila. Other cities across the country followed soon after. Davao City implemented its community quarantine beginning April 4th last year. And since then, life has not reverted to pre-corona days. Life in lockdown continues. Eating out seems like a distant memory to me now. But spending most of my time at home led to some delicious discoveries. And here are just some of them.
VEGAN CHOCOLATE CAKE, BROWNIES, AND COOKIES FROM SAKURA CONFECTIONS
Sakura Confections' vegan chocolate cake was moist enough to suit my taste. It looked pretty topped with crushed pistachio and dried rose petals. The Twix Bar Blondies is made with peanut butter and chocolate -- two of the best things in this world in my book. The Triple Chocolate Chip Cookies was chocolatey and crunchy thought it was a bit dry for my taste.
Vegan chocolate cake
Brownies
Twix Bar Blondies
Triple Chocolate Chip Cookies
VEGAN MATCHA DOUGHNUTS FROM NATURAL CRAVINGS BY KEN LIM
I am so glad I tried this. I almost passed it up because I am not much of a fan of doughnuts. For sure I would eat one if it is right in front of me. But I would not go out of my way to buy them. But the photo of the matcha flavored doughnut they posted online looked tempting. So I ordered a half-dozen box, which I quickly regretted after the first bite. I should have bought at least a dozen. Their matcha doughnut, made with chia, flax, and with malunggay (moringa) mixed in the dough, was chewy, moist, not too sweet, and had a rich matcha flavor.
Vegan Matcha Doughnuts
VEGAN BREAD WITH CHERRY TOMATOES AND HERBS FROM THE BAREFOOT NYMPH
I ordered this from an online seller who posted a photo of it on a local vegan group page on Facebook. The homemade bread was made with rosemary and homegrown cherry tomatoes. It was moist and tasty -- just like how I like my bread.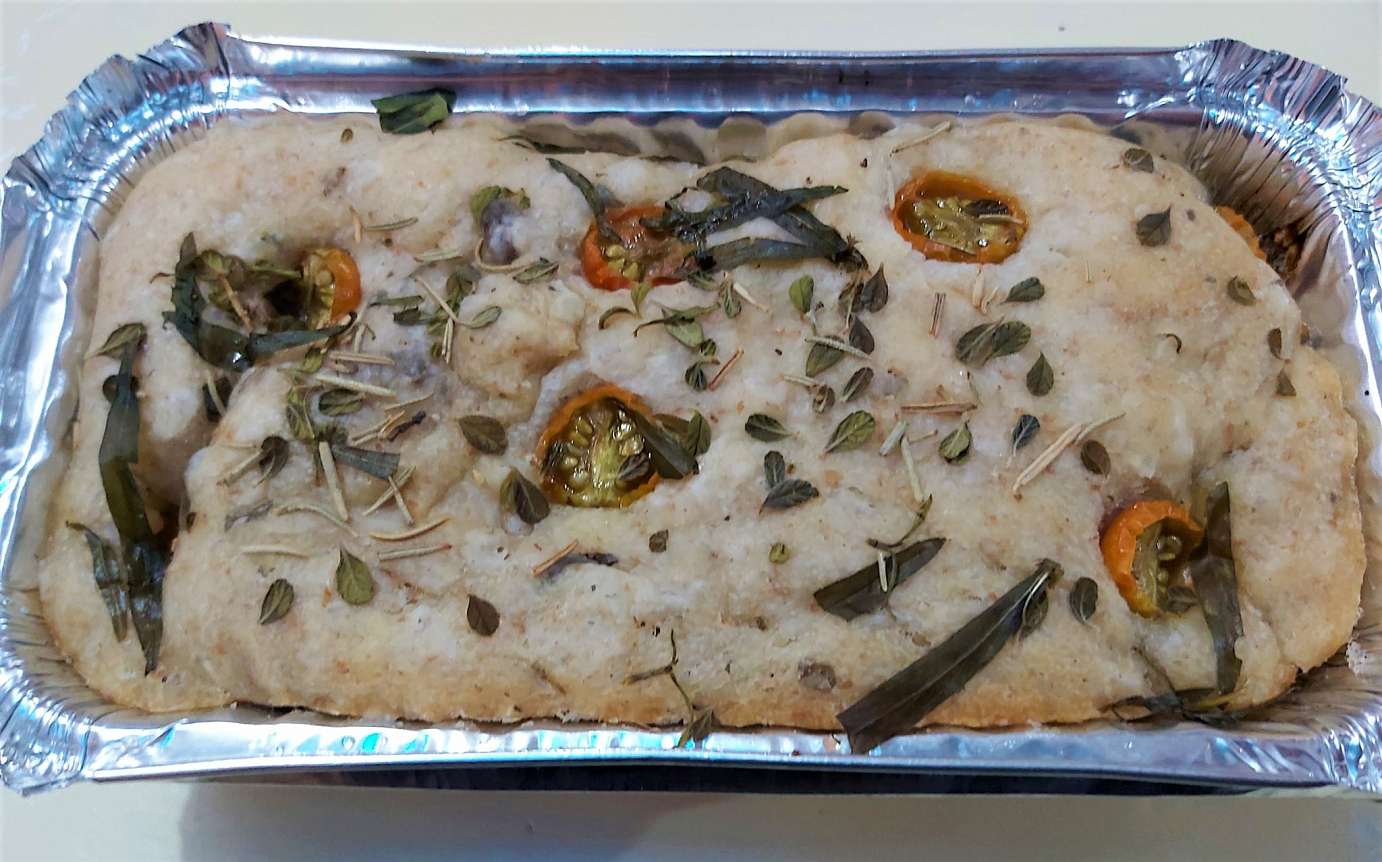 Vegan bread
DAIRY-FREE TAHO PUDDING AND UBE YAM FROM THE FRUIT UNICORN
Taho is a popular snack food in the Philippines made with silken tofu mixed with sago pearls and brown sugar syrup. Many are familiar with the distinctive call of taho vendors in the morning peddling their product in neighborhoods and streets across the country. But since the pandemic began, I have not seen or heard a taho vendor in our neighborhood. So I was happy to find an online seller selling taho pudding in different flavors -- oat milk, strawberry milk, and banana milk. They also sell another well-loved Filipino dessert -- the ube halaya. Their veganized version is made with 100% pure purple yam and dairy-free milk. It is the best tasting vegan ube halaya I have tried so far.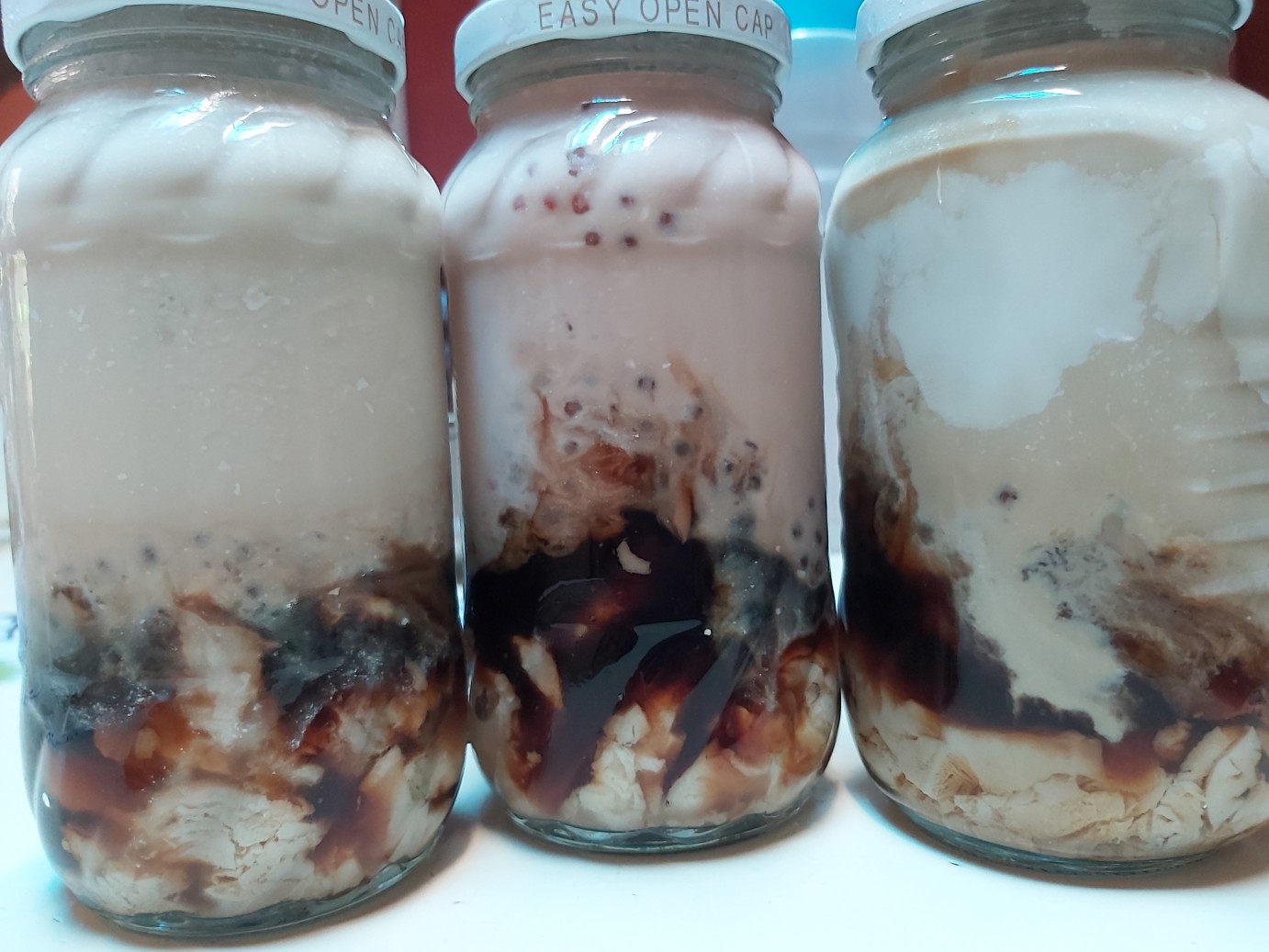 Taho pudding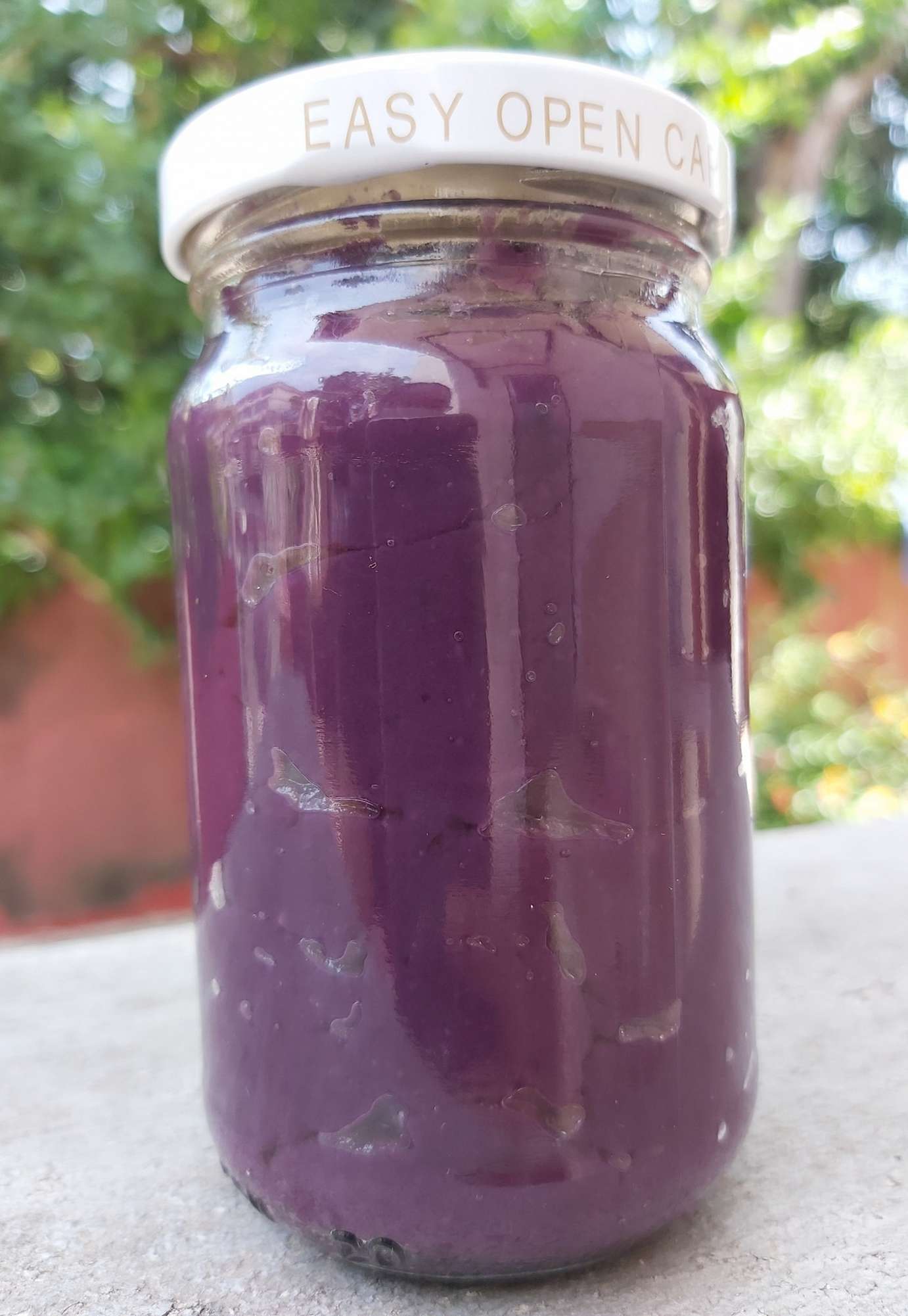 Ube halaya
VITASOY SOYAMILK CAFÉ FOR BARISTA
I like my coffee creamy but some plant-based milk do not give me the consistency and texture I am looking for. I bought the Vitasoy Soyamilk Cafe for Barista online because it was so hard to find in the supermarkets here.
Soyamilk cafe for baristas
VARIOUS PRODUCTS VIA THE VEGETARIAN HAVEN
I pre-ordered the plant-based Milo, Nescafe Gold Coconut Latte and Oat Latte, and Massel Vegetable Stock Cubes from The Vegetarian Haven. They had to import these products so it took over a month before I got them. The Vegemite was a last-minute and impulsive addition. I still have not touched it again after I tried it the first time. I think this product is an acquired taste -- something which I doubt if I will ever develop.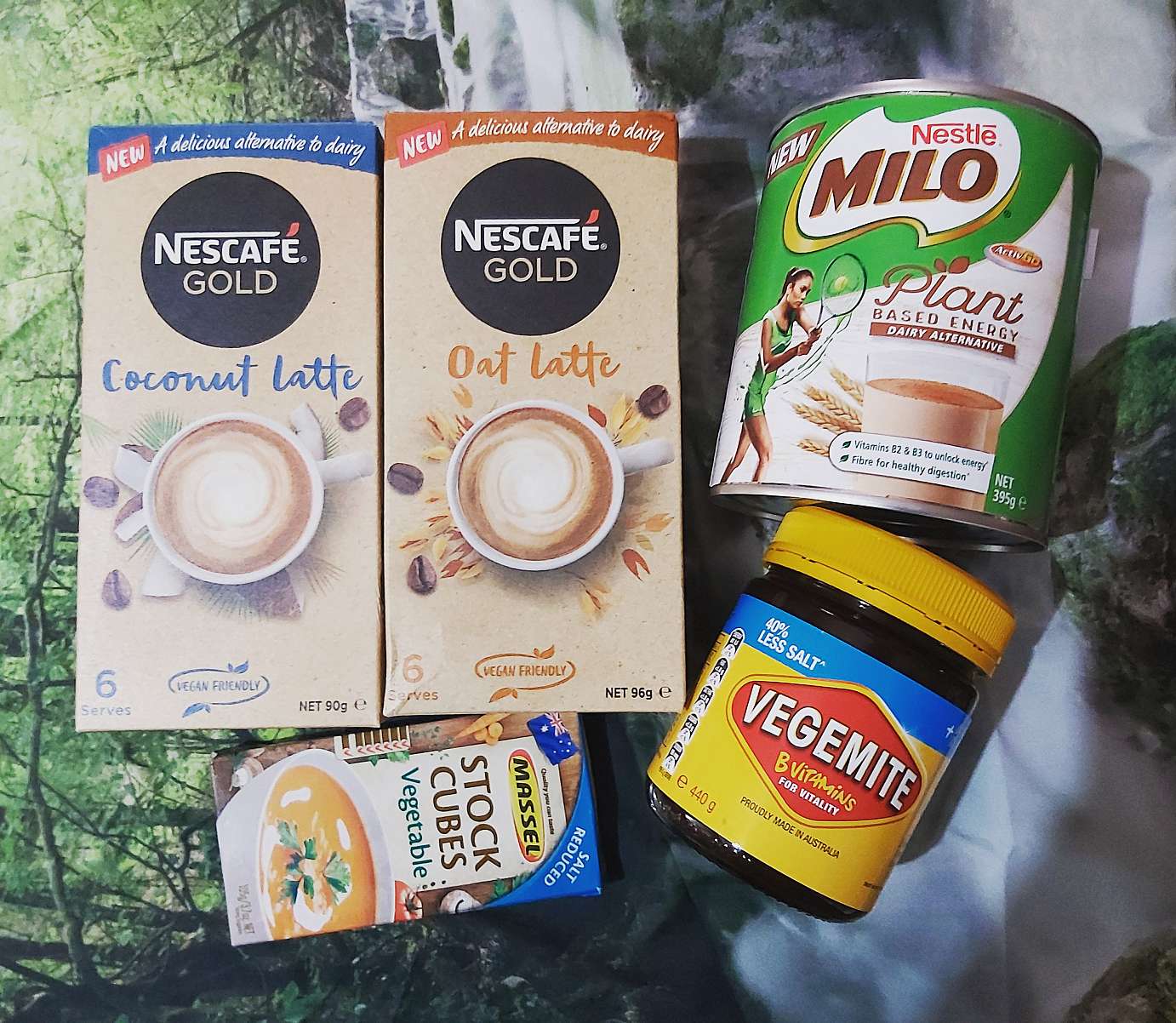 Plant-based Milo, dairy-free coffee, Vegemite, and veg stock cubes
CREAMY MUSHROOM RIGATONI, SHAWARMA RICE, AND OMNIPORK LUNCHEON FROM KINDRED CAFE
Kindred Cafe opened in 2020. It is located in the opposite side of the city from where I live so I still have not been able to visit it. But with food delivery as an easy and better option at this time I was able to try some of the food on their menu. I love their Creamy Mushroom Rigatoni which was seasoned perfectly for my taste. The Shawarma Rice was also delicious although it is something I would enjoy served warm when dining in.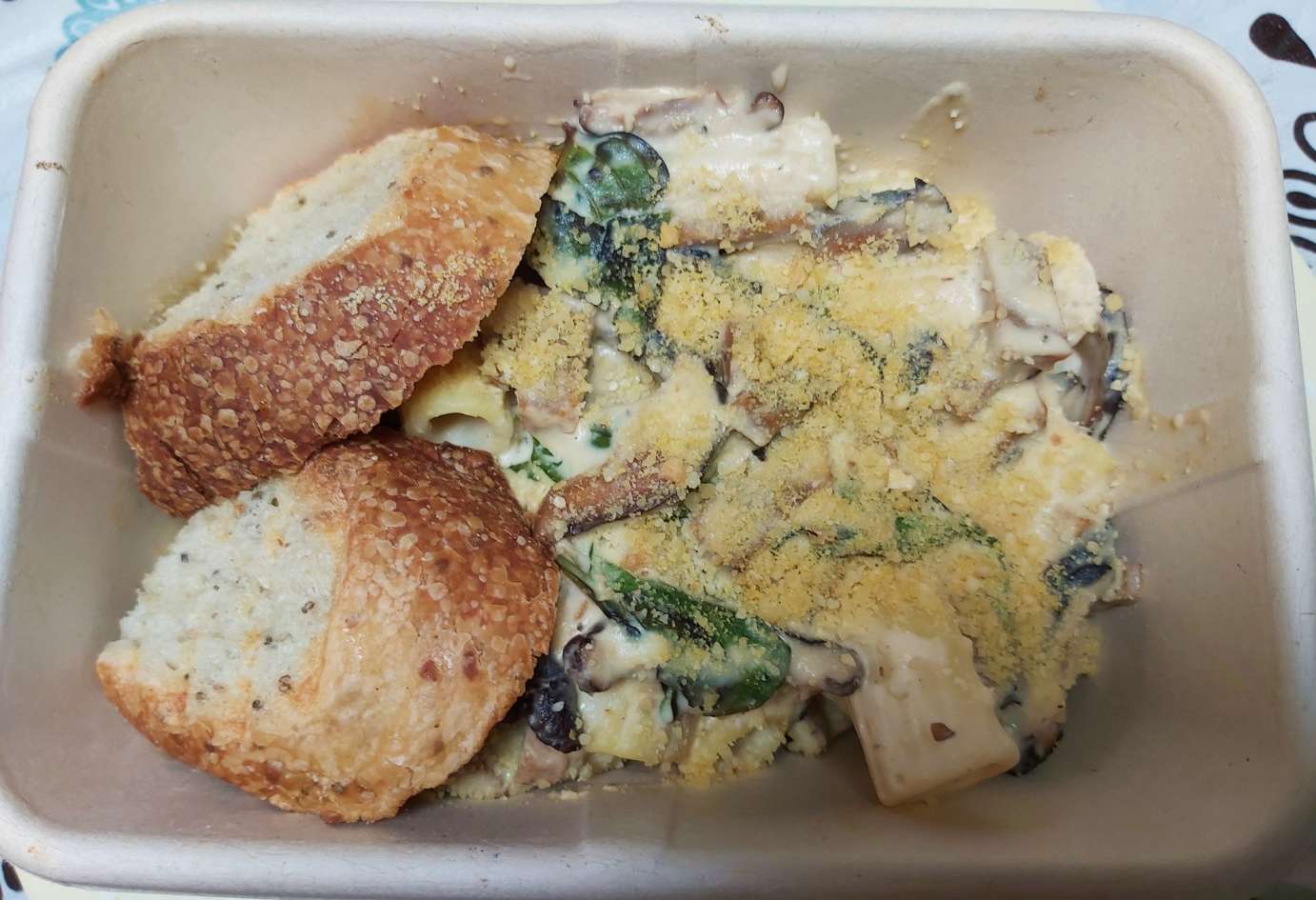 Creamy mushroom rigatoni
Shawarma rice
The OmniPork Luncheon, however, was another pleasant surprise during this pandemic. I have been waiting for a long time to try it since that time I read on the news that it will become available in the Philippines in 2020. Thankfully, Kindred Cafe is also selling them so I was finally able to try it. I am not really into meat alternatives. But I usually try new products I find out of curiousity. I am not often a repeat buyer of plant-based meats. But this vegan luncheon meat may just be the exception. It is good so I would likey buy it again.
OmniPork Luncheon (a.k.a. vegan spam)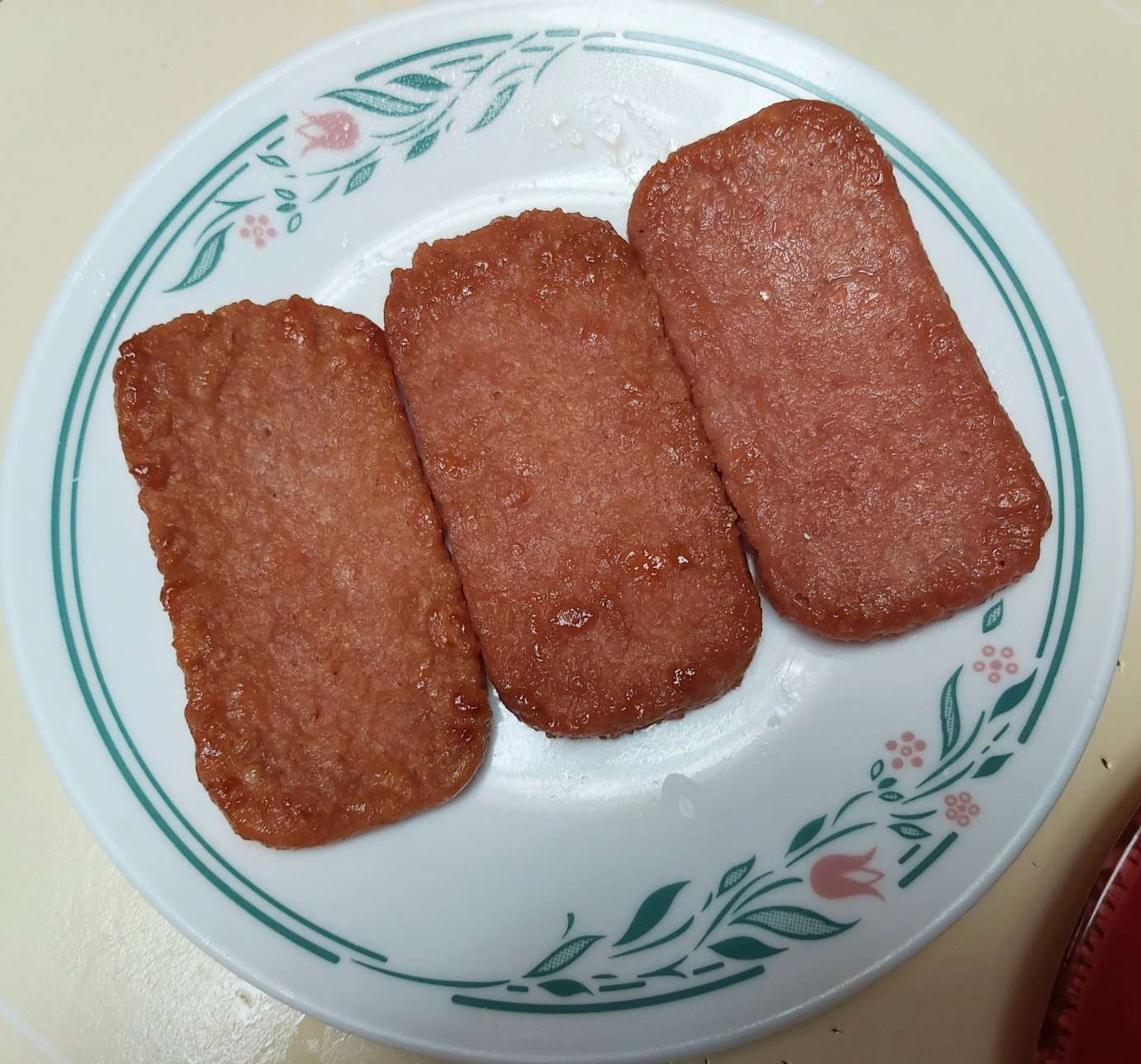 Cooked OmniPork Luncheon
VEGAN TABLEYA MOIST CAKE FROM GREEN TABLE
This cake lives up to its name. It is really moist and so chocolatey that I could savor the richeness of the tableya they used. A small slice of this is so filling that I had trouble finishing the whole cake I ordered. I tried a plant-based tableya cake last year which was dry and disappointing. So I was a bit hesitant to try this tableya cake thinking it may turn out to be like the one I tasted before. But my innate curiousity prevailed so thought I would at least try. Good thing I did because it may well be the best tableya cake in the city.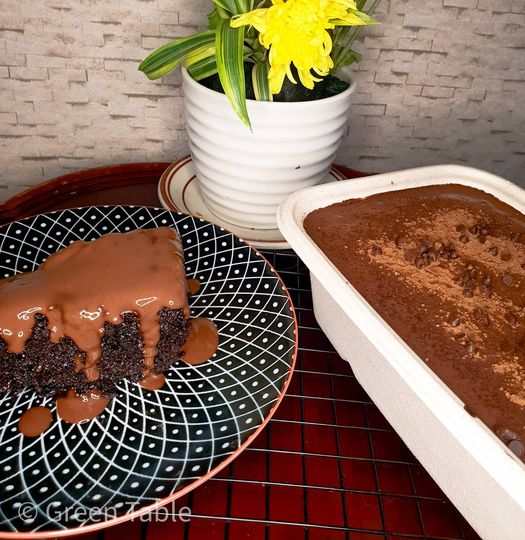 Photo from the Green Table Facebook page
RICE RAMEN BY LOTUS FOODS
The Jade Pearl and Forbidden Rice with Miso Soup variants of Rice Ramen by Lotus Foods are the healthy-tasting instant noodles I never knew I needed. The Jade Pearl is a traditional Japanese-style noodles made from rice and infused with chlorophyll-rich, wild-crafted bamboo extract according to the packaging. The Forbidden Rice variant, on the other hand, is made from heirloom black rice. Both tasted nutritious but the Jade Pearl stood out for me. It was surprisingly light and refreshing. I imagine it would taste even better as cold noodles.
Jade Pearl Rice Ramen and Forbidden Rice Ramen
What they say about good food making everything better is true. No matter how difficult things get, food makes life more bearable.