Blog
By Irene Causing-Orcullo • May 25, 2018
Siquijor is probably one of the most underrated destinations in the Philippines. But this may soon change as more people are beginning to discover its charms. Known as the Island of Witches and the Mystic Island, Siquijor has stayed mostly under the radar except for adventure seekers and backpackers who have explored it, many of whom have chosen to stay there indefinitely or for good.
---
By Mhegan Lee • May 24, 2018
The people's warmth and hospitality, the wonderful attractions including the 37 UNESCO World Heritage Sites spread across the countries of Cambodia, Indonesia, Laos, Malaysia, Myanmar, the Philippines, Singapore, Thailand, and Vietnam; the culture, and traditional cuisines -- these are just a few of the top reasons why Southeast Asia should be on your radar. Not to mention best value for money, especially if you avoid the tourist traps and get off the beaten tracks. Home to exotic fruits and abundant produce, it can be a fascinating place for vegans and vegetarians to visit. Still, it may not always be easy being a plant-based traveler in the area. So it helps to come prepared.
---
By Jercyl Lerin • May 21, 2018
A growing number of airports worldwide are stepping up their game to make long layovers a more pleasant experience for passengers - think golf courses, skating rinks, and cultural attractions among other offerings. Istanbul Atatürk Airport is one of those places where you could look forward to interesting layovers. It is an immersive experience waiting to happen. Whether you choose to spend the time at the airport or head out into the city, prepare to get your senses overwhelmed and your mind blown by the myriad of things to explore, absorb, savor, and enjoy. With so many options to choose from, here are some of the things to do on a long layover in Istanbul.
---
By Tina Chau • May 16, 2018
We are excited to share with you our interview with Caitlin Galer-Unti, founder of The Vegan Word and author of The Essential Vegan Travel Guide and the Barcelona Vegan Guide. Caitlin spent her childhood in the US and her adult years in the UK. She is vegan since 2008 but was already a long-time vegetarian before that. Whether you are looking for ideas on veg-friendly places to visit or some inspirations to fuel your wanderlust, read on to find the fascinating travel stories and tips she shares with us.
---
By Mhegan Lee • Apr 27, 2018
For vegan travelers, Shanghai may seem like a daunting place to visit because of its mostly meat-centric culture. But unbeknownst to many, there is a growing community of vegan and vegetarians in China's largest city. Not to mention the booming veg food scene. Whether you are looking for travel inspirations or ideas for your next destination, here are some of the best reasons why Shanghai should be on the top of your list.
---
By Alison Trigg • Apr 23, 2018
Vegan travel is not hard. But it is not always easy either. While there has been an uptick of veg-friendly dining options across the globe, there are still places where being a veg traveler can be a tad tricky or downright difficult. So how do you eat off the beaten touristy paths when traveling around the world as a vegan?
---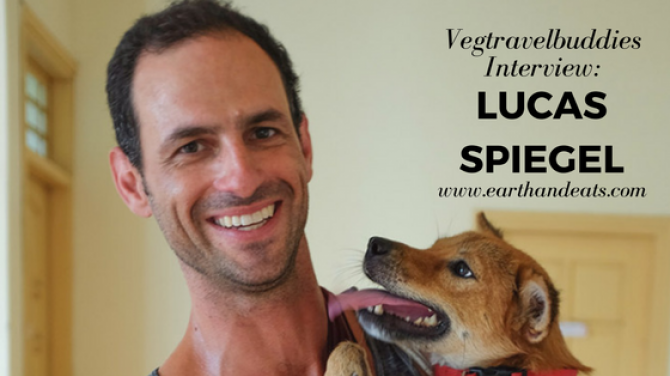 By Tina Chau • Apr 13, 2018
Today we feature our latest interviewee Lucas Spiegel, founder of Earth and Eats and Haven Hearts which is a vegan dog treat business that donates all its profits to animal sanctuaries. Lucas is one of those people who left their jobs to travel the world. He spent 22 months circling the globe and volunteering in animal sanctuaries. In this interview, he shares his travel experiences, the vegan food scene in some of the places he visited, and some great tips and advice on traveling as a vegan.
---
By Jercyl Lerin • Apr 10, 2018
Finding veg-friendly places to eat may not always be easy when you are traveling as a vegan off-the-beaten-track. But as long as there is a farmers' market or food market around, there is no reason to worry about where you will get your next meal. From fresh fruits and vegetables to a wide array of accidentally vegan or veg-friendly local delicacies, farmers' markets or food markets are among the best spots to explore and experience more of the places you visit. Whether you are looking for the freshest fruits or want to try veg-friendly artisanal products and other local treats, here are five of the best food markets from some of the world's top destinations that you need to visit at least once.
---