Discovering the local food scene and eating delicious vegan food is hands-down one of the best things about traveling. While there are too many scrumptious veg dishes we love to list at one go, we picked some of the most memorable vegan eats we found while on the road.
1. Gado-gado in Bali, Indonesia
Gado-gado
Bali was absolutely a paradise and a haven for vegan and vegetarian travelers. It was fairly easy for us to find plant-based foods. We stayed in a beautiful villa near the sea. Eating out was always a delightful experience and we stuffed ourselves with tasty local dishes. One of the best foods we tried for the first time was a popular Indonesian dish called gado-gado, which was naturally vegetarian. This made it easy for us to have it veganized. The dish typically consists of different vegetables like cabbage and gourd among others, slices of tempeh or tofu (or both!), and a creamy peanut sauce that is an amazing blend of sweet and spicy. It is one of the best local dishes to try in Bali.
2. Homestyle food in San Juan, Puerto Rico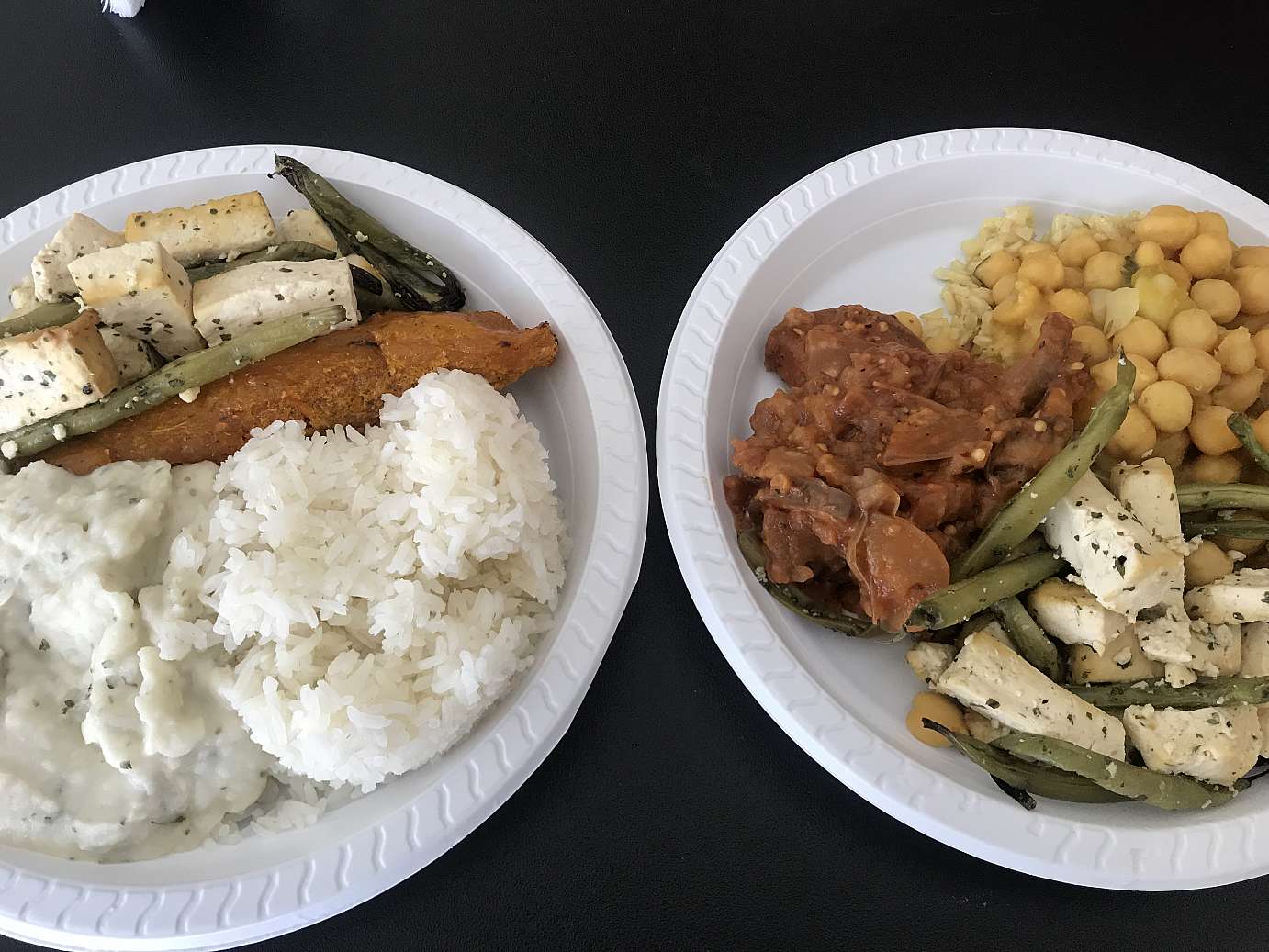 Delicious and hearty lunch at El Punto Vegano
At El Punto Vegano
We traveled to San Juan in Puerto Rico a few months back and enjoyed the city's gorgeous beaches and sights. And thanks to the HappyCow app, we were able to find El Punto Vegano -- an all-vegan restaurant with a wide selection of dishes. They serve generous portions for a fairly affordable price and has buffet-style dining as well. We had different types of flavorful dishes consisting of cassava, potatoes, tofu, and more. The cassava alcapurria (alcapurria de yuca) was so good!  Alcapurria is a Puerto Rican dish using plantains or yucca for the outer layer and stuffed with meat filling. The one we had at El Punto had cassava on the outside and vegan filling. We finished off this hearty meal with tasty pistachio and guava baklavas for dessert.
3. Ichigo daifuku in Kyoto, Japan
Ichigo daifuku at one of the street food stalls near Fushimi Inari Shrine (photo by Diane Lerin)
The Fushimi Inari Shrine is one of Kyoto's most popular attractions. As such, it can get really crowded with locals and foreign tourists. But despite the throngs of people, it somehow manages to preserve its tranquil atmosphere. Like many of the ancient city's top attractions, this shrine dedicated to the deity Inari Ōkami (the Japanese god of rice) is extremely fascinating to explore. Not to mention the lure of the mouth-watering array of street foods you will find near the main shrine. Ichigo daifuku is a delicious Japanese treat made with mochi or glutinous rice cakes with fresh strawberry and sweet red bean paste filling. Japanese strawberries are so good and they really make a great addition to this sweet snack.
4. Spiced quesadilla in Davao City, Philippines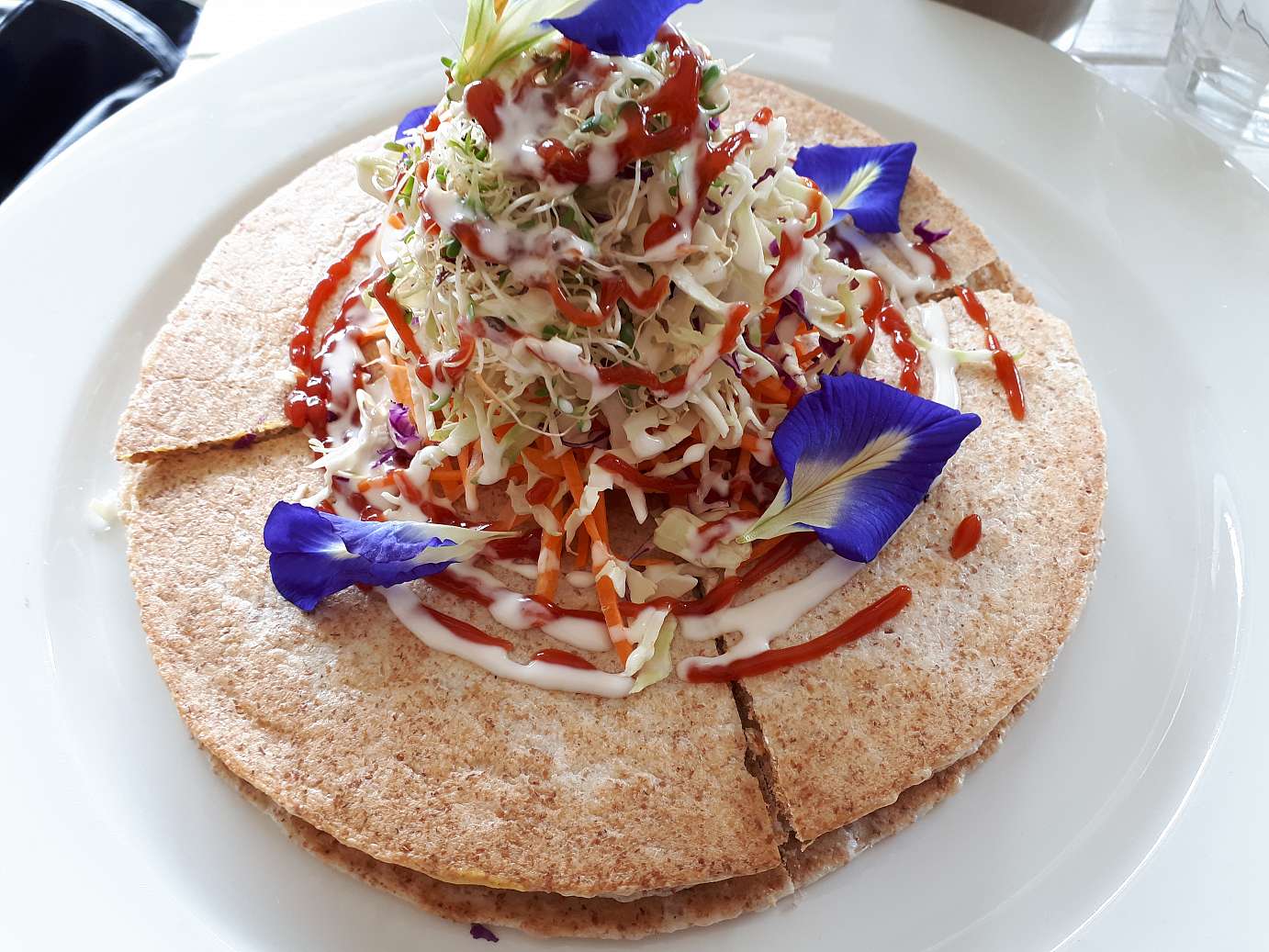 Spiced Quesadilla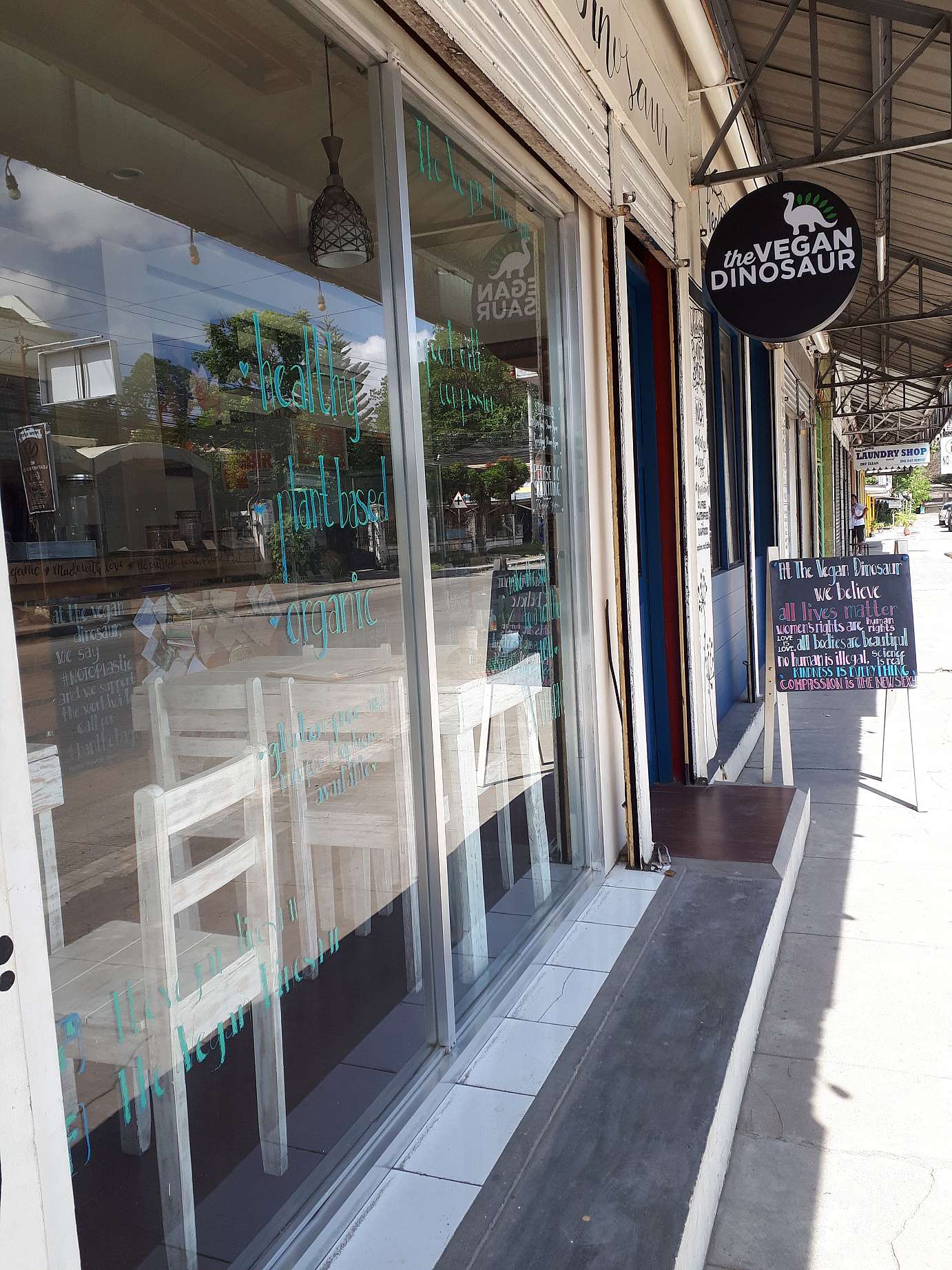 An all-vegan restaurant in Davao  
Davao City is an urban area in the south of the Philippines which also serves as the gateway to many of the region's beautiful destinations. While there is an abundance of fruits and vegetables, eating out as vegan or vegetarian can be tricky. The Philippines is not exactly veg-friendly as many vegan and vegetarian travelers who have visited it would say. Most of the local dishes have meat or use ingredients like bagoong (fermented fish or shrimp paste) or fish sauce. So we were really happy to stumble upon The Vegan Dinosaur which is an all-vegan restaurant located in the heart of the city. The menu features an extensive selection of dishes. We visited the place a few times and enjoyed all the food we tried. It is actually hard to pick one, but we will choose the spiced quesadilla made with whole-wheat tortilla, sunflower cheese, jalapeños, tomato, onion, sprouts, tomato sauce and sweet mayo dressing.
5. Veggie burrito in New York City, USA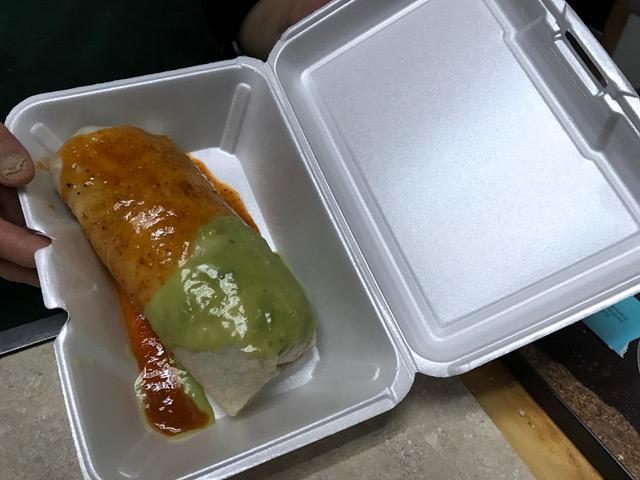 Veggie burrito
Zaragosa, NYC
New York City's vibrant veg food scene is always a fascinating thing to explore. It certainly does not come up short of vegan restaurants. There are just so many to choose from! But somehow the one that wins our hearts is this hole in the wall deli located in the east village called Zaragoza.  This is the world's best veggie burrito even sans cheese and sour cream.  It has become one of our top favorites that we love recommending to anyone visiting the city.