There is something about really inaccessible destinations that has the allure of nectar for independent travelers. Perhaps it's the satisfaction of knowing you are one of only 0.00001 percent of humanity who will ever experience the place. Or the reward of arriving somewhere exquisite after a long and arduous journey. Or the anticipation of boasting to your friends and family about all the adventures you had getting there. I guess it's something about earning your travel experience.
One such location is Kabak Valley, situated on the southwest coast of Turkey. Kabak is Turkish for 'zucchini' – which is quite apt, as the valley has a laid-back, vegetarian-friendly (if not completely veg) ethos and is a haven for simple-living alternative types and independent travelers.
Much of Turkey's Aegean shoreline has unfortunately been scarred by big touristic developments, but one mountainous area, the Tekke Peninsula, remains relatively untouched, save for a few simple hostels offering cheap accommodation in little wooden chalets. This peninsula is home to the Lycian Way – a marked path winding several hundred kilometers through the ancient proto-republic of Lycia, which in classical times witnessed episodes involving Alexander the Great, the Persian emperor Xerxes, Saint Nicholas and a host of other legendary figures.
You could reach Kabak by flying from Istanbul down to Dalaman Airport, bussing to the town of Fethiye and then riding a shared minibus until the dirt road comes to an end. But that would be just too easy – at least for someone like me, with my perverse tendency to make my own life difficult, by choice. No, I had to go the most challenging route, via the path, with its steep and rocky climbs, hostile thorn bushes, bone-dry pine forests and tantalizing views of the turquoise sea, way down below the cliffs.
It takes a good week to hike the Lycian Way to Kabak from the starting point of Olympos – another wonderful spot, aptly known as 'The Black Hole of Chill', which deserves its own full article. So when I finally reached there on a mid-May evening, after a sweaty 20 km trek, I was exhausted and in need of some comfort and TLC. This was amply provided by the Turan Hill Lounge – a lush, terraced oasis, full of overhanging flowers, grapevines, fig trees and little water pools, with an outside divan area that is seemingly suspended in mid-air between the the glistening bay down below and the mountaintops high above. It is lovingly managed by Ahmet, a world-music enthusiast, and his beautiful wife Ece ('Edje') – a very cool pair who abandoned their nine-to-five corporate lives in favor of this rustic Mediterranean existence.
After a very good night's sleep in my little chalet (basic, with a mattress on the floor – but there are also more luxurious options), I joined the other guests around a long wooden table in the shade of a grapevine, and tucked into the classic Turkish breakfast of white cheese, olives, honey, chopped tomatoes and cucumbers, hot and crusty fresh bread, fresh peaches and honeydew melon, and black tea, served in small glasses.
Then I headed out with some other guests on a boat excursion. About a dozen of us piled into the open wooden vessel, the captain (a small and grizzled man called Apdullah) yanked the engine cord and we chugged away from the beach. The morning sun warmed our backs and the rocky seabed was clearly visible, thirty feet or more beneath the clear blue water. We stopped at a cave at the mouth of the bay. It had a direct entrance from the sea, but could also be reached via an underwater tunnel. I dived in and swam through the tunnel, which was quite scary, as you have to descend into the abyss and then swim through darkness for a few meters before resurfacing inside the dank chamber.
Having explored the cave, we hauled ourselves back into the boat and took off again. I asked Apdullah if there were dolphins in the area. "Only very occasionally," he said. "They tend to stay out in the open sea." We continued to a beach a couple of kilometers away, next to the ruins of what was probably once an old Greek hamlet – this entire coast was ethnic Greek until the Turkish Republic removed them by force. After a couple of hours of swimming and examining the ruins – and a lunch of salad, cheese, bread and fruit – we headed back towards Kabak.
From the lip of Kabak Bay, we crossed over to a big rock promontory on the other side, connected to the mainland by a short strip of sandy beach. I decided to swim around the headland, from one side of the beach to the other. The distance was further than it had seemed, the sea was choppy, and I was physically tired…but as I came round the little peninsula I suddenly beheld the amazing sight of two dolphins leaping simultaneously out of the water and crossing each other mid-air – like something out of Disneyland. They were in precisely the same spot where I had asked Apdullah about the chance of seeing dolphins – as if they had appeared especially for my own benefit. I have read that dolphins are telepathic, and this really did seem to be proven true. Apdullah steered us closer to them but they shied away and continued playing a few hundred feet distant.
Back at the Turan Hill Lounge, I refreshed with a cold shower and then sat down to another communal meal. The table was spread out with an array of well-known Turkish dishes – cheese and spinach börek (filo pastry rolls), yeşil fazulya (green beans cooked with tomatoes and onions), mucver (delicious zucchini fritters, topped with garlic yoghurt), dolma (vine leaves stuffed with rice), chick-pea salad, pilav rice with pine nuts and currents, and more hot brown bread.
The Turan Hill Lounge never felt like a commercial establishment – rather, a relaxed ongoing party with a diverse group of new friends, presided over by the gorgeous Ece, who invariably looked as if she'd just stepped out of the pages of Vogue. I asked how she manages to maintain such an elegant appearance. "I take the minibus to Fethiye every week," she said, "to get my hair done". That's a bumpy 90-minute journey each way, plus a hard climb up to the road and back – an impressive feat in a place where dressed-down hippiedom is the norm.
I spent hours lounging on the divan, chatting with interesting characters from around the world, playing tavla (backgammon), reading or just enjoying the view of the bay – all accompanied by Ahmed's eclectic mix of African, Iranian, Indian and Turkish sounds. Often, as I sat down to my journal, five or six others would also be writing or sketching in their Moleskine notebooks. There were three young mothers with their babies, and they made a lovely pre-Raphaelite picture, stretched out comfortably together on soft cushions, nursing in the dappled shade of the morning glories.
Sadly, the time eventually came to depart. Leaving on the minibus (I had a plane to catch…) was something of a shock, as we quickly transitioned from the natural and gentle world of the Turan Hill Lounge to a long succession of concrete mass-tourism resorts along the road to Fethiye.
Those resorts are edging closer and closer to the 'Zucchini Valley'….so if you want to experience this heavenly location in its prime, now is the time to go.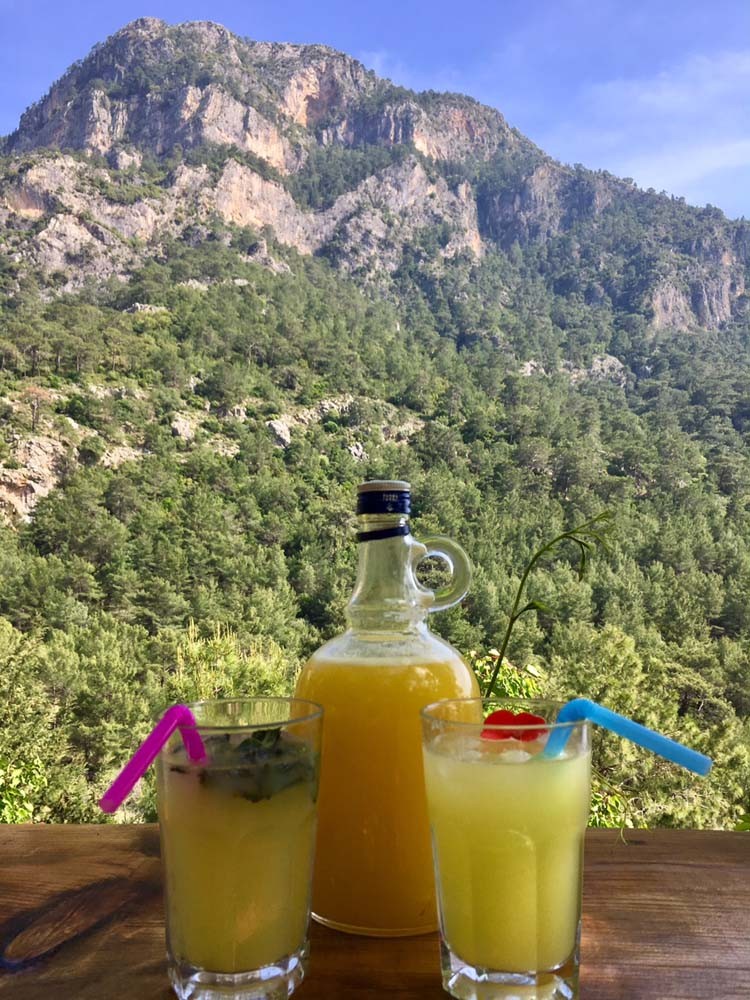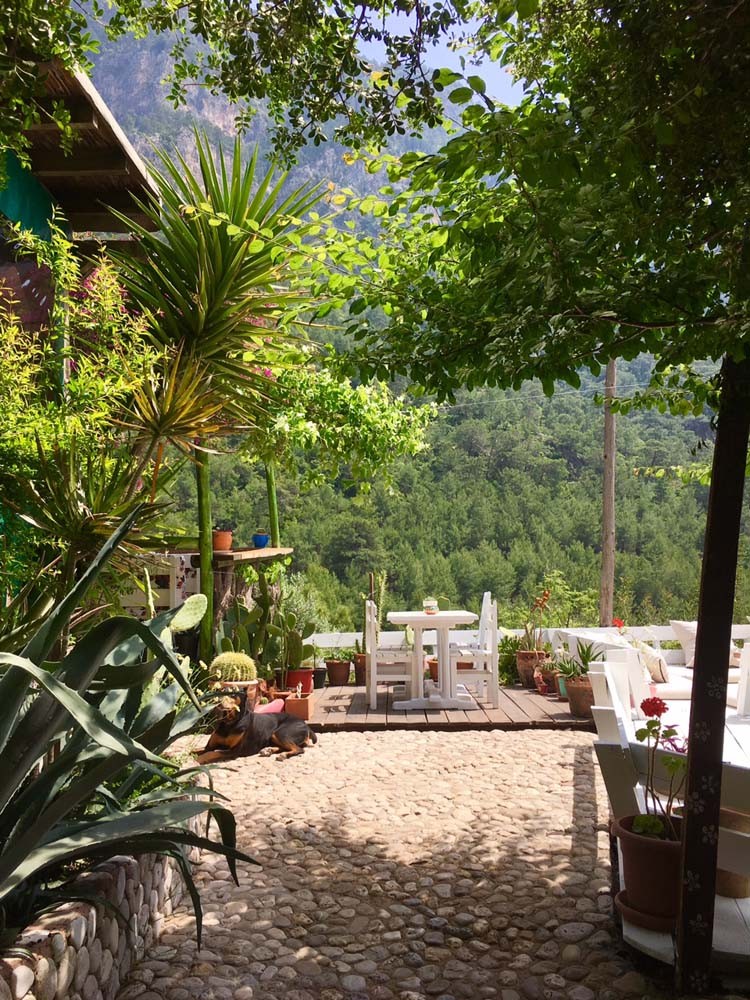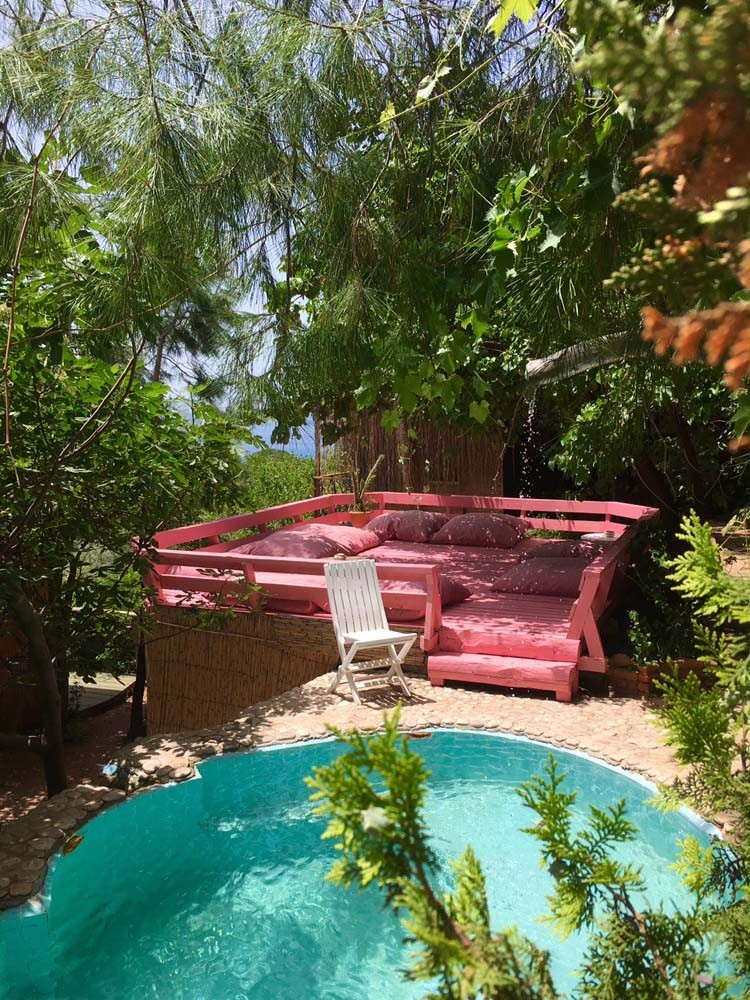 Travel info:
The optimum time to visit Kabak Valley is April to mid-June, or September to mid-October, as the high summer months can be too hot, windy and crowded.
You can fly cheaply from major European or Turkish cities to Dalaman Airport and then:
take a bus to Antalya and then, from the main bus station ('otogar'), a bus to Olympos, and then hike the Lycian Way to Kabak; or
 
take a bus to Fethiye and then, again from the main bus station, a minibus to Kabak.
You could also island-hop from Athens to the Greek island of Rhodes, then take a boat to Fethiye and proceed from there.
Further info about the Turan Hill Lounge: http://www.turancamping.com/english/
Further info about the Lycian Way: http://cultureroutesinturkey.com/the-lycian-way/
About the author:
George Charles Darley is an Istanbul-born Englishman currently teaching English in Riyadh, Saudi Arabia while frequently visiting his wife Anu in Mumbai. He will shortly be releasing a travelogue, Encounters on the Lycian Way.