Natan & Shani, The Veganary Founders
If you are the type of traveler who wants to immerse yourself in every place you visit and eat vegan in the most authentic way, then we highly recommend you check out The Veganary. Created by Natan Saffer and Shani Zukerman, the website provides in-depth and diverse information and tips from locals on how to survive as a vegan traveler in their hometowns. From vegan or vegan-friendly dining options to local vegan brands and everything in between, you get the best tips on how to experience the vegan scene like a local. We interviewed Natan and Shani who shares about the inspiration behind The Veganary as well as some stories and insights as vegan travelers. Read on and enjoy!  
Q: How long have you been vegans?
Nearly 3 years already. We decided to try veganism after watching the movie "What the Health". A few weeks later, we knew it was the right decision and we've been vegan ever since. Our time-traveling helped strengthen vegan ethics. Today we feel strongly about the health aspects, as well as the animal cruelty and environment sides to veganism.
Q: What was it like to be vegan travelers when you first started traveling?
The first country we travelled to as vegans was the Philippines. Probably not one of the easiest countries to visit as a vegan, and we were initially worried, but decided to stay positive and work it out. Sometimes we would spend long hours trying to figure out what are the vegan options available around us.
We would often give up and jam our faces with local, unhealthy snacks (this is where we got the idea for Our Video. But overall, we were lucky our plan took us to Boracay, a large and more touristic travel destination with a variety of vegan options.
Q: What is the biggest challenge for you as vegan travelers?
There are many different challenges, but for us, it was always getting to understand and experience the local culture in the most authentic way. This includes local traditions, food culture, few words to get on the locals' good side and such. We are always amazed at the cultural differences, even between neighboring countries /areas, that before the trip might have seemed to us foreigners very similar.
Q: Can you name some of the most vegan-friendly cities you have visited?
Bangalore, Tel Aviv, Hanoi, Manchester, Addis Ababa, Auroville to name a few. Once you learn a little bit of the local culture, you start to see things differently in comparison to your first impression.
Q: What were some of the best vegan meals you have eaten in your travels and where did you find them?
Surprisingly what tops it off was the Injera meal we had in Addis Ababa – After a day of walking around the Merkato market with our local tour guide we found along the way. We communicated to him that it was about time to eat. Suddenly he lost his smile and apologetically explained because it's a Wednesday, there are no animal products being sold at the market. He was surprised by how much this news made us happy, and we headed towards his favorite local eatery. When we arrived, we were still a bit hesitant, but after the food arrived all our worries evaporated into thin air. This was without a doubt one of the best meals in our life!
Variety Dosa, south Indian street food
Some of the other best meals we have had South Indian Thali in Bangalore India. Also have to mention our favorite hummus place in Tel Aviv, Israel named Hummus Hakerem. 
Hummus in Tel Aviv
Q: Tell us about your website The Veganary. What inspired you to create it?
We were traveling for 4 months in India and Sri Lanka as vegans while working on our former marketing company. We would spend hours poring over articles and blogs to get a deeper understanding of what the challenges were going to be at the next destination. The main problem was that most of the info we were getting was written by vegan travelers like ourselves, people who related their own experiences but lacked knowledge about local foods and customs. We found that the info provided by residents was, of course, richer and more exact. So, we decided to palliate the gap by creating a website that would get all its information from local freelancers. Providing info for vegan travelers to help them know what they can eat in local establishments, find in stores, where to shop, etc.  In other words, live like a native vegan in the country visited. We soon realized that to make the website crowd-sourced would give it vitality and relevance that only the whole of the vegan community could provide. We happily welcome vegans to help us by adding the latest information on all topics, send us articles covering the best local vegan scoops, suggest constantly fresh content. It's very moving to see so many people so proud to contribute info about how to be vegan in their country.  It's bringing us all together around our love of animals and of being vegan and opening the doors of our countries to each other in this way. Just like we wanted it, The Veganary has become a website made by all of us vegans and that belongs to us all.
Elephant watching Sri Lanka
Q: What makes The Veganary different from other vegan travel sites?
All our info is compiled in an organized, neat and easy to understand fashion. It allows for quick usage and since the info applies nation-wide, you can use it anywhere in the country you are visiting.
Each country is categorized into 8 subcategories, each one providing info about different aspects of being a vegan in the country:
General Overview – Text summary of what to expect when visiting the country.  
Local Food – What local food is vegan by default, what can be veganized and how to ask for it (by asking to omit a certain animal product) and from what to stay away.
Local Brands – Compiling a list of vegan Salty and sweet snacks, milk, cheese, and dairy substitutes and best local stores to do your vegan shopping in.
Product Availability – What raw vegan staples can be found in the country or not.
Vegan Words – Helpful words for the traveling vegan. Most countries you also have the option to listen to the pronunciation of the word through our site.
Useful info – where we share bloggers articles and inputs about the country.
Animals – What to expect in terms of treatment to animals, how to avoid seeing animal mistreatment, info about animal sanctuaries, common animals in the country and more. 
Helpful Websites – Local vegan related websites, offering top vegan restaurants, events, trips, activism and more.
Forum – Dedicated space for travelers to find each other, travel together and ask one another questions.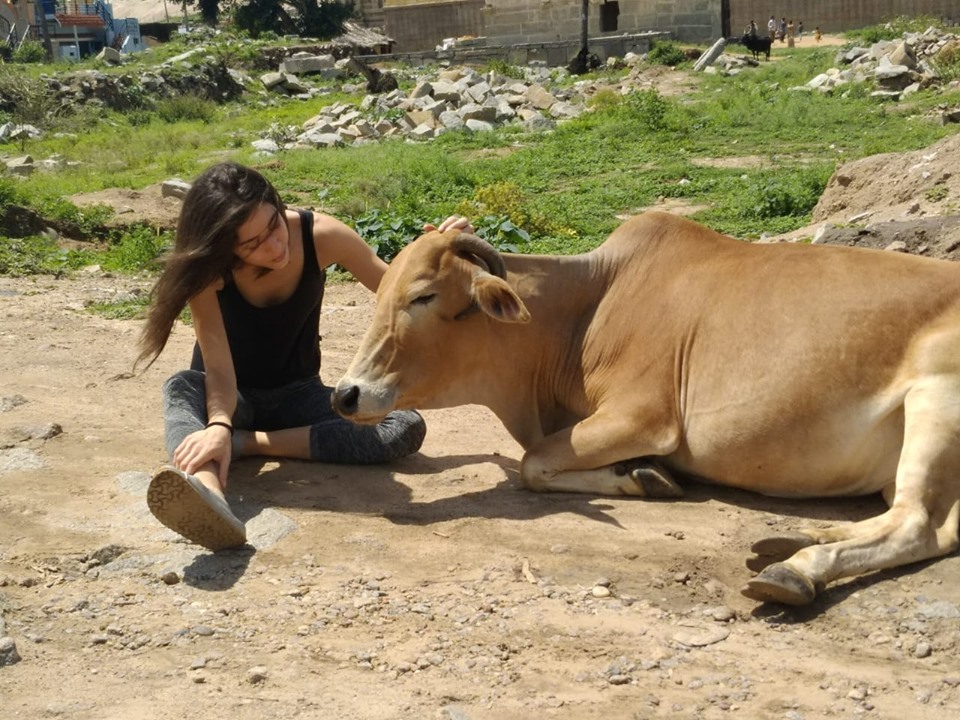 Shani With a cow in Hampi, India.
Q: What are two interesting things about living in Vancouver BC that the average person doesn't know?
It's not THAT cold here! People tend to think all of Canada is one large iceberg covered with ice and snow. But Vancouver is situated on the Western Coast of Canada, giving it mostly rainy winters, rarely dipping into the minus.
Vancouver has a great vegan scene, great weekly activities for vegans, from meetups to night markets. Any vegan living here finds plenty of like-minded people to hang out with. 
Vegan Market, Vancouver
Q: Any recommendations for vegan travelers visiting in Vancouver?
Get ready for lots of opportunities to do outdoors activities right in the city, with Stanley Park covering many thousands of green acres, just a few meters away from Vancouver's busy downtown.
The city comes to life in the summertime, offering a vast array of activities including water sports, mountain climbing, country trekking and so much more.
To finish your day in a good way go visit one of the top vegan restaurants in the city such as Virtuous Pie, Kokomo or Chaw Veggie and join an animal rights' event or a vegan night market.
Q: Any tips and advice for first time vegan travelers?
Plan well in advance. Read our guides before you set off to your destination (you can check if your favorite essentials are easy to find there, learn a few useful words, explore the local cuisine, etc.). Always bring with you snacks and other food supplies that are essential to you, but are unavailable in your destination. Think about bringing with you a small travel blender, so if food options are lacking you can always find fresh produce to make a tasty and hearty smoothie.
---
We are Shani and Natan, we love to travel and experience new cultures and places. We believe that people should be able to combine great traveling experience without having to compromise their vegan ethics, for this reason, we created The Veganary.