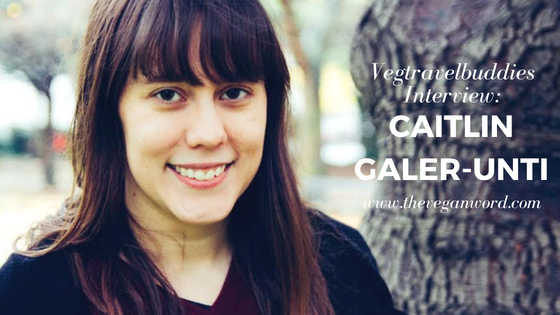 We are excited to share with you our interview with Caitlin Galer-Unti, founder of The Vegan Word and author of The Essential Vegan Travel Guide and the Barcelona Vegan Guide. Caitlin spent her childhood in the US and her adult years in the UK. She is vegan since 2008 but was already a long-time vegetarian before that. Whether you are looking for ideas on veg-friendly places to visit or some inspirations to fuel your wanderlust, read on to find the fascinating travel stories and tips she shares with us.
Q: How long have you been a vegan and what made you decide to make the switch?
I've been vegan for 10 years now! I was brought up vegetarian and thought I was living a cruelty-free lifestyle; then one day I started reading about the dairy and egg industries and realized how misinformed I was. I was really horrified and decided to go vegan.
Veganism has changed so much since then; it's been incredible to watch the movement grow and expand just in the last 10 years. Ten years ago I was really only guaranteed a vegan meal in a vegetarian restaurant; now I can go into almost any restaurant in London, where I'm based and find vegan food.
Q:  What inspired you to create The Vegan Word?
It grew out of a travel blog I kept just for my friends and family as I travelled around Asia and South America. I started it as a personal diary, to keep them up to date on what I was doing. Over time, though, I noticed I was getting comments from vegans and people I didn't know. So, I decided to start a blog focused on veganism, and deleted my personal blog.
I chose the name The Vegan Word because, at that time, a lot of people seemed scared of using the word vegan. It still happens today to an extent, but not as much. Back then, it felt (at least to me) like a lot of people were scared to use the word vegan to describe themselves or their products because the word 'vegan' scared people away. I wanted to show people that the 'v' word wasn't a bad thing, wasn't scary and that we should embrace it.
At the time (2011), there really wasn't such a thing as a vegan travel blog. I believe Vegan Miam was around way before that, and Rika was writing about her travels as well as her recipes, and Jojo from Vegan in Brighton was also writing about travel as well as lifestyle. But no one focused solely on travel. So I started out writing more recipes, with just the occasional travel post. Now that ratio's flipped.
Q: How do you respond to questions like if it is safe to travel so much, especially on your own?
I always tell people I've felt safer on my travels than I have at home. Take East Asia, for example. When I was in Taiwan, I met an elderly couple one day while waiting for the bus, and the woman could not believe I had travelled to Asia on my own. She seemed genuinely concerned for me and kept exclaiming how it couldn't be safe to be travelling around there on my own. In fact, I felt far safer in Taipei on my own than I did in cities in the US (or even many in Europe). I walked to night markets in the middle of the night on my own, and never once felt unsafe or got catcalled. They have a very low crime rate and I felt incredibly safe.
Of course, it pays to know the safety of the place you're visiting. I took precautions in Central America I never had to take in Europe. And you may want to take extra precautions; it depends on your own comfort level.
But there are a lot of benefits to travelling on your own. For one, you are more likely to meet and interact with locals; if you're on your own, people in a café (or servers in a restaurant) are more likely to come over and chat with you. You make more friends when you travel on your own. And I personally think I stand out less as a traveler when I travel on my own (since no one hears me speaking English to a travel companion as I walk down the street), meaning I'm less likely to be a victim of a crime targeted at tourists, like pickpocketing or certain scams.
Q: In the 30 countries you have visited, do you have any particular favorite or places you want to visit again?
I loved Taiwan so much and have always wanted to go back there – the vegan food was incredible (and widely available) and I'd love to see more of the country. I also loved Santiago, Chile; I'd heard before visiting that it was smoggy and polluted, so I decided not to stay for very long. I really regretted having booked an onward ticket as soon as I arrived, because I fell in love with the city. I was there during the Chilean summer (the Northern hemisphere's winter) and it's actually not smoggy at this time. The smog descends in their winter. So the air was clear and the view of the Andes behind the city was stunning!
I've been to Italy a few times, but it's another favourite and I'd love to explore more of the country. And then there's Spain – I lived there a year but I want to go back and see more of it. I'm really drawn to Mediterranean countries. The climate, the light (I love Mediterranean light!) and the cuisine all appeal to me. I love the markets full of fresh vegetables. The vegetables just taste so much better and so fresh, and it's easy to find great seasonal veggies there. The food tastes so much more vibrant as a result.
Q: Can you tell us about some of the most vegan-friendly places you have visited?
Taiwan was a revelation. It was the first really vegan-friendly country I visited, and the first place I went where when I told people I was vegan, they'd recommend their favourite vegan restaurant, instead of acting like it was weird. There are vegetarian restaurants on every block and it's so easy to find food there – but it does help if you speak Chinese (or learn a little). That way you can spot the sign for a vegetarian restaurant more easily, and ask about non-vegan ingredients. I also got to have the best fine dining experience of my life to date in Taipei. Yu Shan Ge is a fine dining vegetarian restaurant where I had an amazing 9-course meal for around $30 USD.
Greece was also very vegan-friendly. It was a place where you can walk into any restaurant and get a vegan meal, thanks to the vegan friendliness of many mezze (small plates). I loved knowing I could easily find vegan food anywhere, often without even having to modify the dish! However, I did get a little sick of having the same dishes over and over at the end of my two weeks there.
And then there's Eastern Europe during Lent. I've written about how Eastern Europe is vegan paradise; in Romania, all you have to do is ask for Lent food and you'll find a whole vegan menu. In Serbia, bakeries have whole dedicated (vegan) Lent pastry sections.
Q: What was the toughest place for you so far as a vegan traveler?
Nowhere has actually been very difficult! If I had to choose one place, I'd say France circa 8-10  years ago, but it's changing quickly. The first time I went to Paris was with my mom before I even went vegan, and it was tough finding vegetarian, let alone vegan, food at that time. I've been to Paris many times since because I have a good friend there (and it's easy to get the Eurostar over from London) and when I first started visiting here there it was tough finding vegan food. There were a couple of vegan restaurants, and we ate a lot of falafel… But now there are so many vegan choices! Paris is home to a vegan supermarket, a vegan bistro and one of my favourite vegan restaurants, the Gentle Gourmet. My friend (who's not even vegan) begs me to go there every time I visit. Paris is great for vegans these days!
Q: What was the last place you've visited? Any advice or recommendations for vegan travelers who may be heading there?
I just did a Vegan Lent Tour of the Balkans with Sam of Alternative Travelers and Laura from Vegan vs Travel. We visited Bulgaria, Serbia, and Montenegro. The trip was inspired by a trip I took through Transylvania, Romania a few years ago during Eastern Orthodox Lent. I found that it was incredibly easy to find vegan food during this period because Orthodox adherents are supposed to 'fast' during Lent by giving up meat, eggs, and dairy! In Romania, I found a ton of vegan fasting food in just about every restaurant, plus amazing desserts in bakeries.
In Serbia and Montenegro, we found that restaurants didn't have that much choice for fasting food (although some places had baked beans and roasted red pepper dip, both of which are delicious), but bakeries had tons and tons of fasting pastries! In Bulgaria, as we discovered, they don't really fast for Lent much these days (at least not in Sofia), but there are a lot of great veggie and vegan restaurants in Sofia anyway.
My top tip for those going to Montenegro and Serbia would be to learn the word 'posno', which means fasting, and ask for 'posno bez riba, bez med' (without fish or honey). You'll find a ton of 'posno' labelled pastries in bakeries during Lent (I've heard some are available other times of year too) and some traditional restaurants might have posno dishes like prebanc (baked beans with onions) and ajvar (roasted red pepper dip). Bakeries definitely had much more vegan choice though, from the savoury (go for the mushroom or spinach stuffed pastries) to the sweet (cherry strudel, chocolate covered croissants, and chocolate layer cake were a few favourites). I've just published a post on finding vegan food in Eastern Europe during Lent (it's easy, as long as you know the right phrases!).
Q: Do you have places in mind commonly believed to be "least friendly" to veg travelers but are actually the opposite?
There are so many places that people think are not vegan-friendly but actually are. I've heard a ton of people say Barcelona/Spain isn't vegan-friendly, but actually it's very vegan-friendly.
I've also noticed a lot of times non-vegans think a place isn't vegan-friendly because they aren't used to looking for vegan options, so they don't necessarily notice vegan places or vegan dishes. For example, before my trip to Bulgaria, I was warned by a Bulgarian friend (who's not vegan) that Bulgaria is devoid of vegan food, even in Sofia. "You'll starve!" she told me. So imagine my surprise when we arrived and checked into our hostel only to be immediately told by the receptionist about all the vegan places nearby. "I don't know if you'd be interested in vegan food," she said, "But there are two wonderful veggie restaurants on this block and one sells the best vegan cheeses!" When I told my friend, she was surprised that Sofia had so many vegetarian and vegan places – and said she probably had just never noticed them, since she wasn't looking.
Q: What are some of the must-try vegan meals you'd recommend and the best places to have them?
Oh my gosh…there are so many!
Yu Shan Ge in Taipei, Taiwan for their 9-course tasting menu. It's a gourmet vegetarian restaurant and they do these amazing vegan tasting menus. Plus, thanks to the exchange rate, they're pretty affordable! I think I paid around USD$30 for my 9-course menu. Or on the less expensive end, any restaurant or street stall in Taipei you can find vegan "mah jiang mien." It's this amazing sesame noodle dish made with dark sesame paste and it's the best! When I got home I immediately set about trying to recreate it, which was tough since at the time I couldn't find any recipes in English online. This is as close as I got – not exactly like the stuff in Taipei since I couldn't get all the ingredients, but delicious.
Vegan macarons at the Gentle Gourmet in Paris – I had these at VegFest a year ago and they were amazing! They make them with aquafaba (chickpea water) in place of egg whites. The salted caramel flavor was my favourite. I don't know if they have them on the menu, but you really can't go wrong at Gentle Gourmet. It's my favourite vegan place in Paris. My (non-vegan) friend always begs me to take her there every time I go to Paris to visit her.
Lent pastries in the Balkans. If you get a chance to visit the Balkans or an Eastern Orthodox country during Lent, go! They have amazing "I can't believe it's vegan" pastries, like cherry and apple strudels, flaky mushroom or spinach pastry, chocolate covered croissants…
Dim sum at the Lock Cha teahouse in Hong Kong. I loved this place partly because it's an oasis of calm and green tucked away in a park in the middle of a bustling city. They also have amazing vegan dim sum!
Gallo pinto in Costa Rica. Have you had rice and beans for breakfast? It sounds kind of weird at first, but it's a delicious and filling breakfast. You can find this everywhere, just make sure the beans and rice are prepared without animal products like non-vegan stock.
Churros at Terre a Terre in Brighton. It seems really odd to recommend churros in England, but they have the best dipping sauces! The churros come with chocolate crackle dipping sauce, sea salt caramel, and vodka-soaked cherries! Make sure you ask for all three dips. Every time I go to Brighton, I stop at Terre a Terre. Sometimes I don't eat a meal, I go just for the churros.
I actually have a must-eat series on my website… J I LOVE recommending specific dishes! I often find when people tell me to go to a particular vegan restaurant, I have a variable experience depending on what I eat. Instead, I love recommending specific dishes.
Q: What would be that one piece of advice you'd like to give to vegan travelers?
Don't let fear hold you back! To anyone worried about a place being not very veg-friendly, I'd say: you can find vegan food anywhere! I've even helped people travelling the Trans-Siberian railway find vegan food. Don't let fear limit your travels; if you really want to go somewhere, there's always a way. Even if it involves getting an Airbnb with your own kitchen so you can whip up vegan meals, or bringing some supplies with you! There's vegan food everywhere in the world! You might not find it on the main tourist streets. But every place in the world has fruits, veggies, and grains, and many cuisines have accidentally vegan dishes if you know where to look. And it makes it so much more fun…you get away from the main tourist areas and experience more of a place. Travelling as a vegan is actually better than non-vegan travel!
And if you have any questions, drop me a line. J You can find me on The Vegan Word, Instagram or Facebook, and my vegan travel guidebook on Amazon.