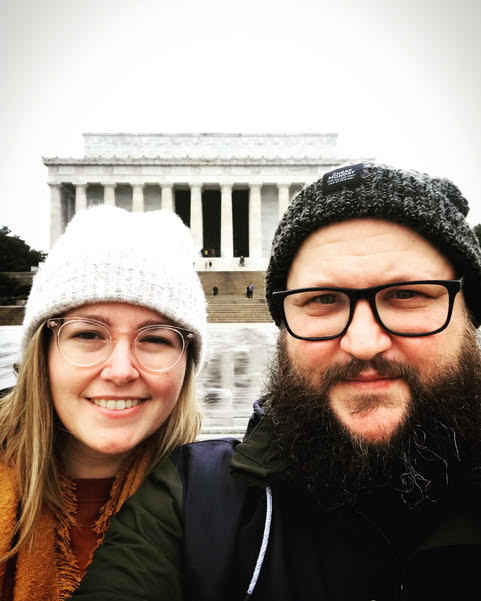 Stefanie and Kristof live in Belgium and share a passion for vegan food and travel. Together, they run Sans Saucis, a website that features not just their travel stories and experiences on the road but also vegan food spots as well as plant-based recipes among others. In this interview, we delve into their thoughts on traveling before and after COVID-19 and everything in between. Scroll down to read the full interview. Have fun and stay safe, everyone!
Q: Can you tell us a bit about yourself? How long has it been since you've become vegans and what made you decide to make the transition?
We're Stefanie and Kristof. We live and work in Belgium and have been married for a little over two years now. We host cooking workshops in our home and give lectures and demos on location. We've been vegan for about 4 years and were vegetarian before that for longer than we both can remember. Our transition came pretty naturally, getting more invested in animal rights and the ecological aspect of it, and no longer being able to imagine an argument not to go vegan.
Q: What was it like for you traveling as vegans in the beginning?
Depending on where you go, it's either very easy or very hard. Certain countries in Europe, like France for instance, are terrible. Not a lot of vegan options in either restaurants or stores. Things are a little better in big cities, but still not great. It's quite a search. That was, and still is one of the main reasons we share a lot of our experiences. If we can point someone that struggles to find a nice place to eat in the right direction, making their life a little easier, we feel like we've contributed something.
Q: Tell us more about Sans Saucis.
Sans Saucis actually started out as a kind of a brand name for vegan sausage rolls we intended to make. Those were the first steps into a business idea. The sausage rolls were fun for a while, but in the end, only the name stuck. We wanted to do more, and we stumbled into the whole workshop thing by accident. To raise money for a good cause, we auctioned off a group workshop in our home. The response was overwhelmingly positive, we decided to explore that further.
We also try to share as much of our experiences as possible, whether it's stuff that happens in our own kitchen, or places we travel to, on our social media, and blog.
Q: Can you share some of the best vegan-friendly places you've visited?
European cities like Barcelona, London, Berlin, and Amsterdam are all extremely vegan friendly. It's very easy to find a variety of cuisines.
San Francisco, LA, New York are vegan heaven, but sadly not just around the corner for us.
Q: How did the COVID-19 pandemic change the way you view travel?
We just got back from a trip to New York, Boston, and Washington in February, when the pandemic started.
We didn't really travel abroad since, and with the way things are looking right now, we probably won't be booking any trips soon.
We hope everyone manages to still make the best of the situation. We hope for everyone to stay safe.
During the times of travel restrictions, we remained within the Belgian borders. We rediscovered a lot of local gems on various day trips.
We went hiking a ton of times, and purchased new bicycles recently, which also made us get out even more.
Q: What are your thoughts on how this global pandemic will change the way we travel?
People will probably stay home more. Or just travel within their own borders, or to places they already know. That's not what we prefer, but we realize that's what a lot of people already do, and probably will keep on doing. Maybe just less frequent. We surely hope the whole tourism industry will survive all of this, without having to increase the cost too much for the consumer. I guess we'll have to wait and see.
Q: How soon do you think we can travel again?
Things are getting worse at the moment, so that's a tough question. We hope we can start traveling again in the spring of 2021. We haven't booked anything yet, but there's quite a lot on our list.
Q: Are things getting back to normal now in Belgium?
Since last weekend the rules are a little stricter again. The numbers went up very drastically. Bars and restaurants are now closed for a while again, and we're encouraged to work from home as much as possible. Almost all public events were canceled too.
Q: Which vegan-friendly towns or cities would you recommend to those who plan to visit Belgium for the first time?
We'd say that Ghent is probably the best place to start. Both historically and culturally it's a very interesting city to visit, and it has the most vegan-friendly restaurants to offer. Brussels and Antwerp are great too, and smaller cities like Leuven and Hasselt are recommended.
Q: What advice and tips can you share on traveling after this COVID-19 pandemic?
If you feel the travel bug, travel. There's a whole industry and a lot of people that need us to do so. Do however keep it safe, and sane. Don't be too scared, but don't be careless either. It's probably safe to say that this is not the last pandemic that we will witness, but as life goes on, so should traveling.
-----
Follow Sans Saucis on Instagram, Facebook, Pinterest, and Twitter.