Paul and Sophie from Vegan on Board
Vegan travel and vanlife are two of our favorite topics. So we are always on the lookout for stories and insights from people who share that passion -- and living it too! We reached out to vegan vanlifers Sophie and Paul, creators of Vegan on Board, to pick their brains about what life is like on the road with their beloved campervan Ronnie. Read on!
When did you decide to embrace the van life and what inspired you to do it?
We got a first taste of vanlife on a weekend in Paul's band van soon after we met. On our honeymoon three years ago, we drove a Ford Focus from Austria to England. That was the first time we really travelled around by road together. And we liked it. The idea of an independent, nomadic lifestyle really appealed to us. Hungry for adventure, we bought our beloved campervan Ronnie soon after.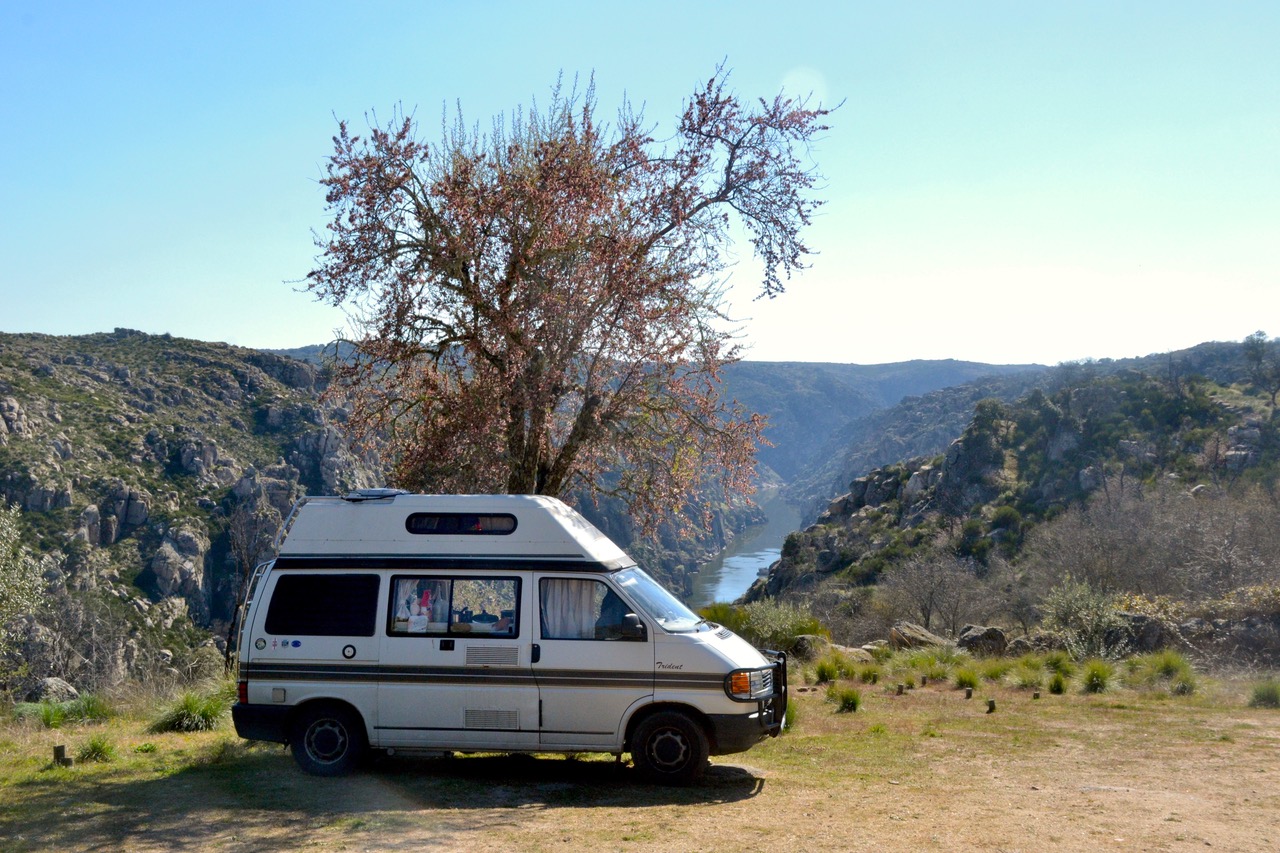 Ronnie
What is it like being plant-based and vegan vanlifers?
Being vegan vanlifers is really easy because you always have your mobile kitchen with you, and your own stock of ingredients. This way we don't have to eat out and hunt around for vegan food, which can be seriously tricky sometimes.
Vanlife actually led us to transition to a plant-based diet, as without a fridge we gradually gave up on perishable ingredients such as cheese and butter. Now, all we need is to top up with fresh veggies and fruits every few days and stock up on staple ingredients like pulses and grains when we find a packaging-free shop.
Where do you get the ideas and inspirations to come up with delicious recipes?
We like to be inspired by the local and seasonal produce of wherever we are. We also really like to forage for wild foods and experiment with them.
On the other hand, we like to cook typical dishes from the countries we travel in, often veganising traditional recipes. As Paul is Austrian, we make tasty vegan versions of a lot of Austrian recipes.
Finally, the limitations of our tiny van kitchen can be a real inspiration, too. We don't have an oven, so we have to adapt to new methods of making things. Bread on a stick, brownie in a pan or cake made in a pressure cooker are just a few examples.
Can you name some of the most vegan-friendly places you have visited?
We love Portugal in general because a lot of fresh vegetables and fruit are available throughout the year. Markets and roadside stalls are filled with an abundance of fruits and veg, ad they're great value too. and Generally, cities are more vegan-friendly than in the countryside. Porto is one of our highlights too - it's got a really good vegan vibe. Vienna, where Paul used to live, is also incredible for vegan food and we spent the whole summer eating our way around the many 100% vegan cafes and restaurants that the city has to offer.
Summer in Austria
What inspired you to create Vegan on Board?
It all started in 2018 when we were telling people about our trips and the amazing things we cooked along the way, and in the camper van too! People then often asked us for a recipe, and a friend suggested we should have a blog. We thought, yeah, that could work! And so the idea of Vegan on Board was born. We love travelling, cooking and inspiring people with our recipes. It takes a lot of time and commitment to grow a successful food blog, but it's a dream job really!
What would you say are the best things about van life?
With a home on wheels, you can feel at home anywhere. You can be surrounded by nature, slide open the door, and watch the sunrise from bed. Or you can be in a cold, rainy car park, close up the curtains and stay warm and cozy in your van nest.
Vanlife is also a super comfortable way of travelling compared to others, as you can easily carry a lot of things with you. Travelling by van can also be a really cheap way to travel - give or take a few breakdowns!
Last but not least, vanlife is a simple way of living. When we are on the road, we don't feel much of the stress and distractions of modern everyday life. We can focus more on the things that really matter to us.
What are the challenges to vegan vanlife, especially in the beginning?
A lot of the challenges of vanlife are the same no matter your diet. How to live together in such a small space? Where to pull up for the night? What's the best way to make coffee?
When we first got our van we were unsure what to cook and had to adapt to cooking in a tiny kitchen. Our stovetop pressure cooker is a huge help, as it allows us to cook dried lentils and beans without using up nearly so much gas.
If anything, being vegan actually makes van life easier. Although in some countries and regions it can be a bit challenging to find vegan alternative products such as plant milk, tofu or meat substitutes in supermarkets. Now we keep a well-stocked comprehensive store cupboard full of all the things we need to make delicious and nutritious meals from scratch to keep us fuelled for adventure!
Tell us about one of your most memorable experiences on the road.
Last winter in Portugal we arranged to meet up with another vegan van couple on Instagram via the hashtag #veganvanlife. At first, we were a bit nervous and not sure what to expect, like a blind date. But then we felt an instant connection to them and had an awesome time together. For several days we sang, played games and cooked together, having numerous deep conversations. There are always so many things one can learn from other people that are on the same journey, physically and metaphorically.
Ronnie in Portugal
How has van life changed you as a person?
Paul: Vanlife is a simple way of living. When we are on the road, I don't feel much of the stress and distractions of modern everyday life, and instead, focus more on the things that really matter to me. You can't take your whole life full of things with you on the road, so it was also about stripping down and in some ways becoming more humble. Also, it ultimately led to us turning vegan, which I had wanted to for quite a while, but never quite managed.
Sophie: Being out and about in the van makes me much more peaceful and in tune with nature. Since we went on our vegan van life journey, I am more connected with a community of likeminded people looking for an alternative, sustainable lifestyle. And without Ronnie, we'd never have started Vegan on Board. Sharing our recipes and seeing people making them around the world brings me joy.
Any advice to those thinking of giving the van life a try?
Sophie: Vanlife is a wonderful opportunity to explore the world. It's getting increasingly popular and I think it's important vanlifers new and old consider the impact that this kind of travel has. What can we do to be more responsible and respectful to local communities and the environment? Try and find ways to reduce your impact - I recommend following @responsiblevanlife for inspiration and tips and, of course, going plant-based to reduce your carbon footprint.
Paul: The beginning is the hardest time, but it will pass. Push through it, see challenges as opportunities, and you will reap the rewards when you fully embrace van life. And if you've ever considered becoming vegan, the transition to van life is the best time to do it! Also, get a pressure cooker - you'll save so much time and gas!
-----
Follow Sophie and Paul from Vegan on Board on Facebook, Instagram, and Pinterest.