Making the switch to a vegan lifestyle involves adjustments that may require some time to get used to. The first time you travel as a vegan can be daunting. Just imagine how it must have been for those who went vegan in the early days when finding veg options is not as easy as it is now. Sarah Dallera knows well what it is like to travel to places where it can be a struggle to find cruelty-free meals. This inspired her to create the Vegan Travel Diaries where she writes survival travel guides, recipes, animal rights, and more. 
Q: How long have you been vegan and what inspired you to make the switch?
I've been vegan since March 2015 after being vegetarian for a couple of years before then. I had always called myself "a huge animal lover" but I had never realized I wasn't actually fully coherent with that. So I started gathering info about ditching animal products, and after watching the "Earthlings" documentary I finally decided that was it. I couldn't have contributed to all that unnecessary animal sufferance anymore.
Q: Tell us about the Vegan Travel Diaries. What inspired you to create it?
Traveling has been a passion and a fundamental part of my life since I was very young. I started traveling by myself when I was only 12 and for many years after high school, I worked in the tourism industry. After my decision to go vegan, I actually realized how difficult it was in some countries to find options while traveling. So I've decided, together with my partner, to put together some guides on my blog and YouTube channel to help future travelers with tips on how to survive as vegans when visiting these places.
Q: Can you share one of your most memorable experiences as a vegan traveler? What would you say are the best things about traveling as a vegan?
I think the best thing about traveling as a vegan is having the opportunity to appreciate the world and its wonders by choosing options that do not support animal abuse. I'm not talking just about food, but also activities, accommodations and ways to explore a country that does not contribute to any cruelty towards animals and the environment. I could talk about visiting Vietnam's remote areas by bike. Or staying at a stunning 100% eco-friendly accommodation in Siargao, Philippines. Or visiting an Elephant Rescue Sanctuary in Thailand, instead of going on an elephant riding trip. There are so many ways to help the animals and the environment without missing the most beautiful highlights of a country when traveling.
Q: Can you name some of the most vegan-friendly cities you've visited so far?
I've recently been to Vietnam where I found it quite easy to eat vegan, not just in restaurants but also when curious about trying street food. Many options were accidentally vegan there.
Previously I've visited Bali, another vegan heaven. While the Philippines have been quite difficult, with the exception of Cebu City, which actually offers many fully vegan restaurants.
And living in Sydney also gives me the chance to easily travel around Australia, which in my opinion can currently be considered one of the best places to travel as a vegan, especially cities like Melbourne, Sydney and the Gold Coast in Queensland.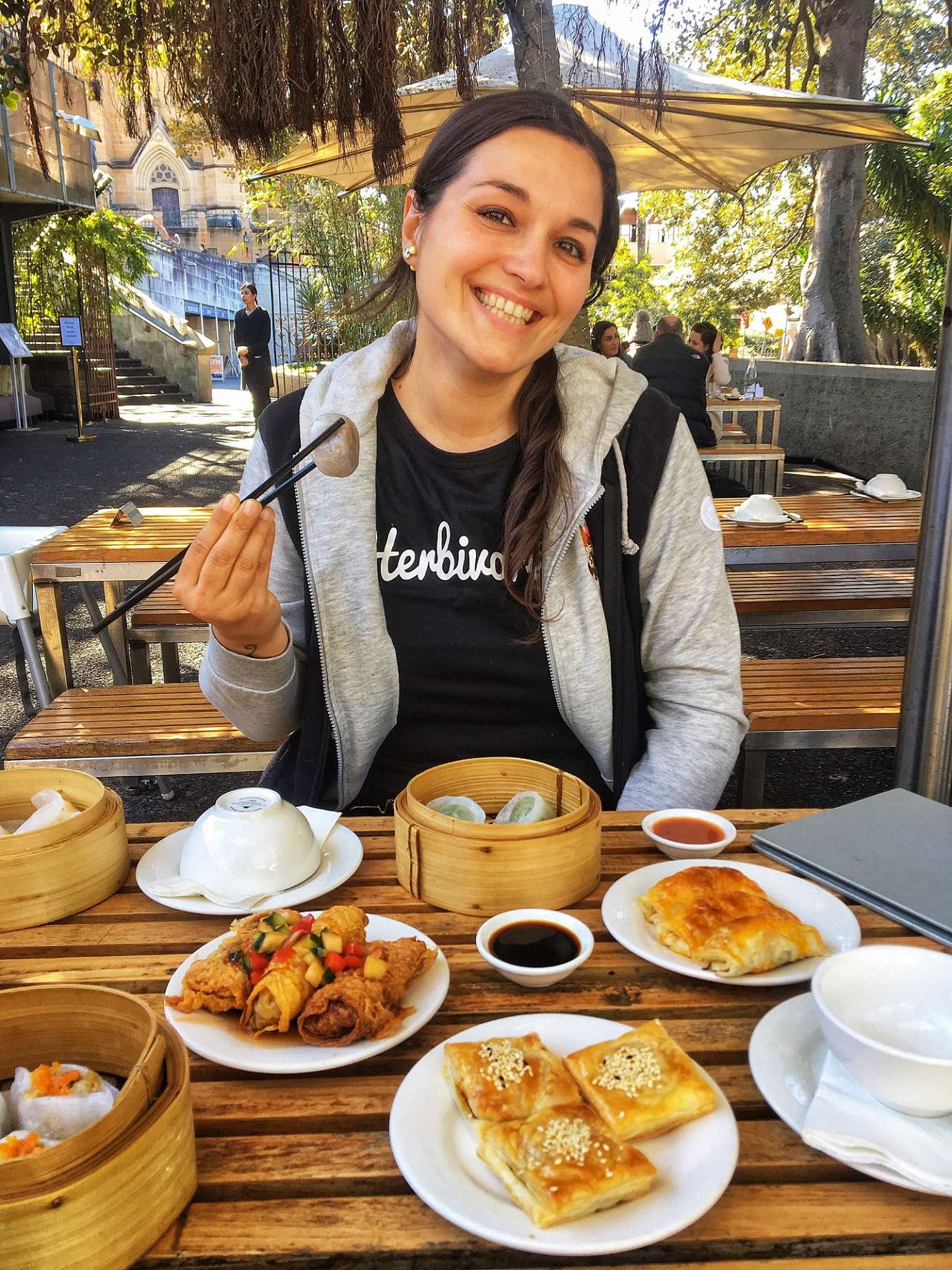 Q: Is there a place that you find particularly challenging to visit as a vegan? Can you tell us about what made it difficult for you?
So far, according to my personal experience, the hardest country has been Japan. I visited it in 2016. Fortunately, I've heard it got better in the last year or so. But at the time I literally starved. The most difficult part was communicating with locals, who hardly speak any English. Japanese cuisine uses a lot of fish sauce so it's been particularly hard for me to explain I couldn't have any of it. Most of the times I ended up buying fresh fruit at the supermarkets, which was ridiculously expensive too.
I think the most challenging part is staying focused on your beliefs even when you find yourself in these situations. I never gave up even when I was very hungry. I was very determined and nothing would have changed my mind.
Q: What was the last place you've visited and how's the veg food scene there?
I was in Vietnam less than two months ago and I have to say it hasn't been hard at all to find vegan options there. They already know very well what a vegetarian is so most of the veggie dishes they offer are also vegan-friendly (and super cheap). The only advice I might give to those who will visit Vietnam in the future: just make sure they don't use any egg as sometimes they tend to mistake vegetarian with vegan. Besides that, we found the most delicious restaurants around the country, and also on the Ha Long Bay cruise, whose staff has been more than happy to cater for our requirements.
Q: What are some of the best vegan dishes you've had so far and where did you find them?
The best vegan restaurant, in my opinion, was on Gili Trawangan Island, Indonesia. I had never tasted anything so good in my whole life. Unfortunately, with the last earthquake they had in the area, it's been destroyed. So so sad.
Another city I have to mention again is definitely Melbourne, Australia. The vegan scene there is massive and restaurants offer the best cuisine ever. Hard to believe that goodness is vegan! I really wouldn't know how to pick a dish cos I'm a huge food lover and the list would be way too long ahah.
Q: What's your take on "don't worry about money, just travel" advice? Any tips for people who want to travel but feel financially stuck?
Everything needs to be planned properly. Traveling is the best thing you can buy that makes you richer, but things must be done in order to avoid finding yourself completely broke. There are many ways today to work while traveling, so you can always feel safe in case anything happens. I think it would be worth it to try and find something you can do that can be even minimally remunerative, according to your personal skills, while traveling. It will give you a bit of peace of mind while allowing you to visit beautiful places. Travel deprivation is terrible LOL
Q: What's on top of your travel bucket list?
I have no doubts about this: I want to do a round-the-world trip visiting countries where I think I would find it hard to survive as a vegan. You know, places like the North Pole, or Africa and so on. It would give me the chance to see amazing places and challenge my determination to find vegan options to recommend to future visitors. We are actually planning it as our Honey (oops Agave) Moon in 2020, so get ready and stay tuned!!
Q: Any tips or advice you can share to newbie vegan travelers?
There will be times you'll be finding it super difficult to be vegan in this world. Fortunately, the vegan scene is growing everywhere but there will always be some areas that will be highly challenging, not just in terms of food. Try to stay strong and think about the animals and why you've decided to go vegan. When you're totally stuck, look for a local market and grab some fresh fruits and veggie. Even when it will seem too hard, there will always be a solution. Just look for it. The animals and the environment will thank you. And you won't feel incredibly guilty afterward.
-----
Follow Vegan Travel Diaries on Instagram, and YouTube.