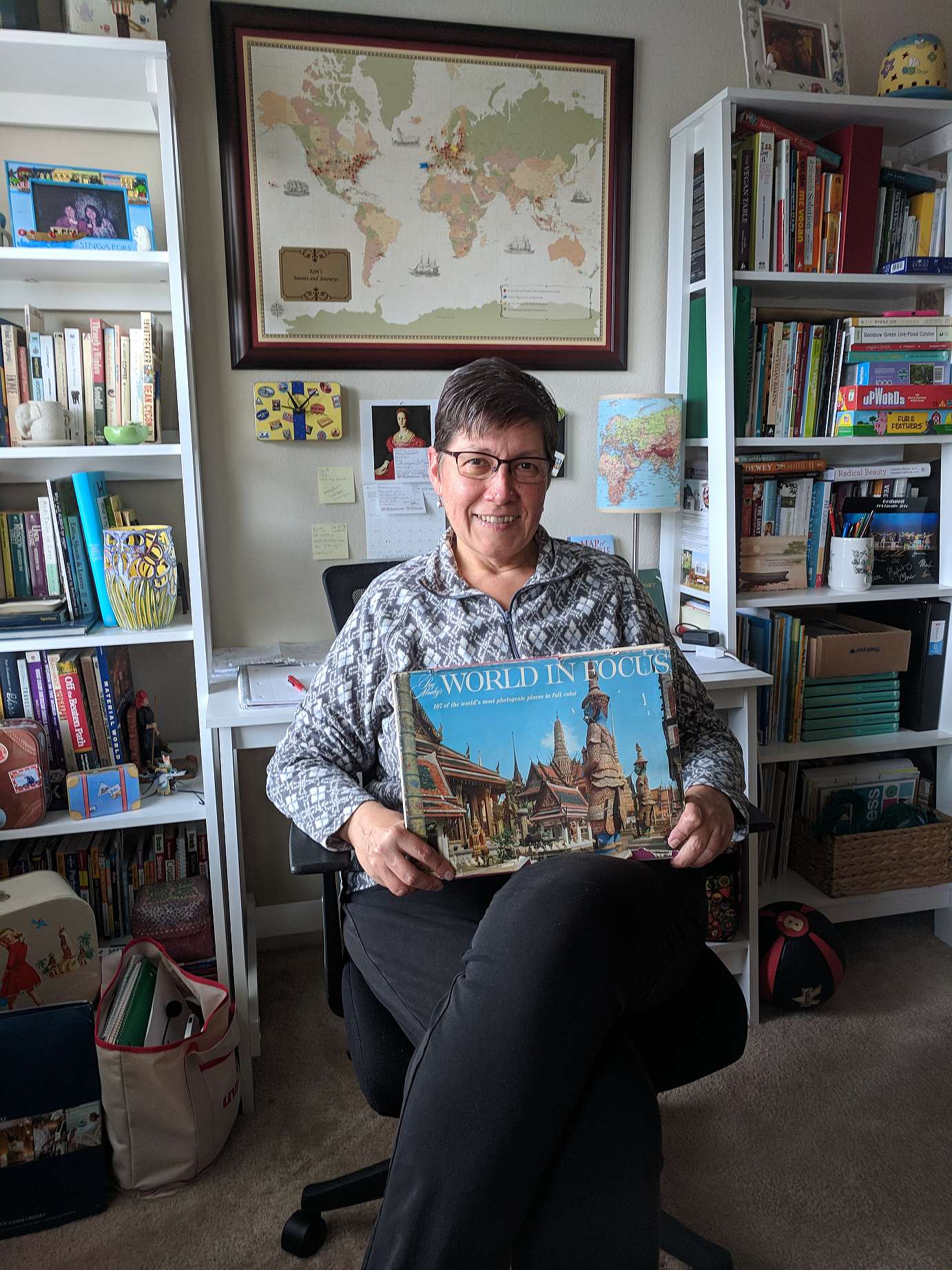 We are excited to share with you our latest installment to our interview series! This time we reached out to Kim Giovacco, the founder and chief tour guide of Veg Jaunts and Journeys. Here she talks about her own experiences as a vegan traveler, what inspired her to start her own full-service travel agency and tour company, and other interesting insights on veg travel.
Q: How long have you been vegan and what inspired you to make the switch?
I've been vegan for 3 years and vegetarian for 33 years before that. I had no idea about the horrors of the dairy industry. As soon as I learned about it from the mild movie Peaceable Kingdom, I became vegan. My transition period was only about 3 weeks because at the same time I joined a Boston area vegan Meetup group, and everyone in the group was so helpful and told me about many resources.
Q: Can you name some of the most vegan-friendly cities you've visited so far?
I'm going to pass over the obvious ones in the US, and internationally say Toronto, Berlin, Prague, and Singapore.
Q: Is there a place that you find particularly challenging to visit as a vegan? Can you tell us about what made it difficult for you?
Well, I think some places in the Midwest would be challenging, but I wouldn't have much reason to visit there. I was a bit disappointed by the state of Vermont because I feel they rely heavily on their dairy industry.
Q:  You have traveled to 40 countries. How much has traveling as vegan changed over the years?
It's difficult to keep up with the amazing changes! There are scores of vegan festivals in the US and Europe, so many European cities offer vegan walking tours and there are even many vegan and vegan-friendly accommodations throughout the world now. It's rarely possible to try every restaurant on a one week trip to a vegan-friendly city—a good problem to have!
Q: What's the first place that comes to mind that you would recommend to someone traveling as vegan for the first time?
In the US, for a hassle-free vacation and with lots to do, San Diego CA or Asheville NC. In Europe, Berlin. And in Asia, Chiang Mai, Thailand. I'm sorry I'm so enthusiastic that I can't limit it to one place!
Q: Tell us about Veg Jaunts and Journeys. How did it get started?
Two years ago I was living in the Boston area and was on the board of an organization trying to get a food cooperative 1 started in my town. For my birthday my partner planned out a weekend tour to visit about a dozen food coops in New Hampshire and Vermont, where many of various sizes can be found. I love visiting them because of their ambiance and to check out their vegan offerings too. Right after receiving the birthday card with the weekend plan outlined, I thought to myself, "I could do this. I can plan tours for vegans." I had never been on a group tour but had made my own travel arrangements for myself and for small groups of friends for the past 30 years. And I had actually wanted to be a travel agent for even longer than that!
Q: What makes it different from other tour organizations? 
Our groups are very small—no more than 12 people (and often less) with 1-2 guides. This allows for much flexibility and better experiences. For example, during our Prague/Vienna/Budapest tour in April, a local woman in Budapest invited our small group to her apartment for a multi-course Hungarian vegan meal, which was wonderful. As well, our pricing is based on having your own room, not double occupancy, and not having to pay a single supplement. I believe we are one of the only companies in the entire industry doing that.
Q: Can you share one of your most memorable experiences as a travel planner and veg tour guide? What would you say are the best things about it?
For my private clients, I painstakingly plan out their vegan honeymoons and vacations, using resources and files that I've been saving for years. For my small group tours, I'm thrilled when I have someone join the group who has never been out of the country before. I love seeing how excited they are by everything they experience. And if they live in a place that's not too vegan-friendly, for them to be able to try so many vegan restaurants while on vacation is amazing for them.
Q: What's your take on "don't worry about money, just travel" advice? Any tips for people who want to travel but feel financially stuck?
Travel has always been a priority for me, and where all my discretionary income goes. For years I lived in studio apartments so that I could use the extra money for travel. And decades later, it's the same—my partner and I just moved into a 400 square foot tiny house, and our housing expenses are quite low. So I think it's very possible to easily save money for travel, by giving up the daily fancy coffee habit and brewing at home, by cutting out fancy salon treatments, not going bar hopping every weekend, and so on. That being said, I spend too much money attending all the vegan events in Asheville NC, near where Veg Jaunts and Journeys is based!
Q: If you could give one piece of advice to anyone who is traveling as vegan for the first time, what would it be?
Don't leave home without the HappyCow app and if you're flying, one called AirVegan. Search out vegan advice on the Facebook group called Vegan Travel. And if you're still nervous, and would like to travel with a super congenial group of people, join a Veg Jaunts and Journeys tour.
1 Food coops are always quite vegan-friendly, and a great place to stop while you're on the road. 
-----
Follow Veg Jaunts and Journeys on Facebook and Instagram.
Website: vegjauntsandjourneys.com