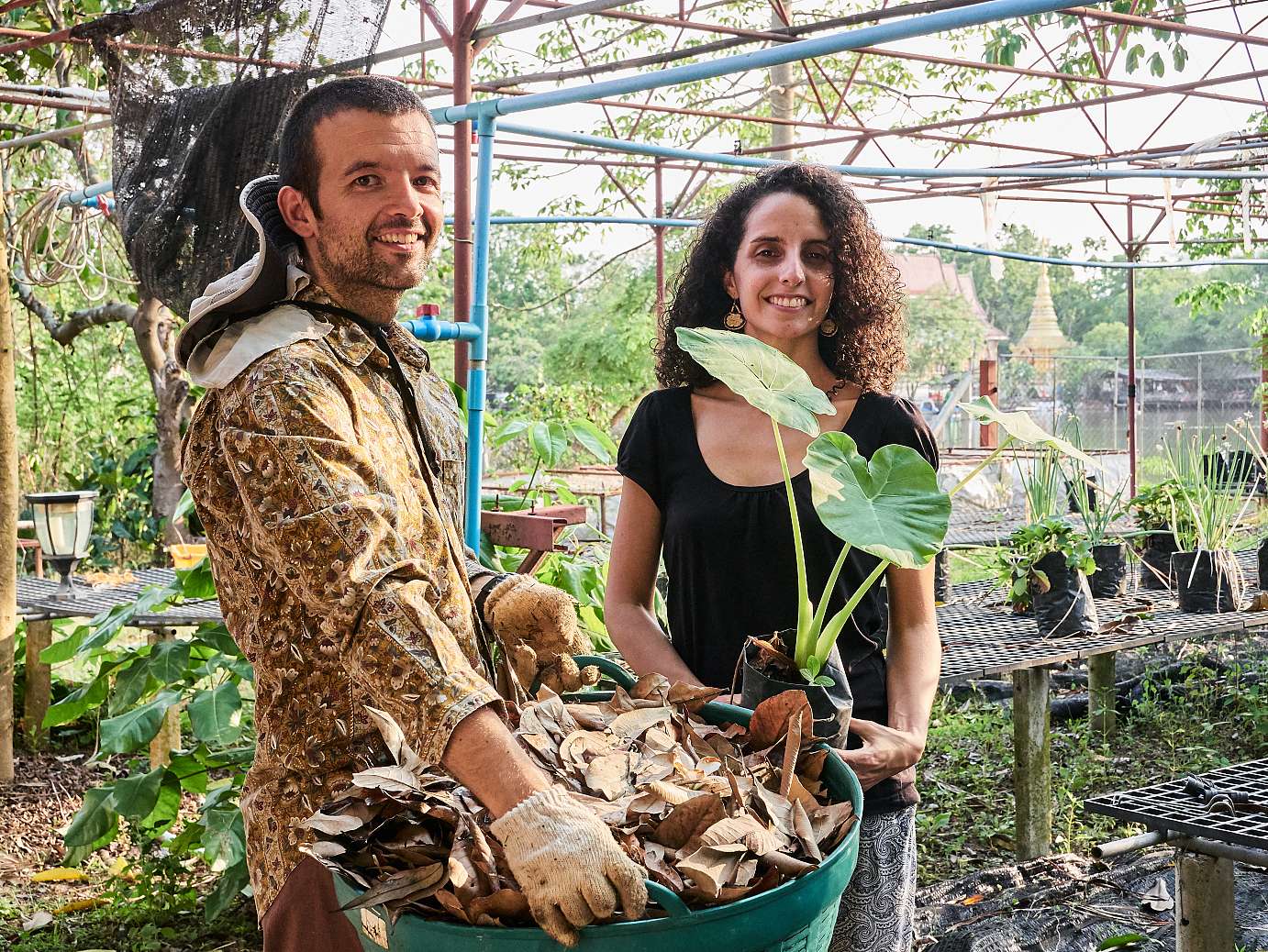 Joao and Sara have been traveling since 2010. They became vegetarians in 2015 in Brazil where they stayed for three years. They have also lived in the UK, Cayman Islands, Nicaragua, Portugal, and Thailand. Their plan is to live in all continents as they continue to explore the world. The couple writes about slow travel, sustainable lifestyle, and healthy plant-based diet on their website the No Footprint Nomads.
Q: How long have you been vegetarians and what made you decide to make the switch?
We changed our diets in 2015, shortly after moving to Sao Paulo, Brazil, and meeting a vegan advocate. We changed for different reasons initially: Sara because she didn't want to support animal killing and unfair treatment; Joao because he had health concerns.
Nowadays, and after some trials, Sara decided to include eggs in her diet and Joao became vegan.
Q: When did you decide to travel full-time?  And what is it like to embrace the nomadic lifestyle and travel indefinitely?
We met before hitting the road but we had different lifestyles when we got together and decided to travel the road. When Sara met Joao, she was working in her professional area and he had already decided to change his life and travel around the world. But, as they say, things never go as planned and so the love cupid hit them hard and they decided they wanted to do this together. This was eight years ago, in 2010, and since then, we never looked back.
The way we travel has also changed since we started this lifestyle when we first lived in London, UK. We wanted to save money to backpack so we started working in the hospitality industry, learning about making cocktails, tasting fine wine and serving exotic food. Those were fun times but, after a while, we got tired of looking for local jobs. That's how we became online English teachers and started an online business focused on sustainable living and travel.
Do we recommend this kind of lifestyle? Hell, yeah! But we also feel that you need to be realistic and know your limitations well. That will help you plan ahead and prepare yourself to make sacrifices so that, in the end, to live the kind of life you've always wanted.
Q:  Tell us about the No Footprint Nomads. What inspired you to create the site?
It's hard to say when the No Footprint Nomads project did start but we think we can say its seed was planted while volunteering in a permaculture project in Nicaragua. We saw a way of living that was possible and that was in tune with nature and the communities around us. We took part of other volunteering projects and all just came together in Brazil, when we first started thinking about our lifestyle and what we wanted from our travels: we wanted to travel more mindfully, with a defined purpose; we wanted to reduce our impacts on the society and the environment; and, finally, we wanted to keep eating a healthy plant-based diet while on the road. 
Q: How has slow travel changed your lives and your views about traveling?
In the beginning, when you leave all behind and start to travel, you want to see as much as you can, as fast as you can. Then, you realize that it simply isn't sustainable in the long run, mainly because people need some kind of reference that being constantly on the move doesn't give you. So, you have to make an important decision: do you stop traveling to get some of the stability you are craving for, or do you continue traveling full time? What we have found out is that you can find the middle ground through slow traveling.
When you start traveling slow, you will quickly find out what you have been missing by all that jumping around from place to place:
- you get to really experience the local culture, just like Neo manages to see the code in the movie The Matrix.
- you begin to grasp what is it like to be part of a different community than your original one, and your worldview changes.
- your network expands greatly and you have enough time to build solid relationships that last long.
For us, nomadism should be a standard lifestyle, allowing you to travel freely, and borders should be a thing of the past. Everyone should do some real traveling at least once in their lifetime, there is no better way to bring our world together. 
Q: You spend a lot of time traveling. What is the longest time you've spent in one place?
Yes, we've been out of the comfort zone since 2010. So far, we've spent roughly two years in each place, which is quite a lot of time, we know. The longest we've stayed in a place was in Sao Paulo, Brazil - three years. We do that due to necessity and because we also enjoy soaking up the cultures and the uniqueness of each place. Our plan is to live in all continents and then decide a couple of places we would like to call home.
Q: Can you share one of your most memorable travel adventures? What would you say are the best things about traveling as vegetarians?
Our most memorable travel adventure was a Couchsurfing experience. We have been doing it a lot and we've had incredible hosts and our fair share of stories to share. For example, in Brazil, a really nice couple that hosted us ended up also being an awkward surprise since, besides being nudists, they were also swingers (their profile didn't disclose any of this info). When they invited us to a swing party we could not believe it but, in the end, they were very respectful.
About traveling as vegetarians, it's necessary to plan your trip. Well, you would have to do it anyway but it requires a little bit extra planning, you can't just go with the wind and expect to find vegetarian options in a small village in the middle of Las Pampas, Argentina. Planning is the success factor for any kind of traveling, and being sure you will have healthy options along the way is very challenging.
Q: Can you name some of the most veg-friendly cities you've visited so far?
Sao Paulo, the biggest city in Brazil, was a veggie surprise, but Chiang Mai, in northern Thailand, is currently our favorite. Berlin and Copenhagen are two interesting European capitals for vegetarians, and Singapore also offered a lot of options but we did not have that much time to explore.
Q: Is there a place that you find particularly challenging to visit as vegetarians? Can you tell us about what made it difficult for you?
Patagonia, of course! Because it's such a low populated region and logistically difficult, you can't find everything you want whenever you want, especially fresh produce. That, combined with a strong meat culture, made it even more challenging. Most of our meals there were frugal sandwiches made out of tomato slices drizzled with cheap olive oil and avocado on a lucky day.
Q: What was the last place you've visited and how's the veg food scene there?
Singapore was the last place we visited and we found many good options, from cheap eats to more delightful options. We were lucky to have a few local vegan friends that were keen on showing us the local veggie scene. We tried an assortment of noodle dishes, Indian cuisine, and soupy Chinese deserts. Also, Singapore is not that big so you could technically try out all veggie options available. Unfortunately, prices are quite high so you have to plan your budget accordingly.
Q: Any tips or advice you can share to other veg travelers?
One single word - planning. We are in the age of information, the internet is omnipresent, there is no such thing as off the beaten track anymore, so no excuse for some planning and no major surprises. We know traveling must have some adventure, we are not talking about perfectly scheduling all your activities, just to have in mind the options well identified to have a healthy plant-based diet during your travels. Another thing we often do is to bring snacks with us or stock up on fruit when we find street vendors. It often turns out to be a lifesaver when we couldn't plan much in advance. 
-----
Follow the No Footprint Nomads on Facebook, Instagram, Pinterest, and Twitter.
​