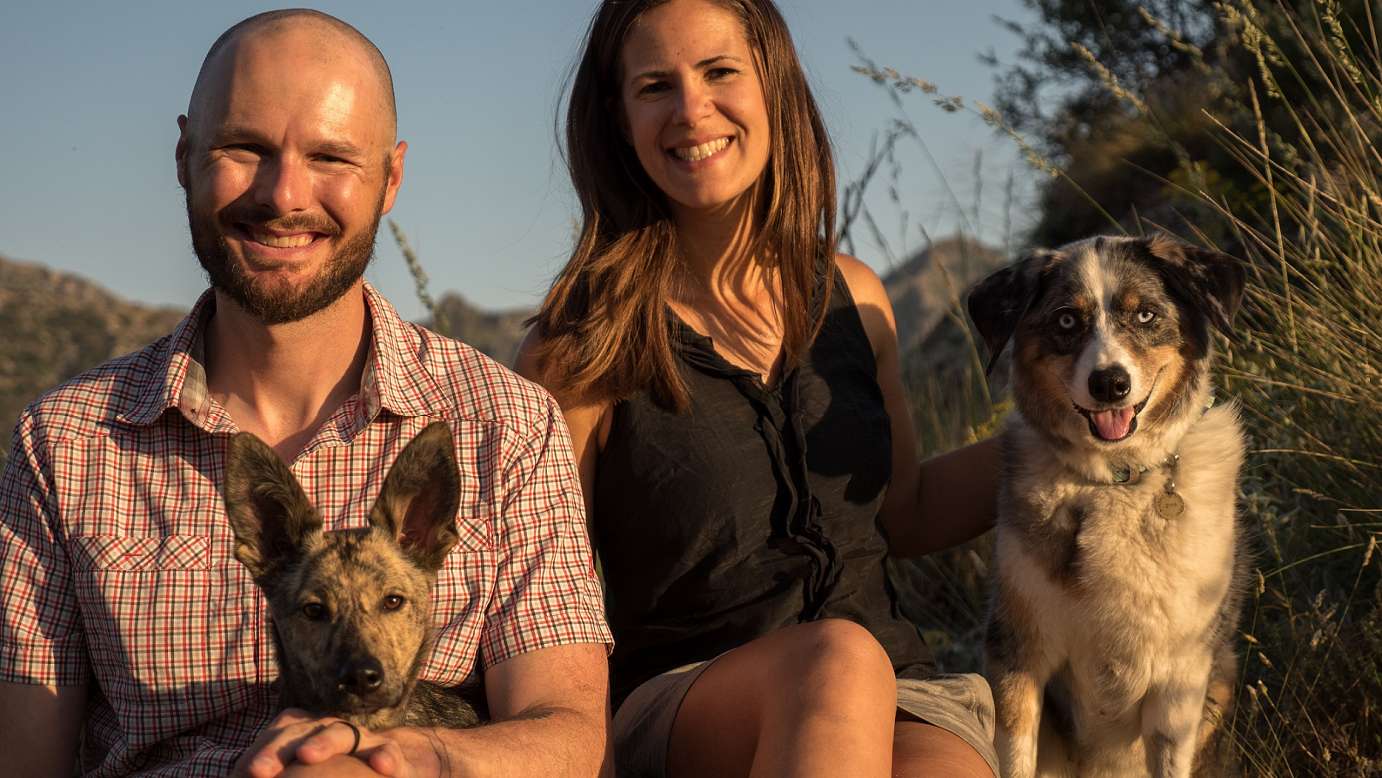 Jen Sotolongo and Dave Hoch are outdoor adventurers who have been traveling the world with their dogs Sora and Laila. They quit their jobs in 2015 and cycled across Europe with their beloved companion Sora. Originally from Portland, Oregon, they are now based in Granada, Spain where they continue to explore the world at a much slower pace. Whether you are looking for ideas on travel adventures with dogs or cycle touring, you will find plenty of inspirations, tips, and stories from the road on their website - Long Haul Trekkers.
Q: How long have you been vegan and what inspired you to make the switch?
We have been vegan since 2015. We were longtime vegetarians before becoming vegan and slowly eased our way into veganism. Most of the cooking bloggers I followed were vegan, so I was cooking almost entirely vegan at home, eating vegetarian out to dinner or at friends' houses. We departed for a two-year bicycle tour in 2015 and decided that vegetarianism would be easier traveling. That summer, two vegan friends joined us for a month on our tour and showed us how easy it is to be vegan while traveling. We haven't looked back since!
Q: When and why did you decide to pursue your passion for travel?
We were living in Portland, OR unhappy with our jobs when we decided to leave. Dave had been working in corporate America for most of his career and wanted out. I never felt like any job was right for me, even the "dream" job where I was working at the time. One day, Dave asked if we wanted to leave quit our jobs and leave everything behind to bike across Europe with our dog, Sora. I said no at first. But then after a week sitting at my desk at work, I came back and said, "let's do this."
Q: What was it like to leave your jobs, embrace a nomadic lifestyle, and travel the world with your dogs Sora and Laila?
It was scary and exciting, frustrating at times, and difficult to leave it all behind. We saved for about a year, sold things we didn't need, and put our house up on AirBnB when we were gone for weekend trips.
Living nomadically was a really incredible experience. It comes with its own set of liberties and also challenges, like figuring out where you will sleep for the night or how much food do you need to bring to make sure you have enough to last until the next town, which may be days away. You feel every raindrop, gust of wind, and ray of sunshine.
It was just Sora at the time on this trip. Traveling with a dog was certainly more challenging than traveling without one, but we couldn't imagine this trip without her. Sora could be reactive with people and other dogs, but everyone wanted to meet her, all the time. So we just worked with her daily to help her overcome her fears. And it worked. By the time we got to South America, she was pulling us toward complete strangers.
Dogs weren't always accepted everywhere we went, so we just found places that would. It led to some beautiful camping spots, natural areas, and friendships.
Q: Can you tell us more about your adorable travel companions?
Sora was a rescued blue merle Australian Shepherd from Oregon. Dave adopted her when she was three years old after she was found on the streets in a town in WA. We sadly had to say goodbye to her in October 2018, after three years of battling recurring cancer in her paw. She had traveled to 29 countries, was on the cover of Adventure Cycling magazine, and served as the face of adoption for an animal rights organization in Medellin, Colombia. You can read her obituary here.
Laila is a rescued mutt from Spain. We have no idea what breed she is, but we think she is mixed with Podenco (Spanish hunting dog) and German Shepherd. She's a year old and has lots of energy. She's still learning how to become a good adventure and travel companion and loves joining us on trail runs, hikes, and other outdoor adventures.
Q: What inspired you to create website Long Haul Trekkers?
Like many, it started as a way to keep friends and family updated on our travels. Once we realized that people liked the dog content more than our tales from the road, we pivoted to create a site dedicated to adventure travel with dogs.
Q: Can you share one of your most memorable travel adventures? What would you say are the best things about traveling as vegans?
There are so many that it's tough to choose just a few! The most memorable are probably the most difficult days, like when we spent three hours pushing up a 3km hill meant for goats, not bikes. The night before we had camped in a torrential rainstorm and everything was soaked. After the 3km, we found this mountain hut in the middle of nowhere. The host made us hot food (thankfully, we had the vegan passport to communicate our dietary preferences!) and gave us a warm bed. We didn't leave for two days!
We also really enjoyed trekking in Peru. That country has some of the most beautiful natural landscapes in the world and everyone is busy at Machu Picchu, so there are very few people on the trails.
The best part about traveling as vegans is trying all the new foods! People think you miss out on the food culture when you don't eat certain foods, but never felt that way. There are so many dishes that are vegan, people just don't think about them as "vegan."
Q: Can you name some of the most vegan-friendly cities you've visited so far?
There are so many! Germany has a thriving vegan scene with heaps of products available in stores. Peru was super vegan-friendly, especially Cusco, where we found some of our favorite restaurants. Quito, Ecuador was also quite vegan-friendly and had lots of restaurants that allowed dogs indoors.
Q: Is there a place that you find particularly challenging to visit as a vegan? Can you tell us about what made it difficult for you?
Aside from really small towns and villages, it really hasn't been all that difficult. Patagonia was probably the most difficult. And that was really only because we were traveling by bicycle, so that often meant several days in between civilization. There isn't a lot of produce available there either since it's so isolated, but we just carried a lot of cans and weighed down our bags during that part of the journey.
With Happy Cow, it's easy to find where the vegan restaurants are, and we're happy to go to the same place over and over if it's the only place in town. If we really can't find anything, then we just go to the grocery store and make our own food.
Q: What was the last place you've visited and how's the veg food scene there?
We were just visiting a friend in Cagliari, Sardinia and were super happy with the vegan scene there! There aren't necessarily a ton of vegan restaurants, but everyone knew what it meant to be vegan and we had some amazing pizza while we were there.
Q: What's your take on "don't worry about money, just travel" advice? Any tips for people who want to travel but feel financially stuck?
Everyone thinks that we have a trust fund or someone else is funding our trip, but we just saved our pennies and made it happen. When you provide your own transportation, shelter, and have no bills, all you need to worry about is food, which we cook ourselves most of the time. Travel doesn't have to be expensive, and in fact, it was so inexpensive that we traveled a year longer than we had originally planned and still had plenty of money left over.
If someone dreams of traveling, then they have to make it a priority and figure out how to make it happen. They will have to make trades in life and give up some luxuries, most likely. Travel is a far better education than I ever got in school and it teaches you the truth about other places and cultures.
Q: Any tips or advice you can share to newbie vegan travelers?
Download The Vegan Passport and the HappyCow app for starters. Find your community! Most large cities have a vegan community on Facebook. 
We've had a lot of fun finding the vegan places to eat and trying new foods while traveling as vegans. Even natives learn of dishes that are vegan that they had no idea fit the label. Food is a common language and people love to make sure that you're enjoying what they serve.
Most importantly, don't worry about being perfect. Sometimes, there will be miscommunications or misunderstandings and your pizza might have egg in the dough, but you've learned that after eating it. The toast might come pre-buttered because you didn't think to ask, and you have to decide if you'll eat it and not let food go to waste or send it back. There's no right or wrong, it's what feels right to you. Just try your best and know that mistakes will probably happen, and that's ok.
-----
Follow the Long Haul Trekkers on Facebook, Instagram, Pinterest, and Twitter.