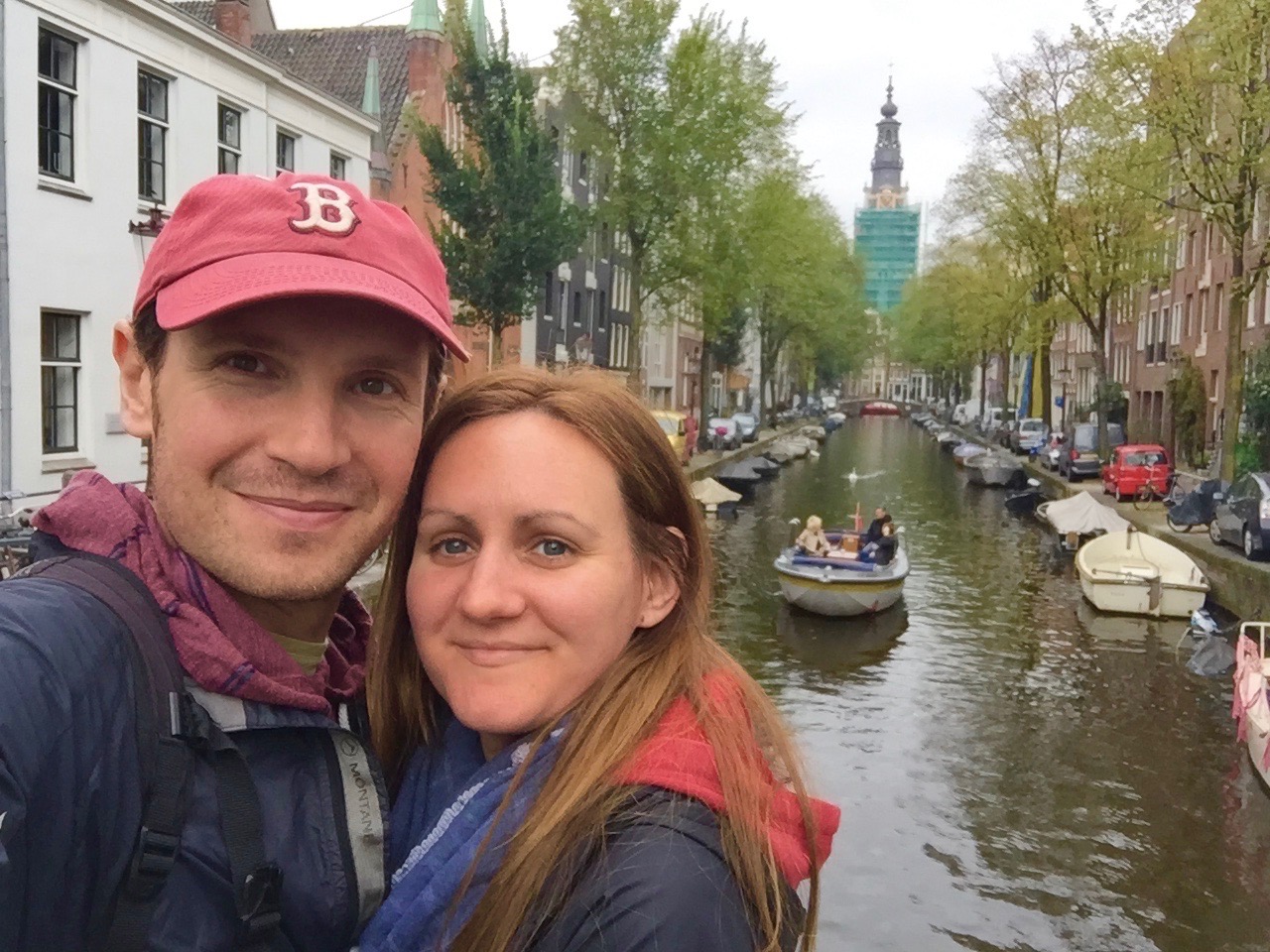 Andrew and Amy
What if you have the sudden inspiration to live a location independent lifestyle? Would you go for it? For most people, it is not an easy decision to make. But for couple Amy and Andrew, founders of Our Big Fat Travel Adventure, it was a thought that they decided to pursue. And after years of careful planning and preparation, they finally quit their jobs to travel the world. We reached out to them to have them share their story and give us a glimpse of their adventures including what it is like to live and work abroad.
Q: What was it like to quit your jobs and decide to travel indefinitely?
After four years of living and working in London, our favorite city in the world, it was hard to say goodbye, especially because we didn't know when or if we'd be returning. We weren't sad about cutting out our daily commute or leaving the rat race though, it was the best decision we ever made. Amy is so glad that she can now work remotely rather than be trapped in an office for 40 hours a week with just 20 days holiday a year. At the time, we were just so excited to get going after years of planning and saving.
Once we hit the road and had been traveling for a few months, the reality of our new lifestyle kicked in and the fact that we didn't have a home or job to go back to did freak us out. As our savings began to dwindle we found ways to combine work and travel and we've been experimenting with this ever since. It's a constant challenge but we now love our nomadic life and wouldn't want to go back to our old one.
Q: How do you fund your travels?
We left the UK with around £20,000 that we'd saved over three years. This lasted about 15 months before we had to start earning again, which was when we moved to Hanoi in Vietnam to teach English. After that, we tried to work remotely as digital nomads and lived in places such as Chiang Mai in Thailand. Amy now earns money freelance writing and blogging, while Andrew is currently teaching at an International School in the Algarve, where we're based for a year. Andrew also does some recruitment work for our old language center in Hanoi and used to teach online.
Q: What inspired you to create the Our Big Fat Travel Adventure site?
Since Amy already worked as an online writer in London, it felt natural for her to start the blog as we began our trip. We really wanted to share our adventures and keep a vivid record of them, we were also keen to help other travelers setting off on their own journeys. Back in 2013 when we started our journey, there were nowhere near as many travel blogs around and no Instagram or Pinterest. Blogs were more personal diaries than the businesses they are today, so things have changed a lot since then!
Q: Can you share one of your most memorable travel adventures?
Trekking to Everest Base Camp in Nepal in 2017 was the most intense travel experience we've had. During the two-week trek we got all kinds of illnesses, suffered from altitude sickness, trekked through snow and slept in freezing cold tea houses but it was such an adventure. The Himalayas is hands down the most beautiful place we've ever been and standing in the shadow of the world's most mighty mountain was just awesome. It was one hell of a challenge, especially since we trekked independently without a guide and carried all of our belongings, but it's one we're so proud to have completed.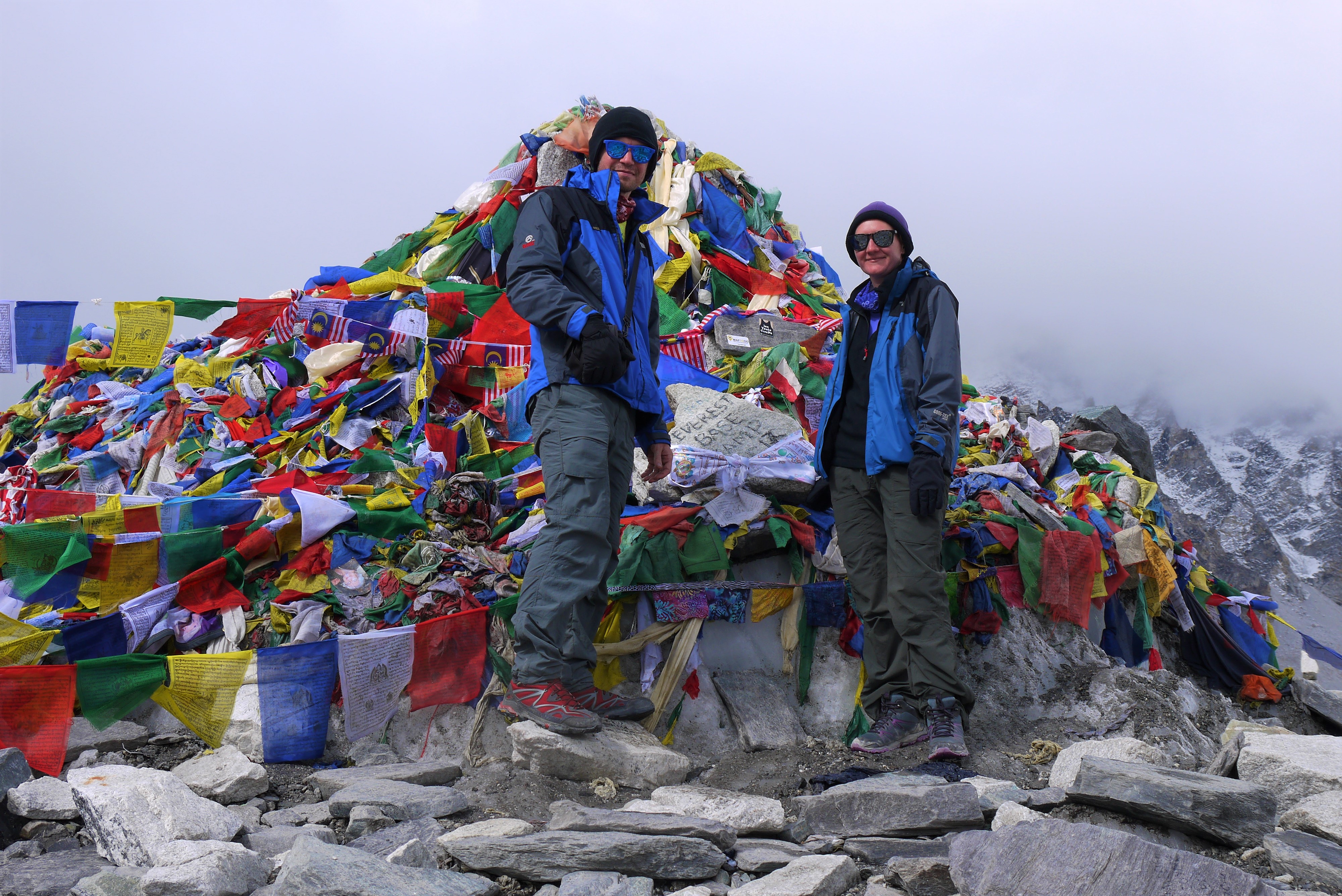 Everest Base Camp
Q: What would you say are the best things about traveling as vegans?
We've been traveling as vegans for around a year and a half now before that Amy was vegetarian. To be honest, it can be incredibly tough to find vegan food in some places, particularly on our South America trip earlier this year. We love being vegan though, we feel healthier now that we don't consume animal products and psychologically, we like knowing that we aren't directly contributing to animal cruelty. If you choose the right destination it's also possible to find some incredible vegan restaurants.
Q: Can you name some of the most vegan-friendly cities you've visited so far?
Yes, Chiang Mai in Thailand is great for vegans and we ate so well throughout our entire California road trip this summer. We also did some house sitting in Portland, Oregon, and found that the city was full of vegan options. There were all-vegan supermarkets and we even found a vegan cheese shop! In the UK, we were super-impressed with Glasgow's vegan restaurants when we passed through this summer and London has transformed into a vegan haven with so many options to choose from.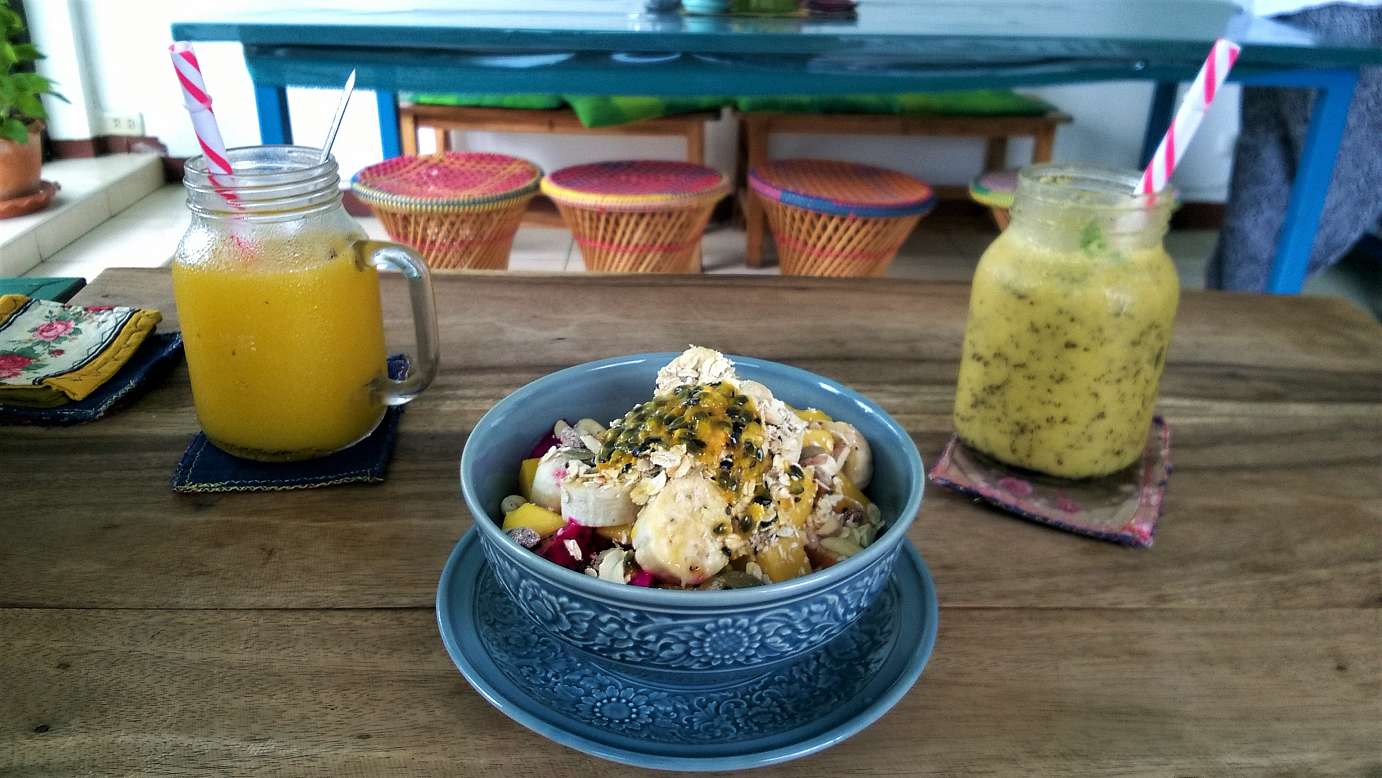 Free Bird Cafe, Chiang Mai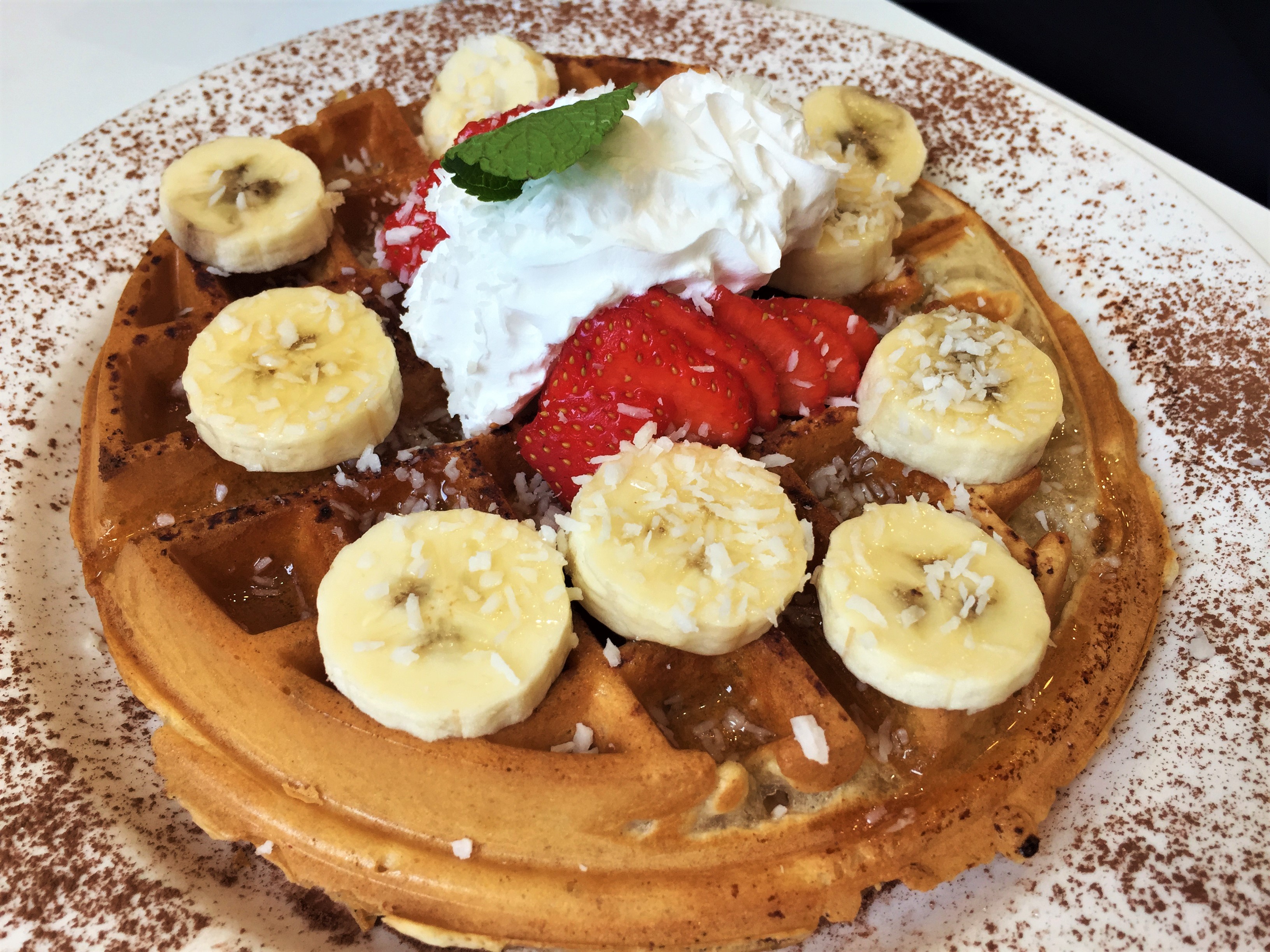 Waffles at Picnic Cafe, Glasgow
Q: Is there a place that you find particularly challenging to visit as a vegan? Can you tell us about what made it difficult for you?
South America was very difficult because it's such a meaty culture and everything is fried in animal fat or covered in cheese. There were times, such as on a tour of the Bolivia Salt Flats, that we ate plain rice for dinner and that was it. In many places, we visited people barely understood vegetarianism, let alone veganism. However, in major cities like Cusco, Lima, and Medellin, we did find some vegan options.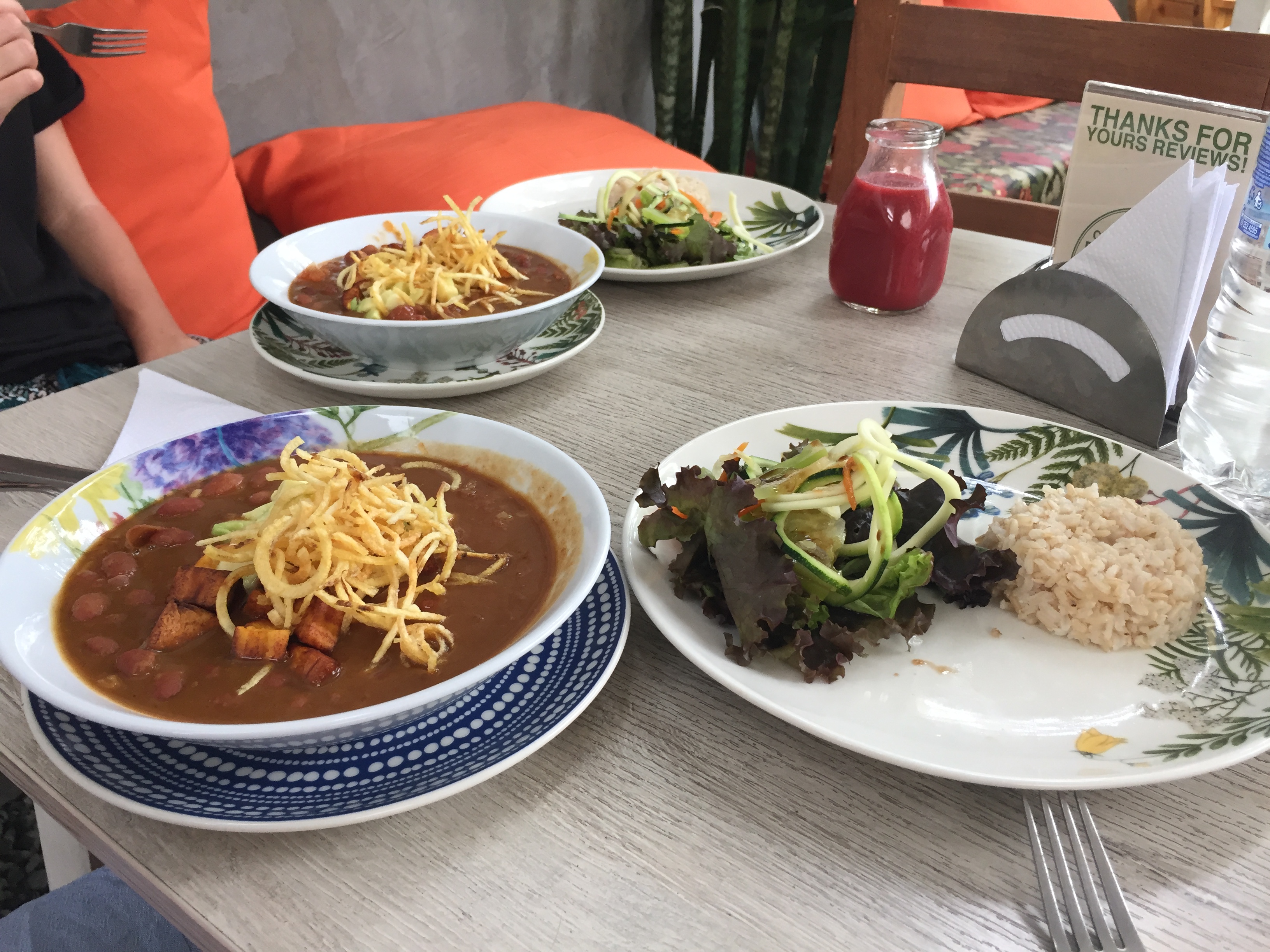 Vegan food in Medellin
Aside from food, there are many places we're traveled to where animals are treated badly, not necessarily out of malice but because of cultural norms and traditions. For example, when we lived in Vietnam I'd have to walk past a market where chickens were stuffed in tiny cages and sometimes people would roast dogs by the roadside. In Indonesia, there are so many skinny street dogs and cats riddled with skin diseases. It can be very confronting and sad, but we try to visit animal shelters or volunteer when we can.
Q: What was the last place you've visited and how's the veg food scene there?
The last big trip we took was to California in the summer and the veg scene was incredible! We stuffed our faces at incredible vegan restaurants that served everything from mac and cheese to pancakes and pizzas. Just going into Whole Foods and discovering all the vegan cheeses (Kitehill was our favorite) and picking up vegan donuts was a daily excitement. We loved Veganburg in San Francisco, a plant-based burger joint. I wish they existed everywhere!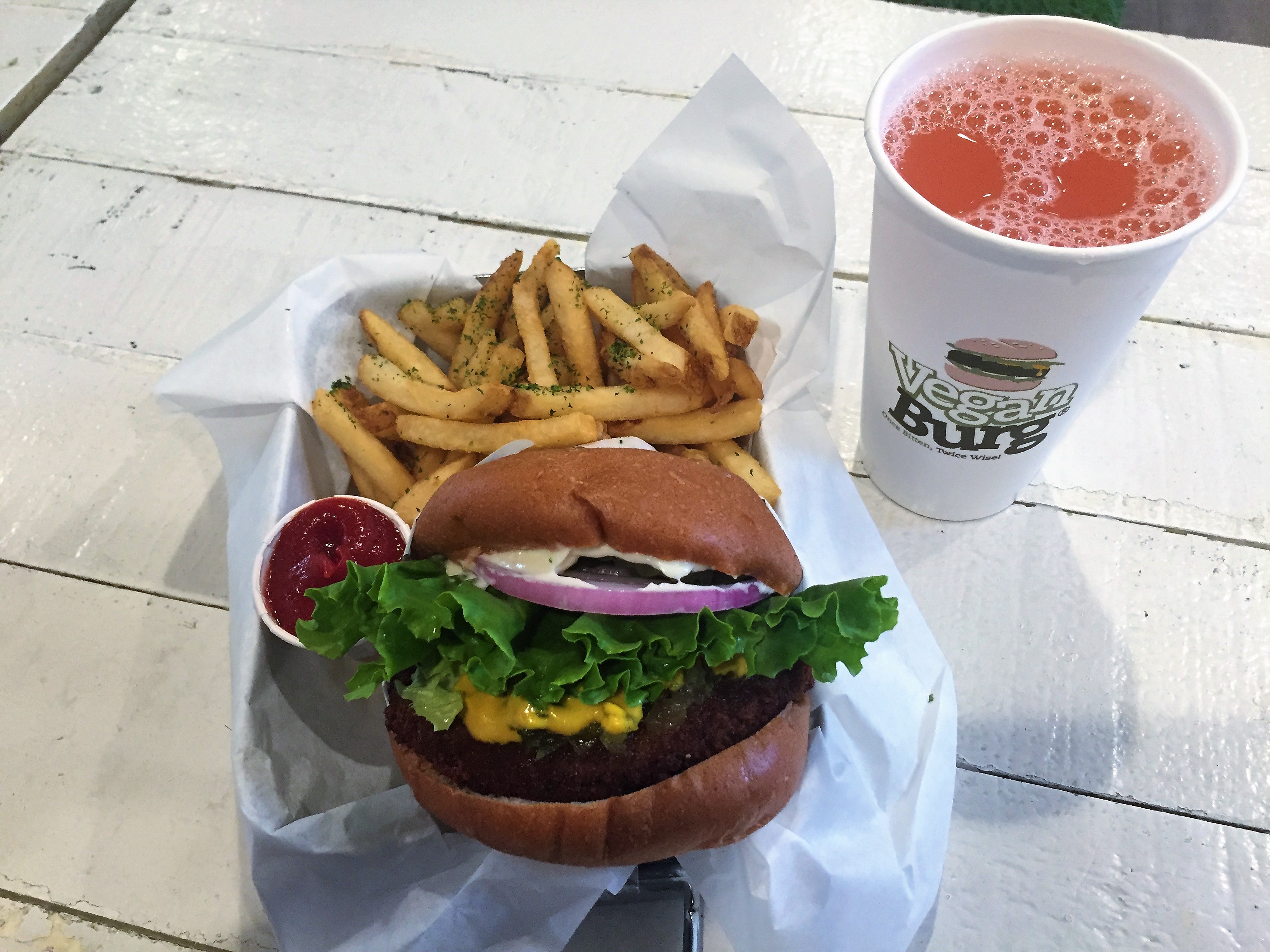 Veganburg, San Francisco
Q: What's your take on "don't worry about money, just travel" advice? Any tips for people who want to travel but feel financially stuck?
I would always advise people to have a financial plan when it comes to travel. First of all, pay off any debt you have and spend time-saving a decent amount of money before you leave unless you're going straight into a job abroad. If you plan to travel for a long time, think about how you can make money on the road and lay the foundations for that. If you want to teach, for example, take a TEFL course, or use whatever skills you have to set up relevant a website or online business.
I do however believe that the key to long-term travel is living frugally and reducing your living costs. We spend most of our time in countries where living costs are low, such as Thailand, Vietnam, and Portugal so that we don't need as much money to cover our daily costs. We've adjusted our travel style so that we move slowly and have plenty of time to work as we go.
Q: Any tips or advice you can share to newbie vegan travelers?
Take some vegan staples with you, we travel with B12 tablets, Marmite and some nutritional yeast. We find that renting apartments so we can cook our own vegan meals works really well and saves money. This is particularly good for countries that aren't vegan-friendly. Use Tripadvisor and HappyCow to find vegan restaurants around the world and always carry snacks like crackers, nuts, and fruit for long journeys and flights that typically don't cater to vegans.
-----
Follow Amy and Andrew/Our Big Fat Travel Adventure on Facebook, Instagram, Pinterest, Twitter, and YouTube.