A friend who had been touting the benefits of choosing to go vegan got me interested in attending VegFest 2018 held at the Bonifacio Global City (BGC) Arts Center in Taguig, Philippines last 17-18 November 2018.  The event gathered vendors selling vegan products, mostly composed of food and cosmetic products, as well as articles of clothing and accessories.  There were also vendors with products like bamboo and metal straws, as well as cutleries that would help people interested in reducing their dependence on single-use plastics.
Veg Fest signage. 
For someone like me who is exploring vegan options, the biggest challenge relates to the availability of food options.  It was a pleasant surprise to see many creative make-overs of Filipino favorites.  I brought along my cousin Tracy to share the experience, and mainly to allow us to taste as many food options as possible while on a budget. 
We arrived at the venue at around 1:00pm in the afternoon, where a short, light drizzle accompanied us from the parking lot to the vendor area.  Having decided to have lunch there, we spent the first 15 minutes exploring all the food options available.  There was a surprising variety of plant-based options, ranging from sisig (traditionally made with meat from the pig's face as well as pig ears), kaldereta (Filipino beef stew with tomatoes, carrots and potatoes), barbecue, bottled mushroom tapa, grilled bangus (milkfish), pork belly, and lechon. Foreign cuisines were also represented in Italian pastas, Korean and Japanese rice bowls, Japanese sushi, and Indian food.  My cousin and I were quite hungry and decided to go for rice meals, mine with two sticks of vegbarbecue, and my cousin's with a serving of veg-chon (a play on lechon kawali or deep fried pork belly).
Veg-chon and barbecue with rice.  Photo courtesy of my cousin Tracy.
For a meal with what I eyeballed to be around a half-cup of rice each plus viand at an average cost of Php135.00, these two dishes were quite tasty.  For the barbecue dish, the meat texture was similar to biting into a grilled portobello mushroom (firm with a slight chew), but it was the slightly sweet barbecue marinade coating each cube that carried the dish and made each bite enjoyable. For the veg-chon dish, it was all about the crunch and flavor – enjoyable to eat, and good enough for me to forego the accompanying lechon sauce made out of what tasted like peanuts.  Good news: this was a surprisingly filling meal!  Two hours later, we still felt sated.  Bad news:  because we already felt full, we didn't feel like tasting any of the other dishes anymore!  I had wanted my cousin to try the falafel burger of Planted that I had discovered in their stall at The Pantree food hall near my office along Dela Rosa Street, Makati. However, even that was already sold out when we went around for a second time at around 3pm.  The event's organizers encouraged people to share tables, and based on what our tablemates ate, it looked like indeed, sandwiches were the preferred food of choice, with our neighbors to the right opting for hamburgers, and our neighbors to the left sharing a huge cheese sandwich.  Our neighbors to the right were eventually replaced by another group who, like us, opted for a rice meal of malunggay (moringa) dilis, brown rice and what looked like either caldereta or Korean barbecue from The Greenery. 
The Greenery menu in the background. 
If not for the heat and lack of tables and chairs, we probably would have had the appetite to try more of the meal options being offered.  We did, however, make up for it by sampling the dessert options.  From what I saw there were many more dessert options (mostly, if not all, chocolate-based) than viand options, which is one of the best ways to prove that you need not feel deprived of culinary luxury and decadence when you choose vegan. I admit, one of the main reasons I went was to see what The Vegan Dinosaur of Davao would bring to Manila.  Their best-selling chocolate desserts were available, and I managed to snag the last of the Cacao Bliss Balls and Carob Bliss Balls.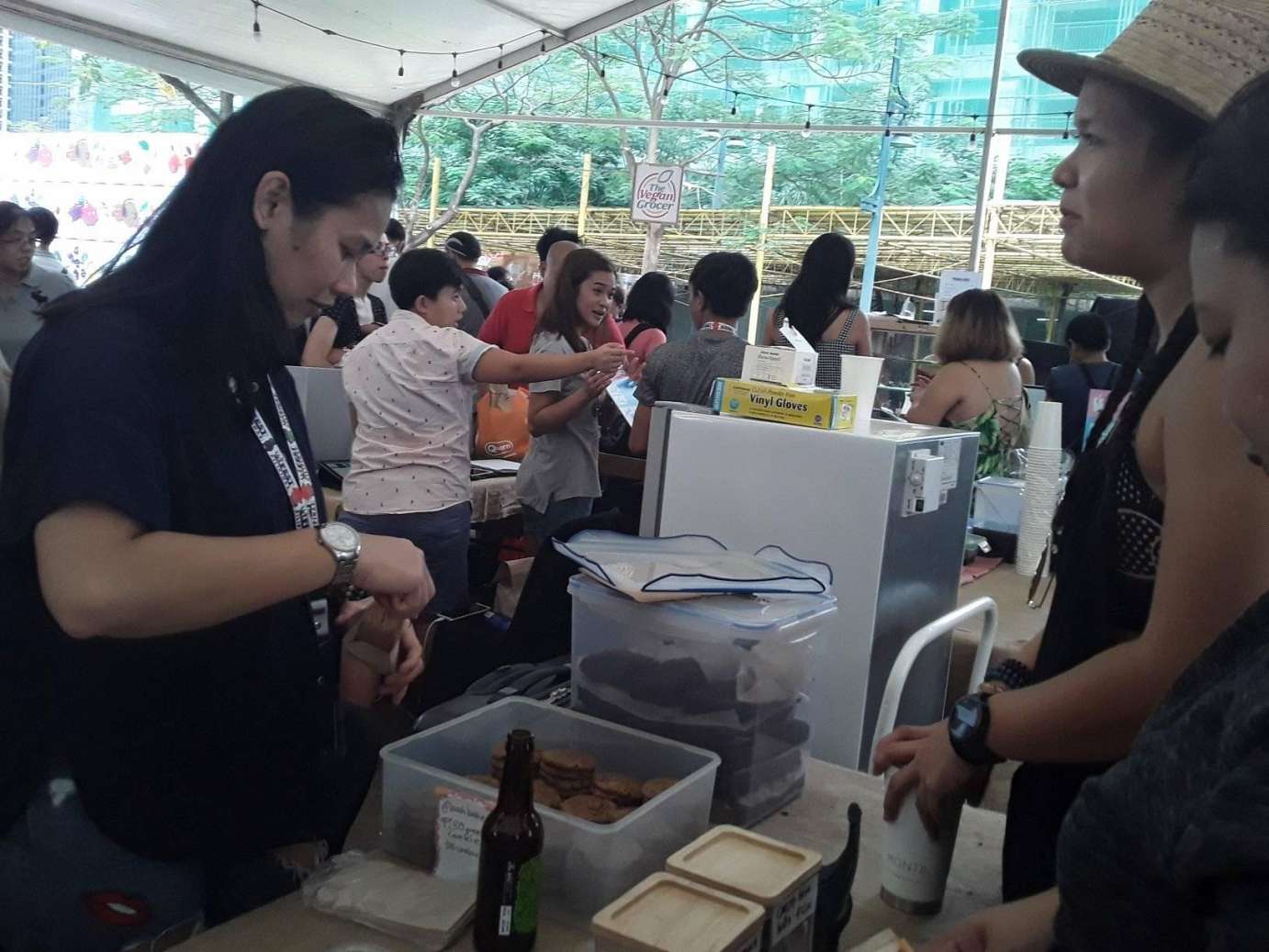 The Vegan Dinosaur in Manila. Photo courtesy of my cousin Tracy.
Other dessert options were provided by Jertie's Kitchen, with a variety of cookies and a really nice-looking chocolate cake.  I opted to buy the three cookie variants in matcha, dark chocolate and peanut butter. The dark chocolate nibbler was definitely a winner – good mouth-feel and flavor! The matcha cookies had a good crunch and a slight bitterness probably due to the matcha powder, but the matcha flavor didn't stand out as much as I would have wanted it to.  The peanut butter cookie was chewy, and I could definitely taste the peanut butter – something I would recommend to a peanut butter cookie lover.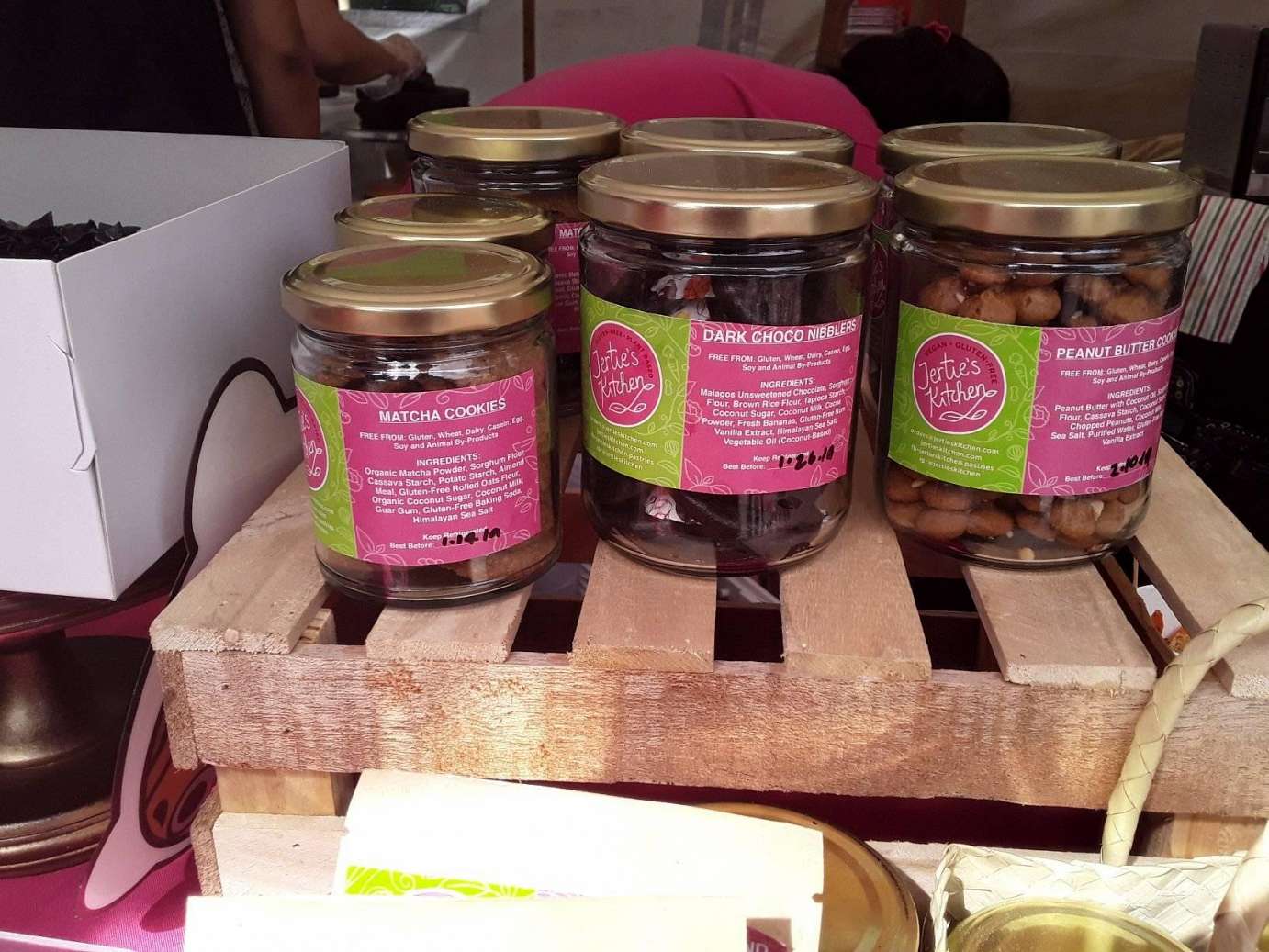 Jertie's Kitchen. 
Jertie's Kitchen desserts.
Earth Desserts provided the most number of dessert options – vegan donuts, chocolate bark, brownie brittle, old-fashioned fudge brownies, and cookies.  The vegan peppermint brookies were definitely a winner – a balanced mix of dark chocolate with a peppermint chaser following soon after. The brownie brittle also made its way into my shopping bag.  
Earth Desserts. 
Other than the light drizzle when we arrived, it was pretty hot for the rest of the afternoon. Mahalo's frozen acai yogurt at Php200 per cup with a choice of any two out of around 10 toppings plus one out of three syrup flavors (blueberry and caramel were standout flavors).  My cousin and I decided on a strawberry peach topping with a blueberry sauce.  Well worth the Php200!
If you're looking for chips to snack on, my cousin Tracy really loved the Vegetari mushroom chips – just the right amount of saltiness with the natural umami flavor of mushrooms… which went well with the Sun Stoked beer we bought from Nipa Brew (full disclosure:  not really a beer drinker, but I liked that it tasted enough like beer, but not too bitter).  If you're looking for a non-alcoholic drink, Nipa Brew also makes a calamansi-jasmine tea soda that was all the more refreshing on a really hot day.
Nipa Brew beverages – beer and soda.  Photo courtesy of my cousin Tracy.
Another chip option that we liked were the cheese flavored Kale chips.  A sour cream and onion variant is also available, but I, normally not a cheese-flavored chip lover, actually liked. The chip reminded me of the first time I tried a fried kangkong appetizer at a wedding reception – enough of the leafy flavor to remind you you're eating a vegetable… but enough crunch and saltiness to make you forget that you're eating a vegetable!
Kale Chips. 
Overall, my cousin and I were glad to have attended the VegFest, and would probably attend the next one if it's held again in Bonifacio Global City on a weekend, but would probably time it to go there later in the afternoon so it's not so hot… and probably more seating available so we could try more of the vegan meal options.  We were definitely happy with our lunch and pleasantly surprised that it kept us full the entire afternoon. The event is also something I would gladly invite friends and family to experience with me next time.