Coming from a place where veganism is a fairly new and still unfamiliar concept, traveling to the UK was a welcome experience. It did not exactly start well. I only had one piece of cold banana to eat in the over 8-hour long flight for the second leg of my journey. The reason for this, I was told, was that they did not have any record of my special meal request. I thought it was strange because I specifically made the request at least three weeks before my flight.
To be fair, the flight attendants were apologetic and tried to correct the situation. Someone immediately contacted the airline to inform them of the situation so they can at least try to prepare something for me for my connecting flight. One of the crew members also approached me with some rice and vegetables asking if I would like to have it. I declined because the veggie dish looked oily and I had to avoid eating too much oil because of a health issue.  Luckily, I had an early dinner before my flight so missing a meal for that stretch of the trip was not such a bad thing.
As for my connecting flight to London, the airline managed to fix the problem as they served me with the VGML I originally requested. So it turned out well in the end despite the initial hiccup.
In-flight meal troubles aside, the rest of my experience with food during my trip was generally a good one. I have heard many good things about being vegan in the UK before. But there was something about experiencing it first-hand that made the trip more memorable. I think one of the best things about traveling as a vegan in the UK was to discover how easy it was to find vegan food or vegan-friendly options even at the train stations.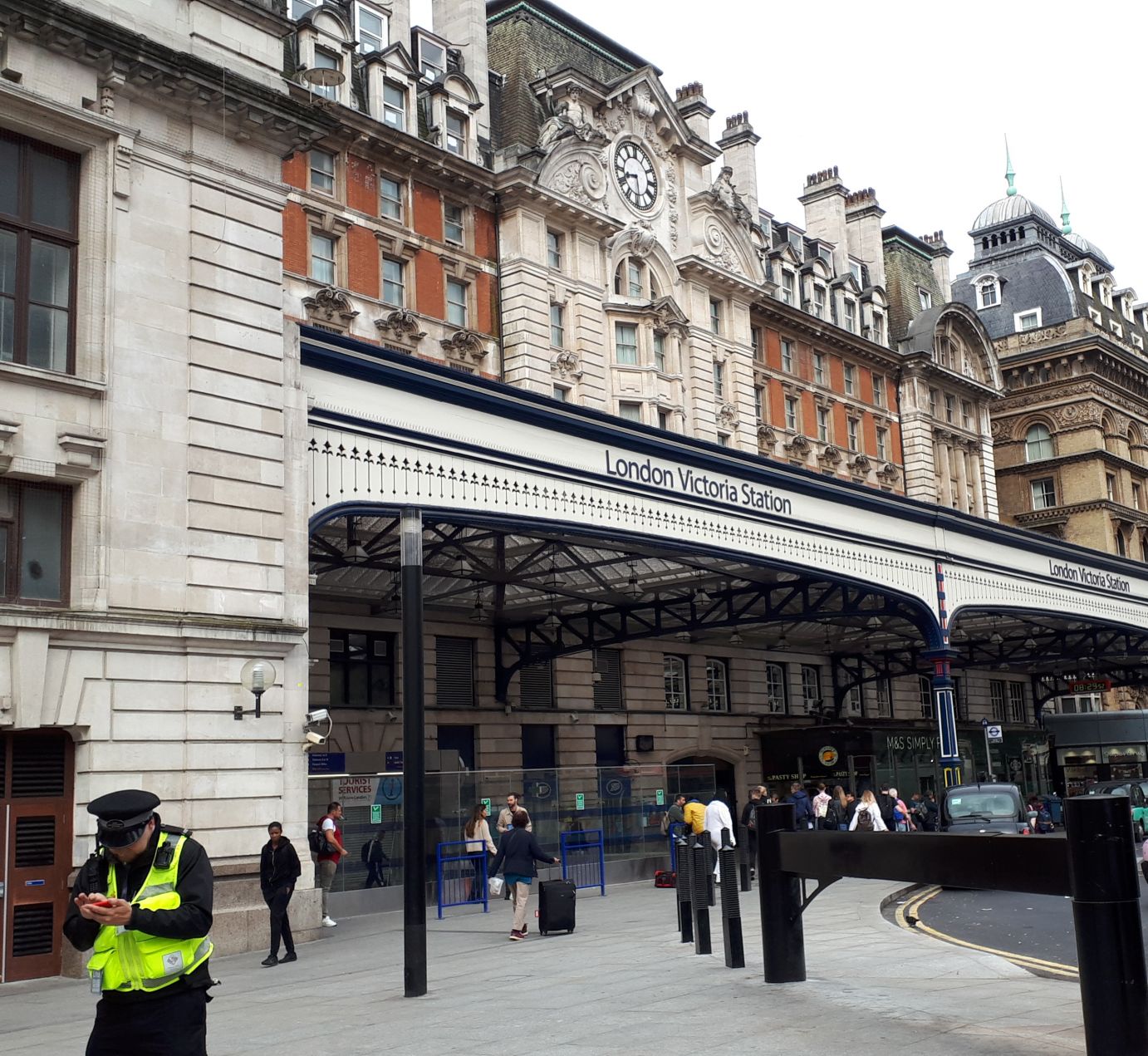 Took the Tube from Paddington to London Victoria Station
Case in point would be London Victoria Station. The vast and spacious station boasts a wide array of cafes and restaurants with vegan or vegan-friendly options available.  I was initially thinking of grabbing a quick lunch and a soy latte at Starbucks. I was pretty sure that they will have vegan eats there. But the store was crowded so I decided to look for another place. McDonald's also had some vegetarian options. But I did not want anything fried and I was not entirely sure if the food was vegan-friendly. There was also a Greggs branch which I wanted to visit because I wanted to try the sausage roll. But I was not sure where it was located. And most of the shops were still closed when I was there.  So I just went into the least-crowded food shop I saw. And that was how I found my delicious vegan sushi lunch.
Vegan sushi
Waiting for the latest departure information.
From Victoria, I traveled for over an hour to a seaside resort town in West Sussex. I stayed there for a week in a residence hall inside a university campus. All meals were served at the campus' restaurant. And while I was the only vegan in the group, I had no trouble with food at all. I enjoyed the oil-free, and often creatively prepared, vegan dishes they made especially for me. The restaurant also had some vegan sweets and treats available. They even stocked up on some Magnum Vegan Classic ice cream which I have not tried before.
Stuffed bell peppers and a Magnum Vegan Classic for dessert.
The return trip from West Sussex to London Heathrow for my flight home was likewise a pleasant experience. The town's train station may have been considerably smaller than the one in London Victoria. But it has a nice little cafe in it that has a wide array of plant-based milk options and delectable vegan croissants. I opted for an oat latte and a vegan blueberry croissant and happily enjoyed my snack as I waited for the train.
Enjoyed one of these with an oat latte.
The UK is so far the best place I have visited since I started going vegan. And if there was one thing I learned about the experience, it would be this: having easy access to vegan food anywhere you go makes a world of difference.