Have you ever thought about downsizing and owning less? Or just wondered what it is like to live free of a lot of possessions that take up so much space in your home? Tarah Millen, the creator of Tarahlivinfree and Livin Free, shares her insights on tiny home and campervan living, travel, adventure, minimalism, and raw vegan lifestyle. Read on and get inspired by her stories.
Q: When and why did you make the switch to a raw vegan lifestyle?
I first heard of the vegan lifestyle in January of 2007 when I read the book "Skinny Bitch". At the time I was looking for a diet plan so I could lose weight, but what I found instead was a lifestyle based on compassion that completely changed the course of my life. I adopted a vegan lifestyle immediately and learned about raw foods shortly after that. I was appalled by how animals were treated in factory farms and I knew that I couldn't participate in that kind of cruelty any longer, so switching to veganism was an easy choice for me because it was based on my ethical values. I then decided to take it one step further and eat primarily raw foods, mostly to improve my health. I had suffered from cystic acne, digestive issues and had been overweight for years, which is why I was originally searching for a diet book. With the raw food lifestyle, I was not only able to make a difference in the lives of animals, but also my own physical well-being.
Q: What is it like traveling as a raw vegan?
Travelling as a raw vegan is much more challenging than traveling as a vegan! Because I choose to eat primarily fresh fruits, vegetables, nuts, and seeds, the quality and ripeness of these foods is incredibly important to me, not only for me to enjoy the food I eat, but also to ensure that I'm eating enough to feel satisfied and support the adventurous lifestyle I live. This can definitely be a challenge when I'm travelling, as there's not always a wide variety of quality fruits and vegetables available. I've learned that it's necessary for me to bring my own food with me when I'm traveling on an airplane, on a road trip, or even when visiting friends. Though it takes a little extra forethought and planning, it's become second nature to me. Whenever I travel, I bring along dried fruit or nuts, bars, raw truffles, raw crackers, kale or veggie chips, and fresh fruit. I also research the area I'm traveling to so that I can easily find grocery stores, markets, or restaurants that have fresh salads or juices. Without a doubt, it takes extra effort for me to travel as a raw vegan, but it's absolutely worth it because I feel amazing when I eat raw foods!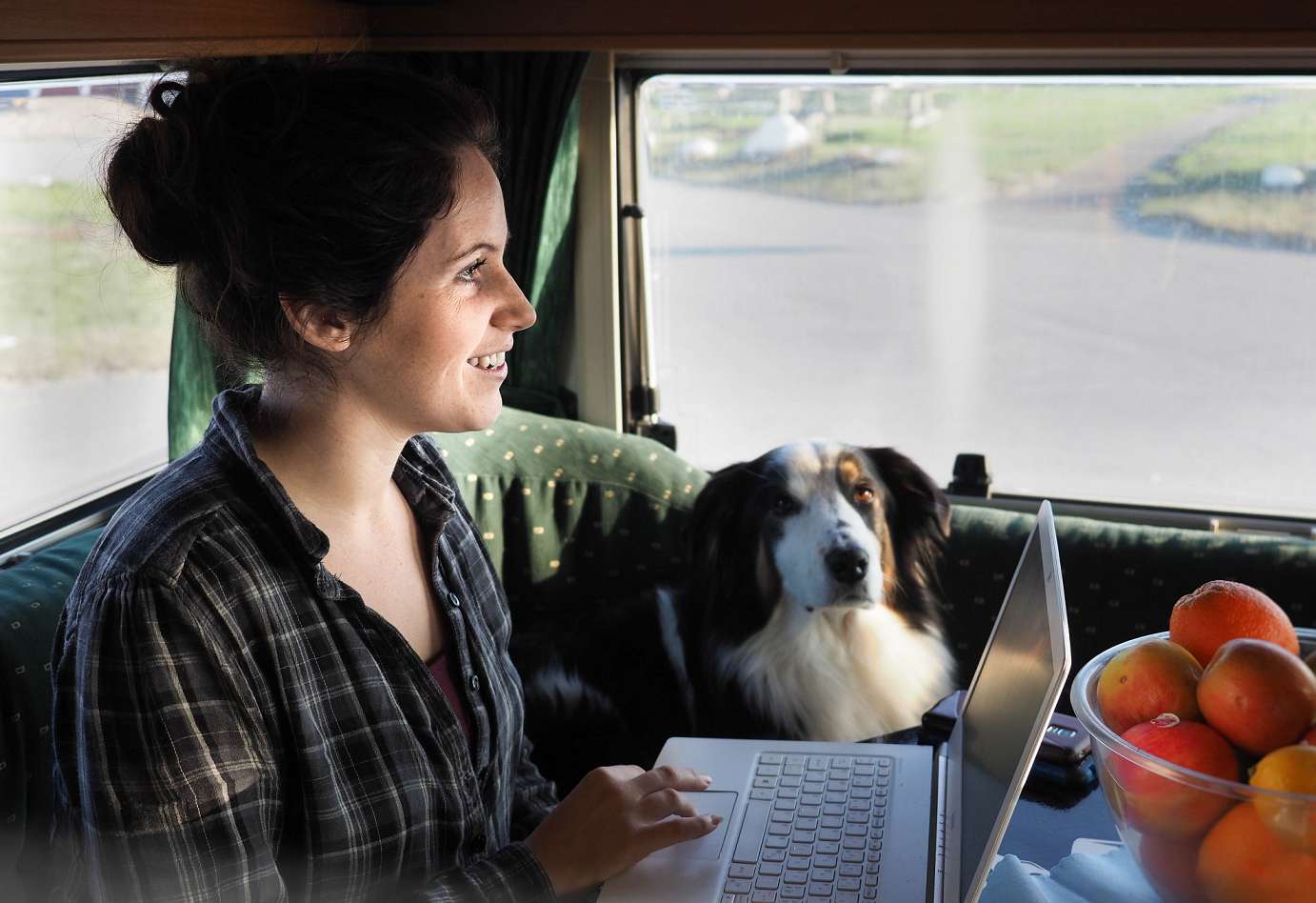 Me and Pepsi (photo by Sea Shepherd)
Q: Can you name some of the most vegan-friendly places you have visited?
I'd say that one of the most vegan-friendly cities I've visited is Berlin. The sheer quantity of entirely vegan restaurants and supermarkets makes eating vegan very easy! Ubud in Bali also rivals Berlin for its abundance of vegan-friendly foods, restaurants, and shops, and I definitely prefer Ubud due to the wide variety of quality fruits and vegetables, the beautiful landscape and climate. I also had an easy time eating raw and vegan when I lived in Australia for a year because there are so many delicious fruits and vegetables available all year round.
Q: Since when have you been living in a tiny home?
I've lived in several tiny homes over the years, starting in 2009. I've lived in a tiny cottage on the banks of the Ottawa River, a campervan where I worked with horses in exchange for rent, a small cabin overlooking the Tsolum River on Vancouver Island, a tiny garden home on the Baltic sea, and finally a campervan on the strait between Denmark and Sweden.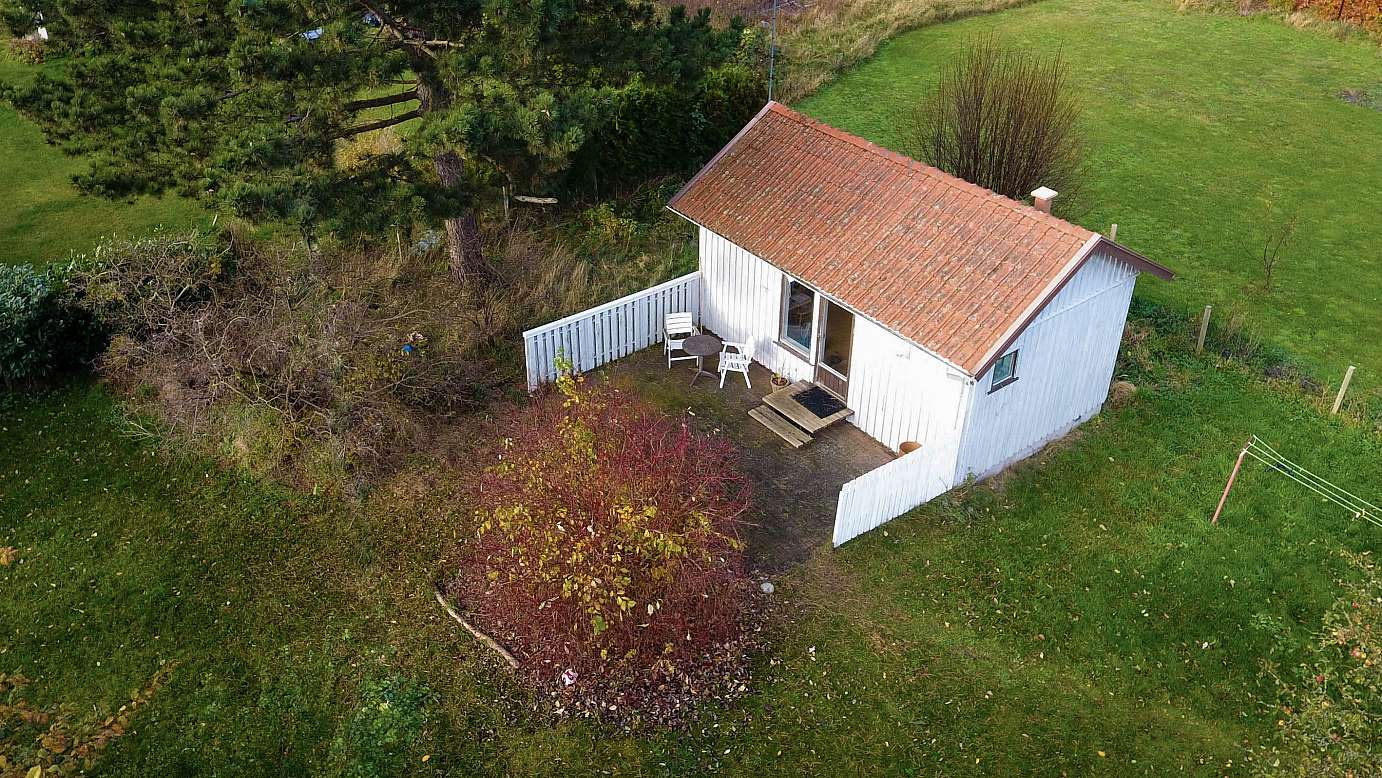 Tiny home
Q: What would you say are the best things about tiny home living?
The aspect I love most about tiny home living is the simplicity that comes along with it. Any time I've lived in a small space, I've been forced to have only the material possessions that I use and need on a regular basis because there simply isn't space for anything else. It allows me to save money, acquire fewer belongings, and spend less time cleaning, which is always a bonus!
Laughing with Pepsi (photo by Sea Shepherd)
Q: Tell us about your experience living in a camper van during winter in Sweden?
It was definitely an interesting experience! My partner, dog and I were living in the 20ft campervan with approximately 6 other people. We used the campervan as a base for a Sea Shepherd campaign to combat illegal fishing and spent 3 months living there during the winter in Sweden. I can't deny that it was cramped at times with so many individuals living in such a small space, but it was also a very worthwhile experience because we knew we were making a difference. It actually worked out well that it was winter, as we needed to store quite a bit of food to feed everyone and we're able to do so using the camper storage as a refrigerator. I was the cook and prepared food for our crew, usually large one-pot vegan meals that were hearty and could feed everyone for a day or two.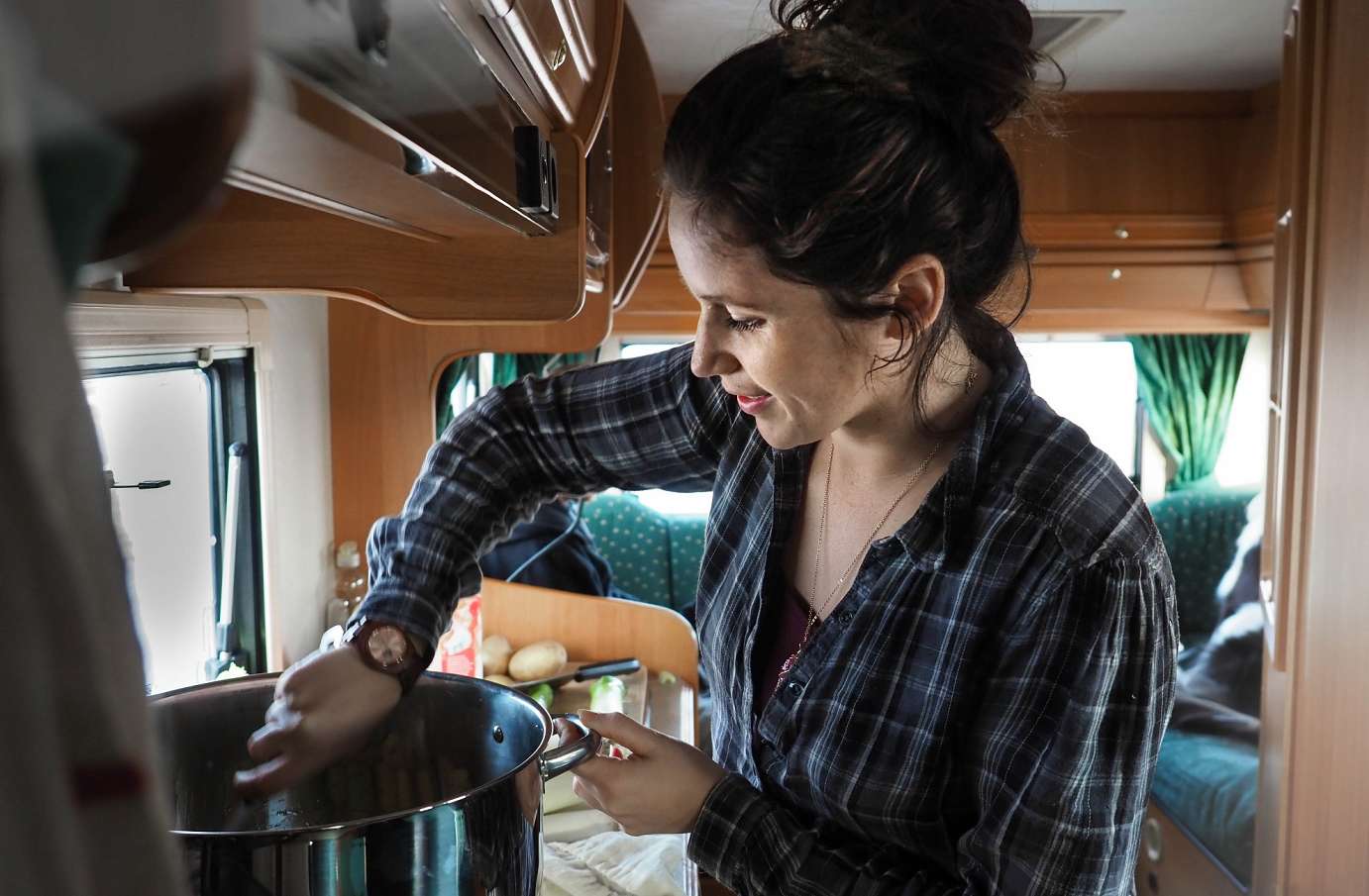 Cooking in a campervan (photo by Sea Shepherd)
Q: What was it like living in a tiny space while on the road?
Both times I've lived in a trailer or campervan, I've kept it parked in one location. I don't drive or have a license, so this works well for me. The first time I lived in a trailer, it was a tow behind the model and wasn't as conducive to traveling long distances while living in it. The second time was while there were 6-8 of us living in the campervan during the Sea Shepherd Campaign in Sweden.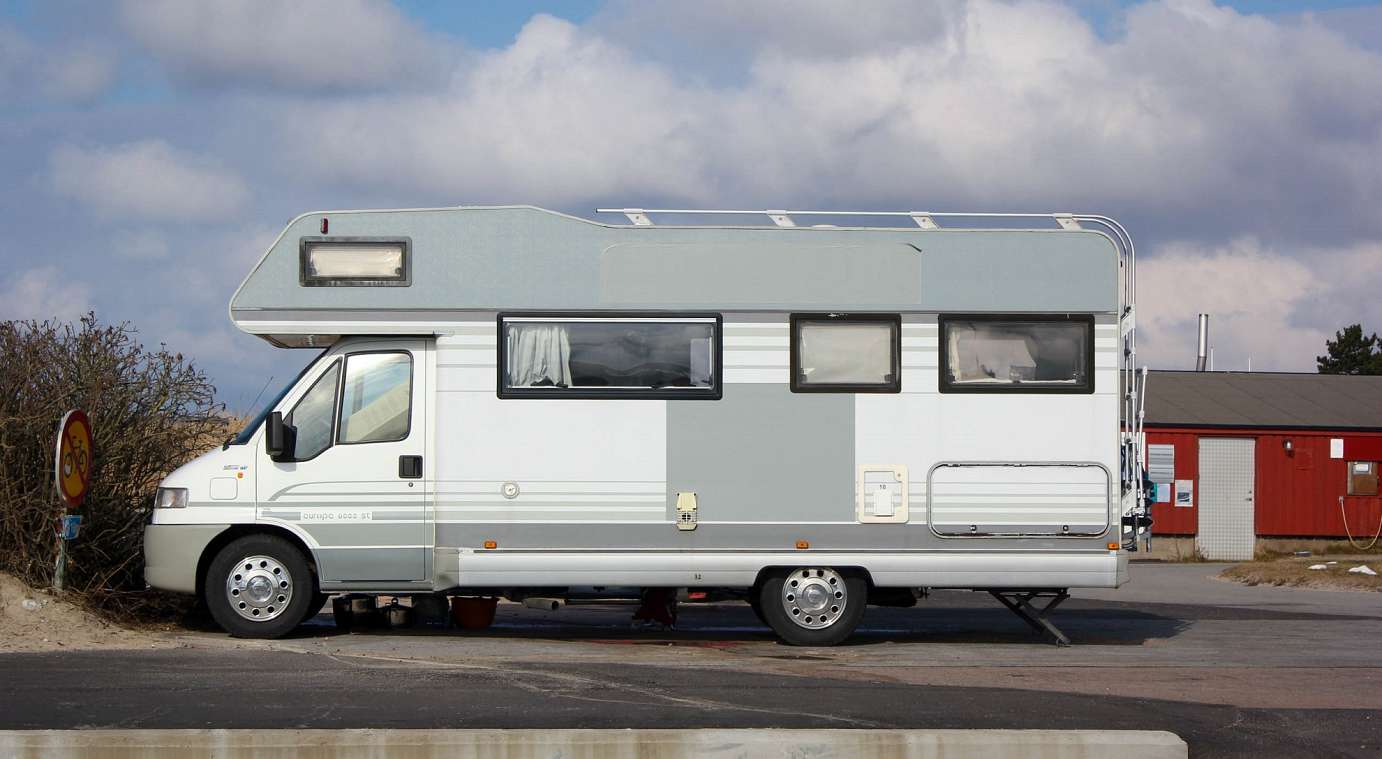 Campervan (photo by Sea Shepherd)
Q: How has tiny home living and the camper van life experience changed you?
Tiny home and campervan living have taught me that I can live with less and be completely happy. I used to believe that material possessions would bring me happiness, but I've found that most times I'm much more at peace with my life when I have less and instead focus on spending my time, energy and money on beautiful experiences.
Pepsi looking out (photo by Sea Shepherd)
Q: Tell us about your website and YouTube channel.
I recently decided to expand the content I create online to include travel, adventure, and minimalism. I now create videos and post photos with the intention of sharing all aspects of my lifestyle including health, wellness and the topics I mentioned above. Because of this change, I'm in the process of building a new website. My YouTube channel and Facebook page are Livin Free and my Instagram account is Tarahlivinfree. With the change in my content, I've also begun to put my full effort into creating quality, engaging content. I'm really loving the new direction I've gone in!
Q: Any advice to those who are thinking of living in a tiny home or van?
My one piece of advice for those looking to live in a tiny home or campervan is to be realistic. It's easy to look through Instagram photos and Youtube videos that romanticize living in a small space, but the truth is that tiny home living comes with its own set of challenges.  If you're realistic and understand that there are positive and negative aspects to living in a small space, you're more likely to get the most of your experience and embrace both the positive experiences and challenges you'll face along the way.
---
Follow Tarah Livin Free on Facebook, Instagram, and YouTube.