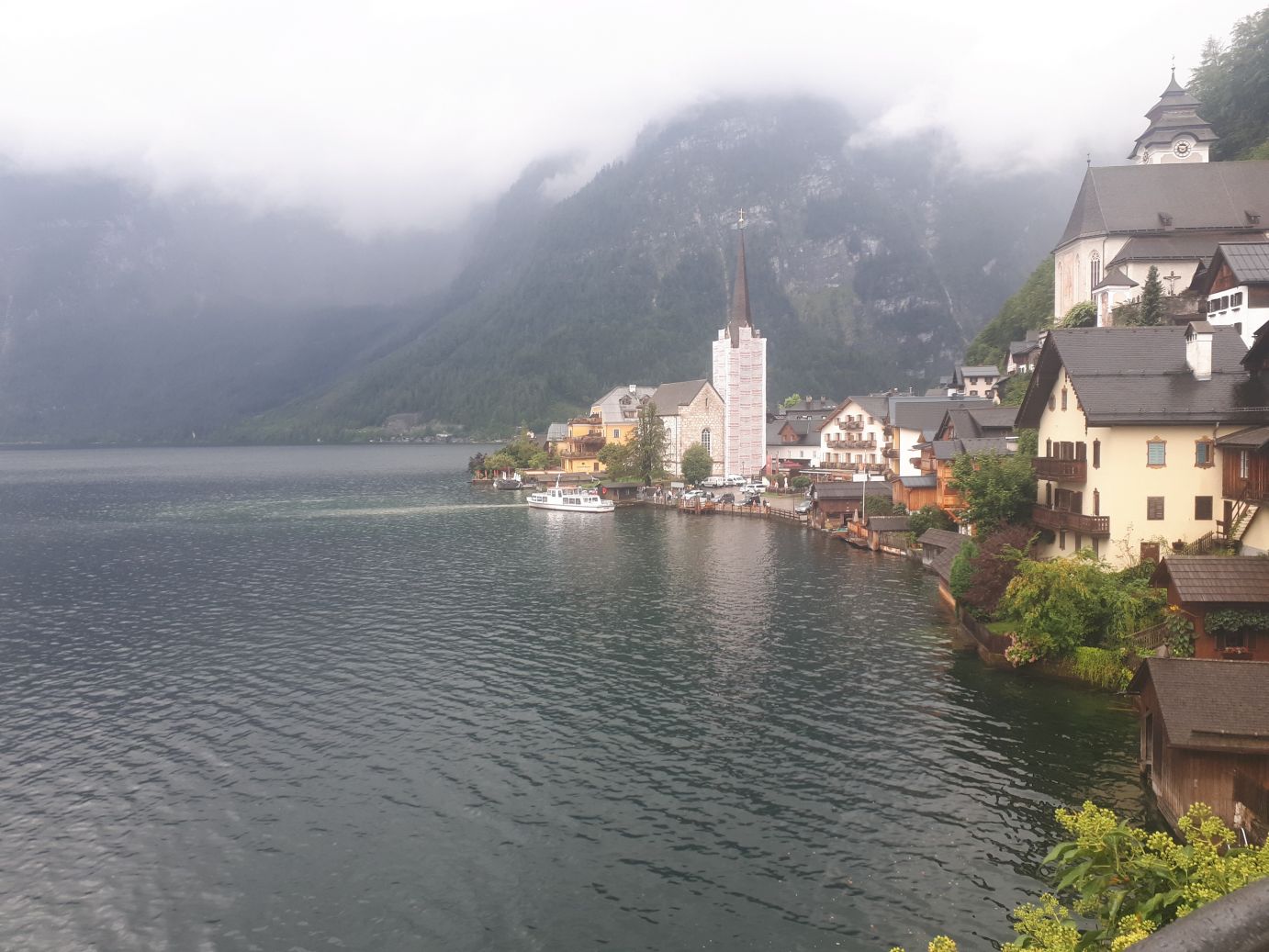 Hallstatt - UNESCO World Heritage town
Hallstatt has long been one of the places I wanted to visit. So there was no way I was going to pass up the chance on my trip to Austria. My friend and I started our day trip from Linz, Austria's third-largest city and UNESCO City of Media Arts, where we have been staying. Austrian Railways (ÖBB) operates daily train services from Linz to Hallstatt which made it even more convenient for us.
Early start
Our day trip plan included a visit to Salzburg in the afternoon after spending the whole morning in Hallstatt. We also wanted to avoid most of the tourist crowd by arriving early. So my friend and I agreed to take the 5:03 A.M. train.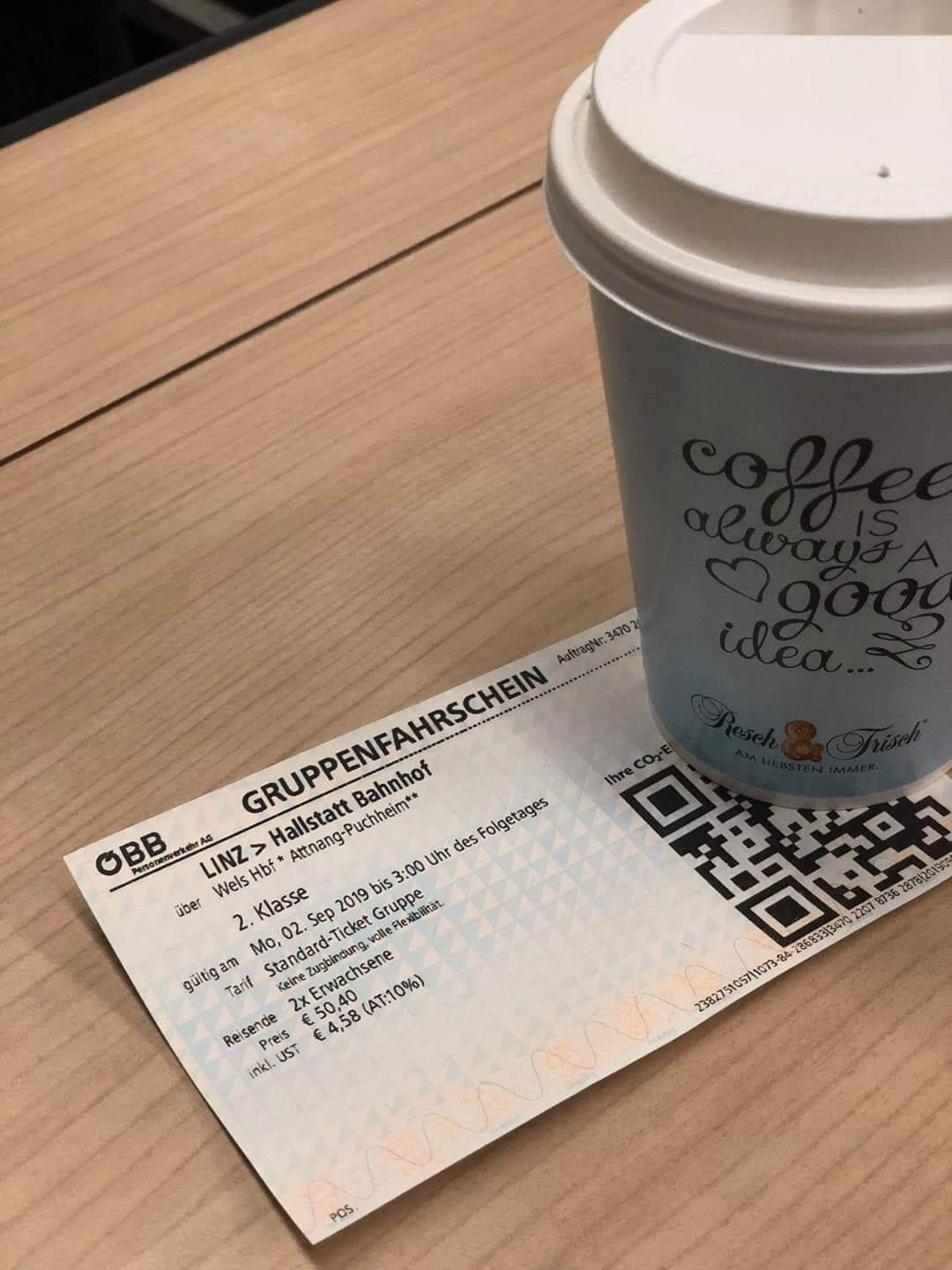 Seated on the train before 5:00 A.M.
Not even the rain that has been pouring down when we woke up could dampen our excitement. We arrived at Linz Hauptbahnhof just before 4:30 A.M. We bought our ticket from the machine and had time to buy coffee from the cafe inside the station. The train was already there when we arrived at the designated platform. We quickly boarded and chose a seat with a table and was happy to discover that there were power plugs that we used to charge our phones.
Pay attention
It was easy to get caught in a myriad of things as we set out for that day's adventure. The free WiFi onboard became an added distraction for us. We forgot that we had to get off at Attnang-Puchheim station to board another train. This mistake caused a major setback to our original plan. 
Managed not to miss the Attnang-Puccheim stop on our return trip to Salzburg
Be flexible
We arrived at the last stop which was at Freilassing, a town in Germany, still blissfully unaware that we were at the wrong train station. We did not even know that we have already left Austria. It only sank in after we could not find any information that suggests that there will be a train going to Hallstatt.
By this time our mood seemed to match the gloomy weather. Thankfully, we managed to pull ourselves together fast and went on troubleshooting mode. It was like we were both determined to reach Hallstatt and make the most of our day. Not even the rain and being lost can stop us.
It also helped that the man working alone in the train station's ticket office was kind and helpful. He looked up different options for us to get us back on track, literally and figuratively, to our original destination. We decided to go for the Salzburg route. Take the Bus 150 from there so as not to lose more time waiting for the next train which was scheduled to arrive in Hallstatt at past 11:00 A.M.
We were standing outside Salzburg Hauptbahnhof where the bus stop was located when we were approached by a young woman. She introduced herself as a Chinese living in Salzburg for over ten years. She said she has a private room in her apartment that she rents out through Airbnb. Her three female Taiwanese guests were headed to Hallstatt that morning and she will be driving them there in her 7-seater car. She asked us if we were going there too and if we would like to join her group. We decided to take the offer since we will only pay almost the same amount as the cost of the bus ticket. So the six of us (my friend and I, the Airbnb apartment owner/driver, and her three female Airbnb guests) left Salzburg at a little past 9:00 A.M.
Sankt Gilgen and the Wolfgangsee behind me
I once read an article that said taking the bus or going by car from Salzburg and then taking the train going back is the best way to travel to Hallstatt. I could not agree more after we have done exactly that. The scenery was magnificent. And we got lucky because the driver was also a superb guide. We were surprised when she stopped the car at a scenic spot overlooking a small village and a lake which we later learned were known as Sankt Gilgen and Wolfangsee respectively. She told us that the area was one of the places featured in the movie Sound of Music. I realized we would not have seen it if we had taken the train directly to Hallstatt.
Be mindful
It was still raining when we arrived so it was not as crowded as we expected. But there were still plenty of tourists walking around wearing raincoats or with umbrellas. Hallstatt looked dreamy as the rain drizzled and fogs partly covered some parts of the towering mountains surrounding the village. Lake Hallstatt looked serene with a few swans and ducks swimming on the flat water. And just above the village near the parking area, the water from the falls cascaded down in force traversing the wide canals that snaked beside some of the beautiful buildings along the upper part of the town.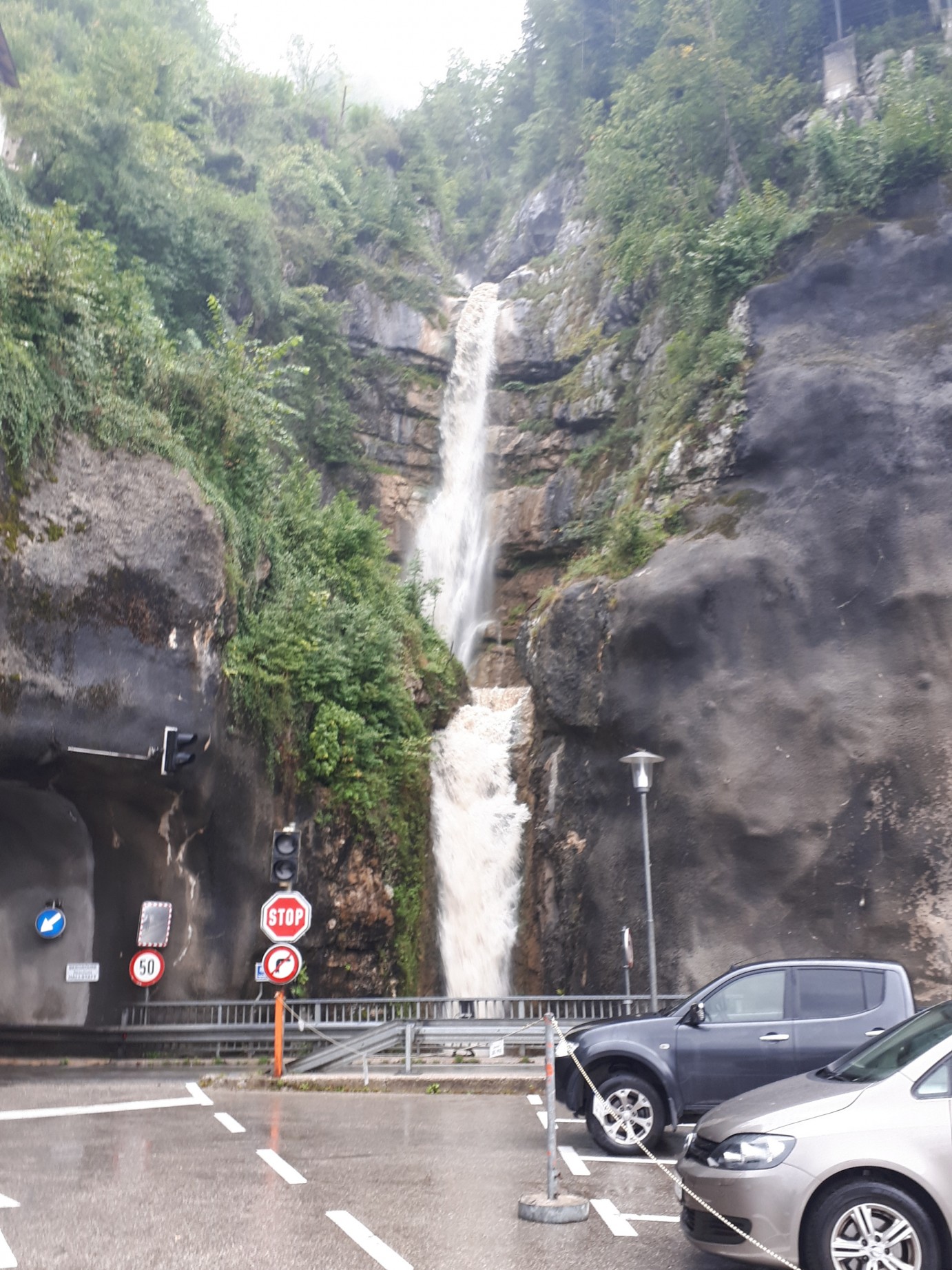 View from the parking area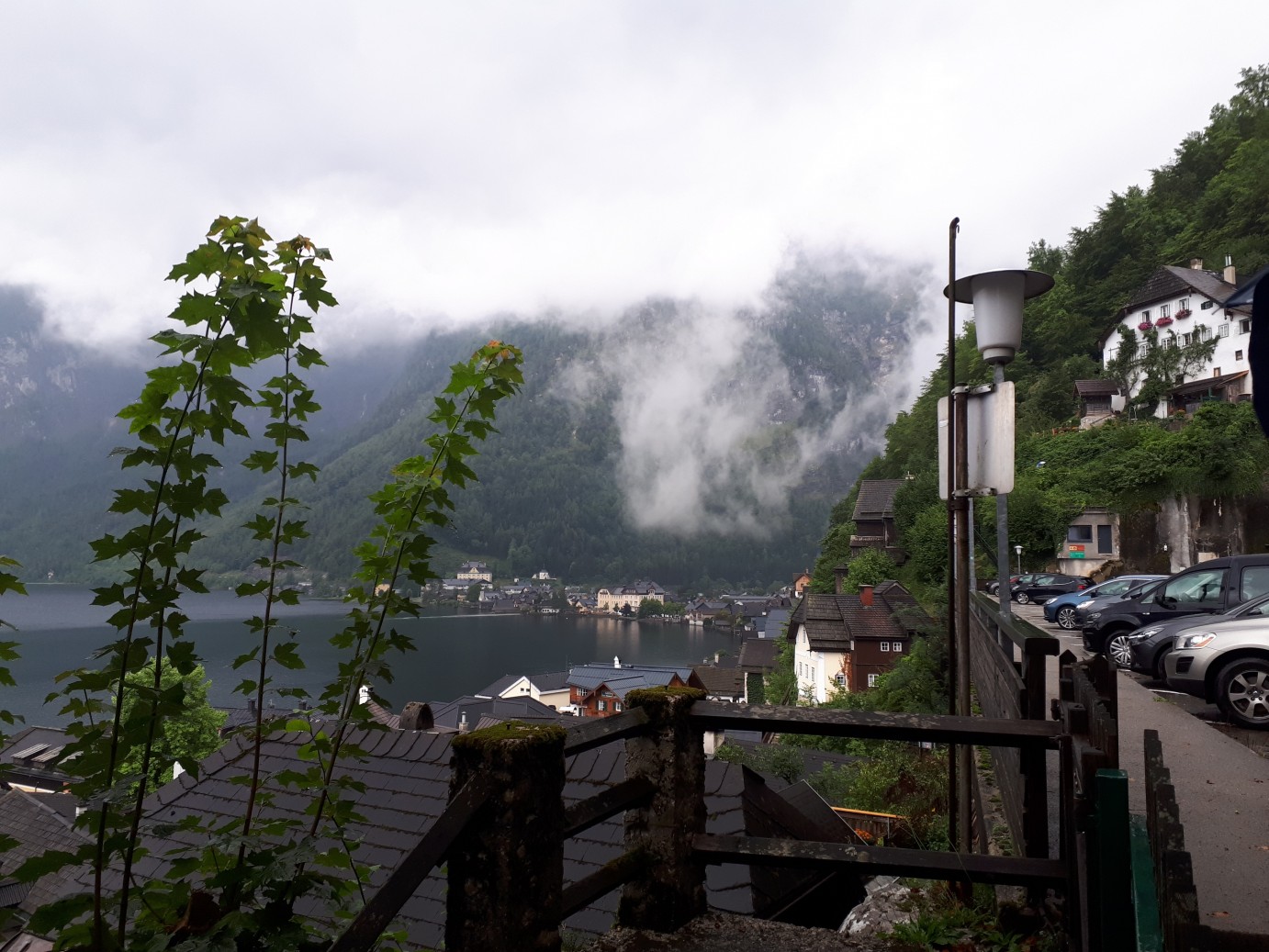 Dreamy Hallstatt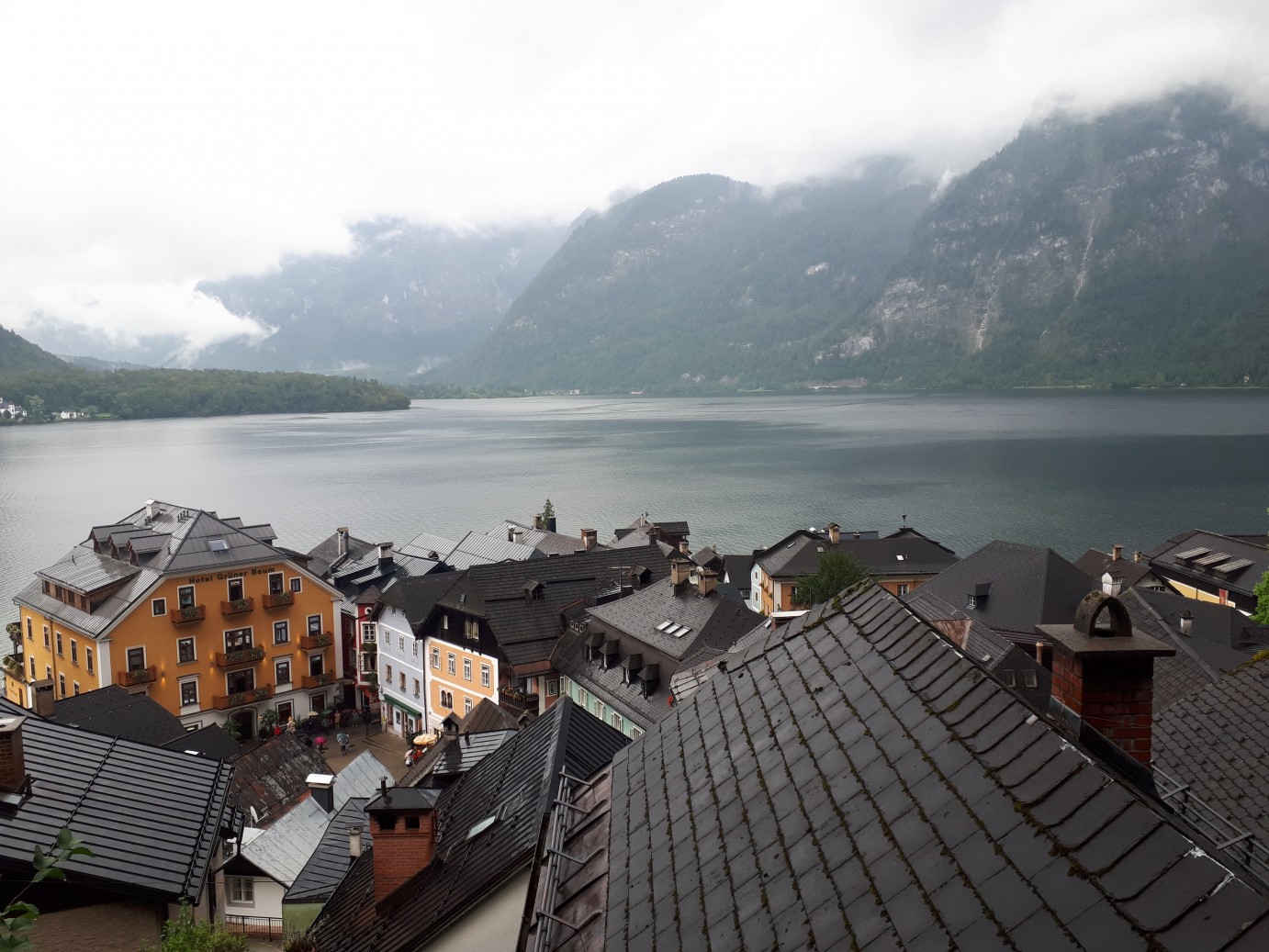 Our view as we made our way down from the parking area
The place was as breathtaking as I imagined it to be despite the unexpected. The iconic church tower featured in the photos the town is best known for was being renovated. So it sort of marred the image imprinted in my mind for years.
The church under renovation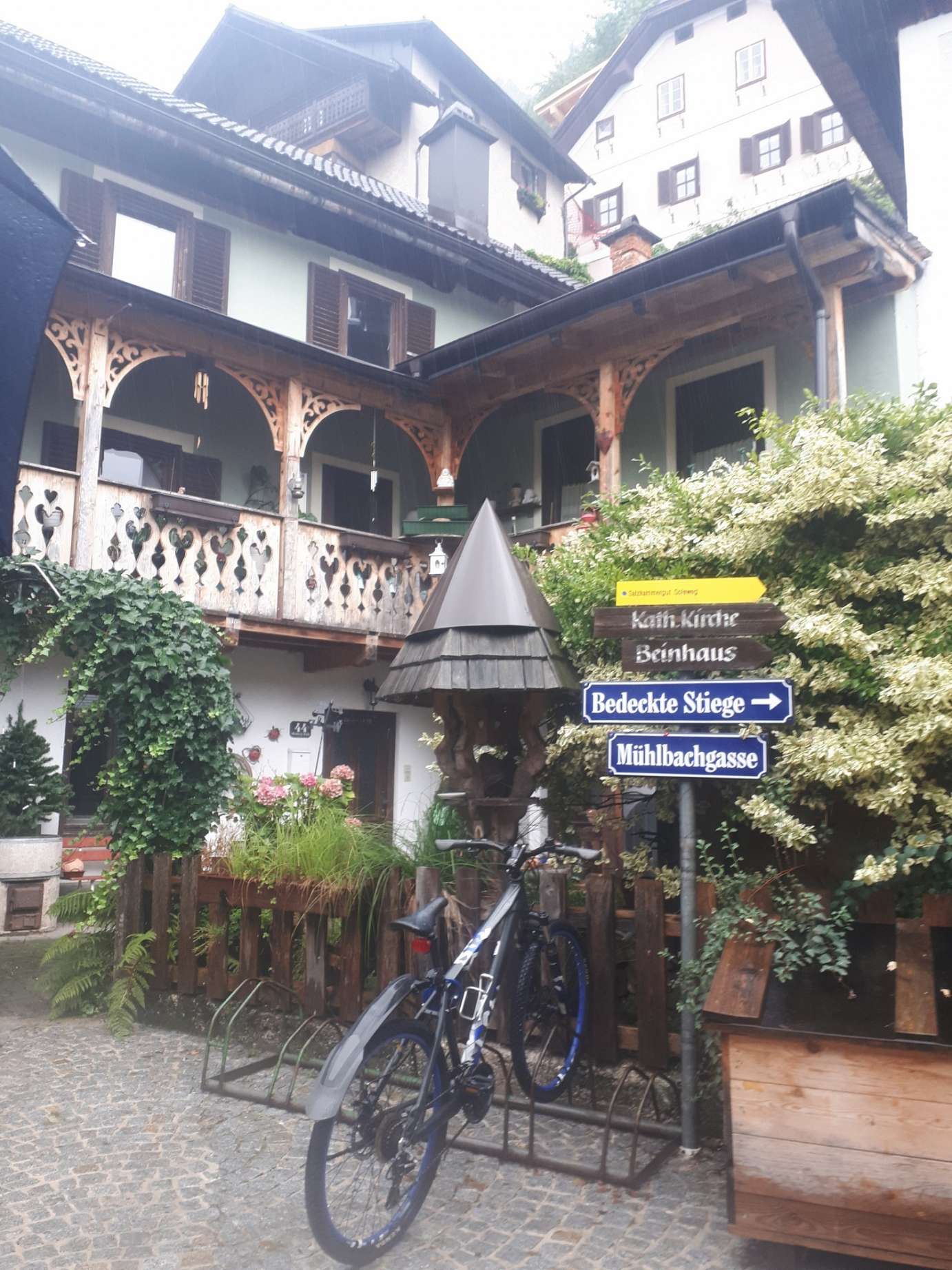 Exploring the village
There were also signs of how the influx of tourists over the years has affected daily life in the village. I noticed several "Quiet Please" signs posted around, especially at a top photo spot. It did get a bit noisy in that area as many groups of tourists took turns taking photos. I imagine the noise could be worse on good weather days when it gets more crowded. It was a good reminder to myself that I need to be more mindful of the people and places I visit. To create and capture memories without making needless noise.
On the way to one of the most popular photo spots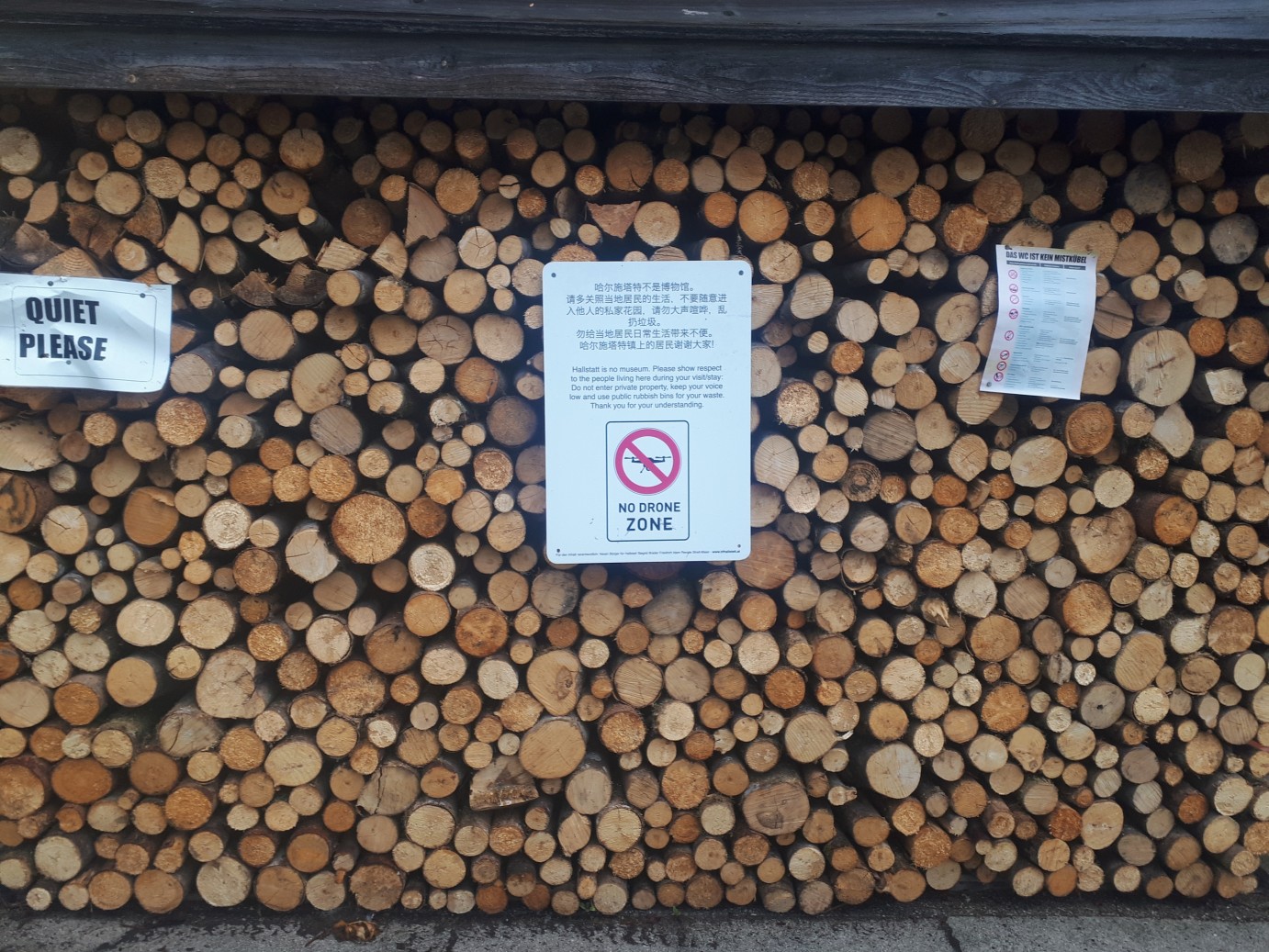 Heed the signs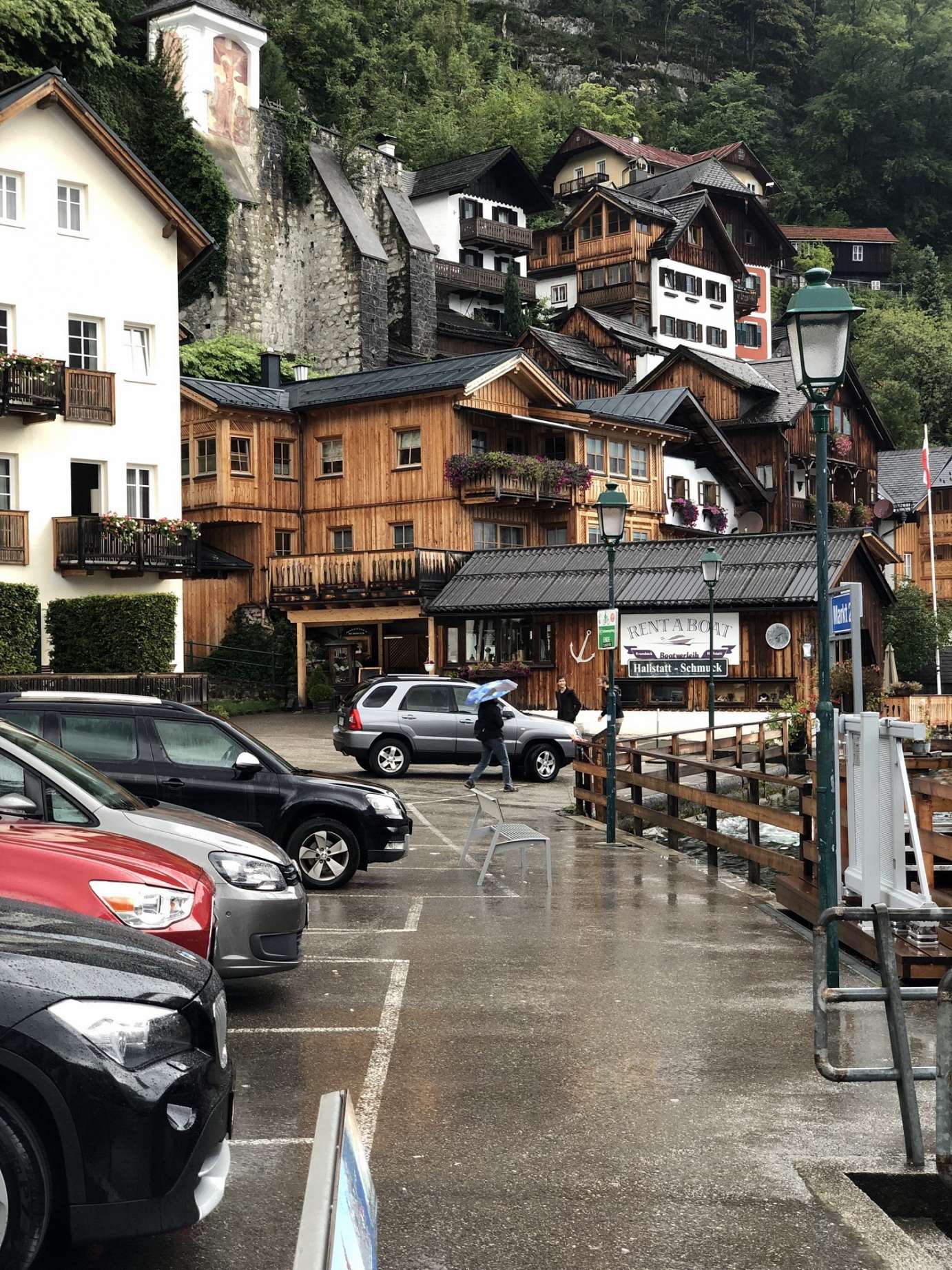 Near the ferry station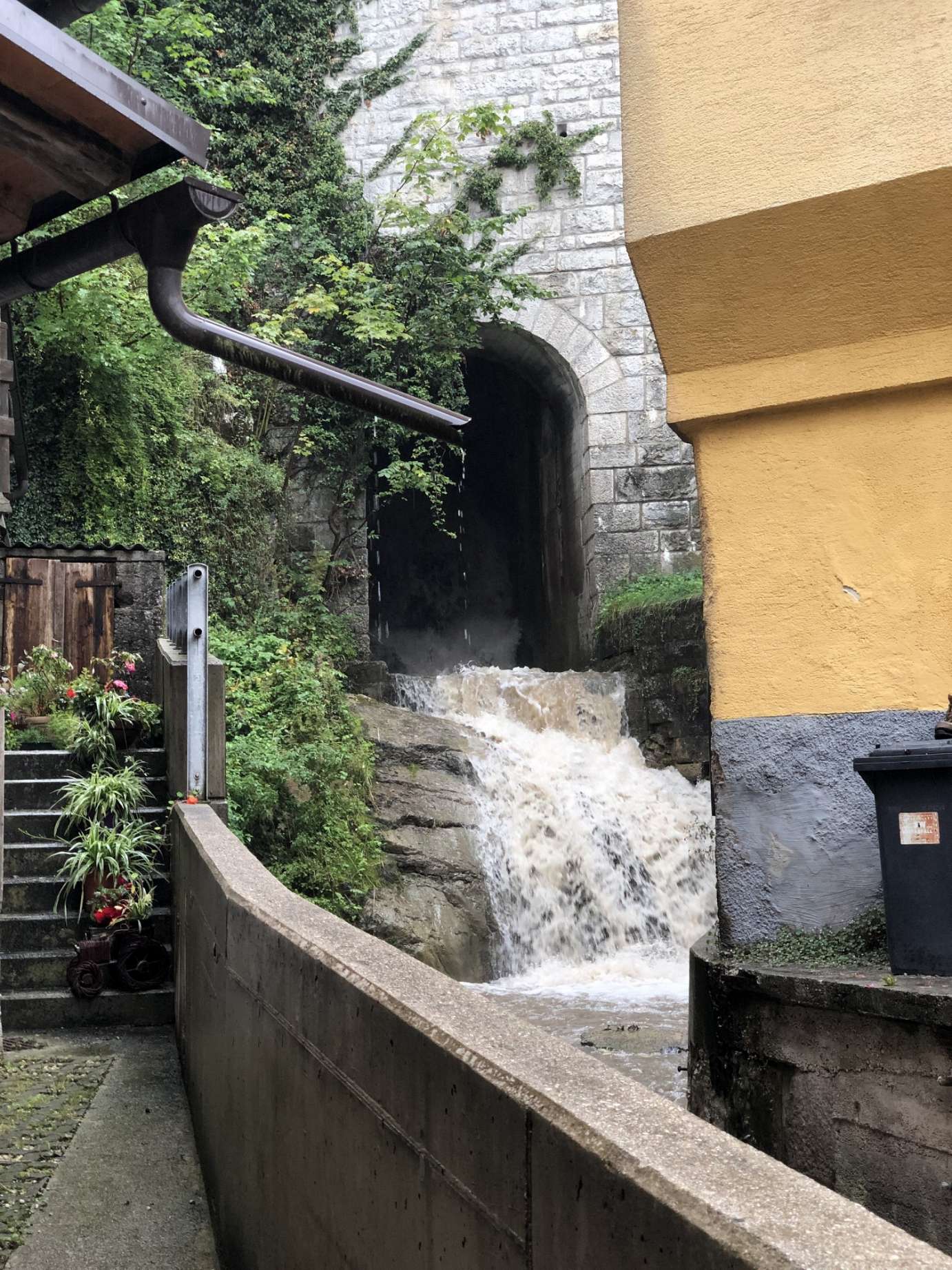 While Lake Hallstatt looked so tranquil on that rainy day, there was nothing calm about this water rushing down from the mountains.
A quiet place
Know the meal times
Since we arrived much later than we planned because of the misadventure and the subsequent detours, we immediately explored and took photos at the best photo spots.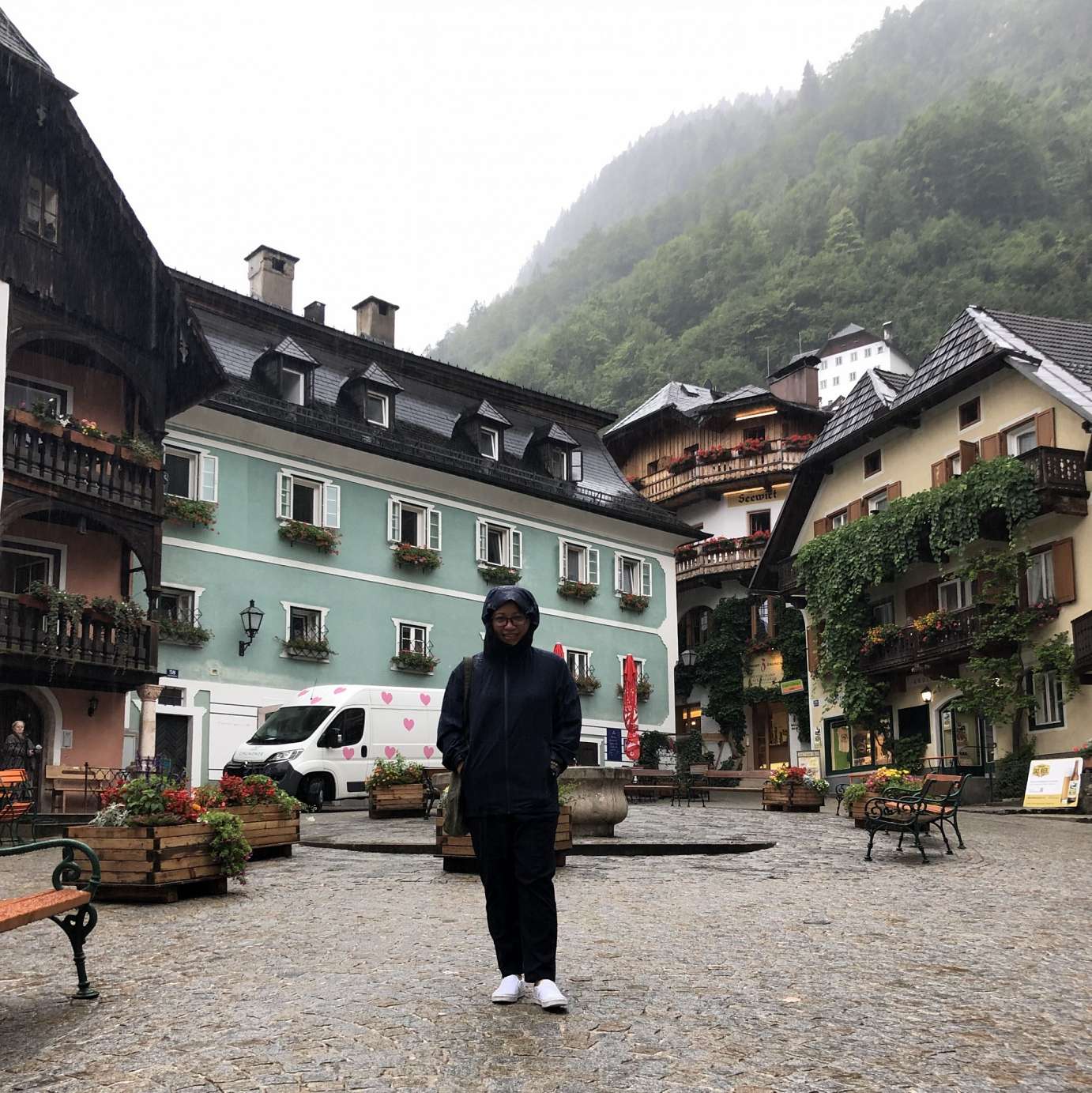 At the Marktplatz
Our next stop was at the Marktplatz, the town's central square, which was surrounded by cafes and restaurants. We decided to have lunch and picked a hotel restaurant nearby which had an enticing selection on their menu. We were only able to have coffee though. Because when my friend tried to order our food, she was told that breakfast ended at 10:00 A.M. and lunch will start at 12:00 NN so kitchen service will only resume then. Since it was still around 11:00 A.M. we decided to continue exploring for another hour then head back to Salzburg and have lunch there.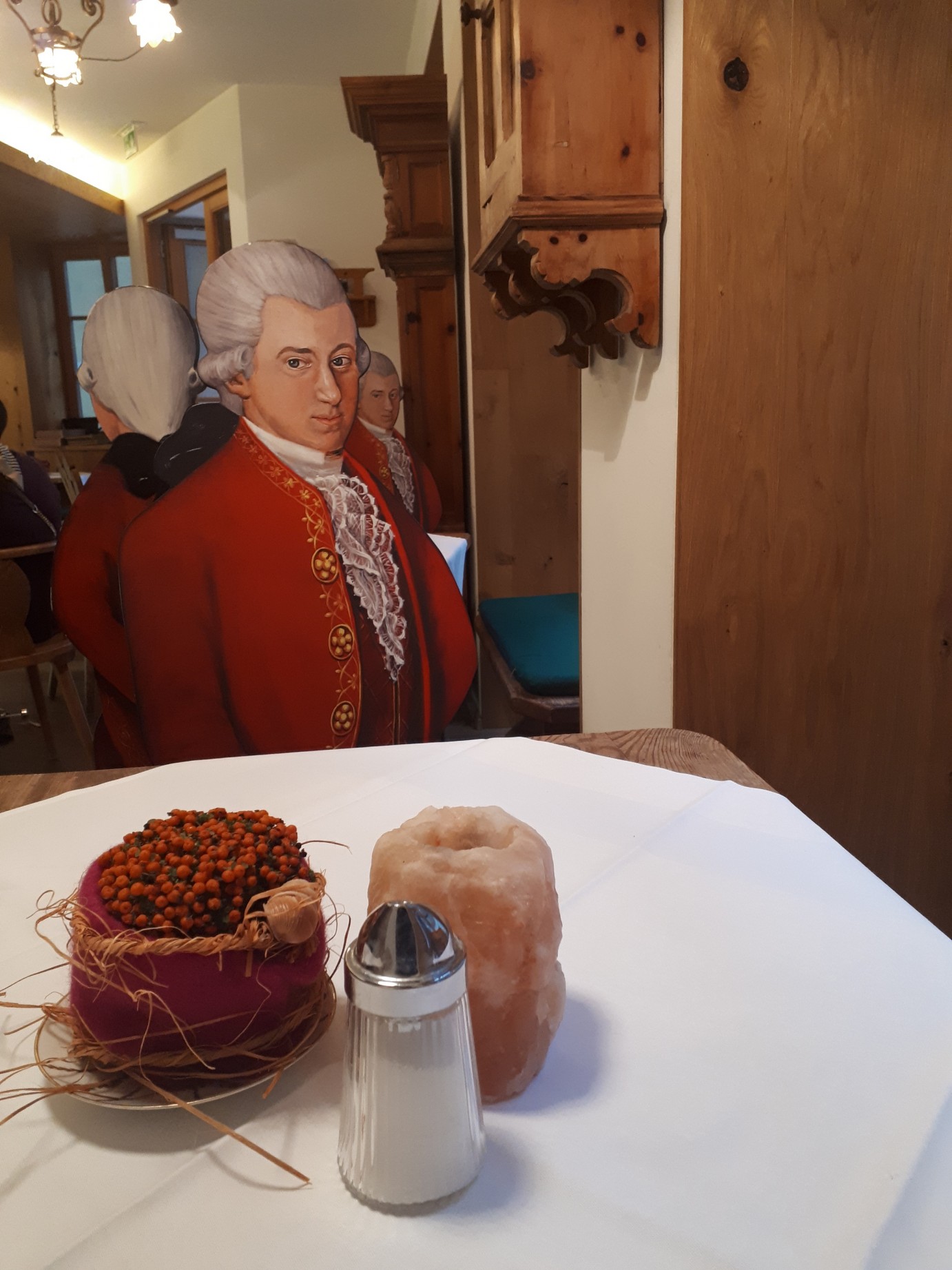 At our table in the hotel restaurant
Espresso on a cold and rainy morning
Take the ferry to the train station
If given the options to leave by bus, car, or train, choose the last one. Because it meant taking the ferry to the train station. And that scenic ferry ride is a unique experience in itself. As the boat slowly and smoothly glided on the water, we were able to enjoy the gorgeous view of the village nestled in the midst of lush and majestic mountains and the tranquil lake.
Waiting to board the ferry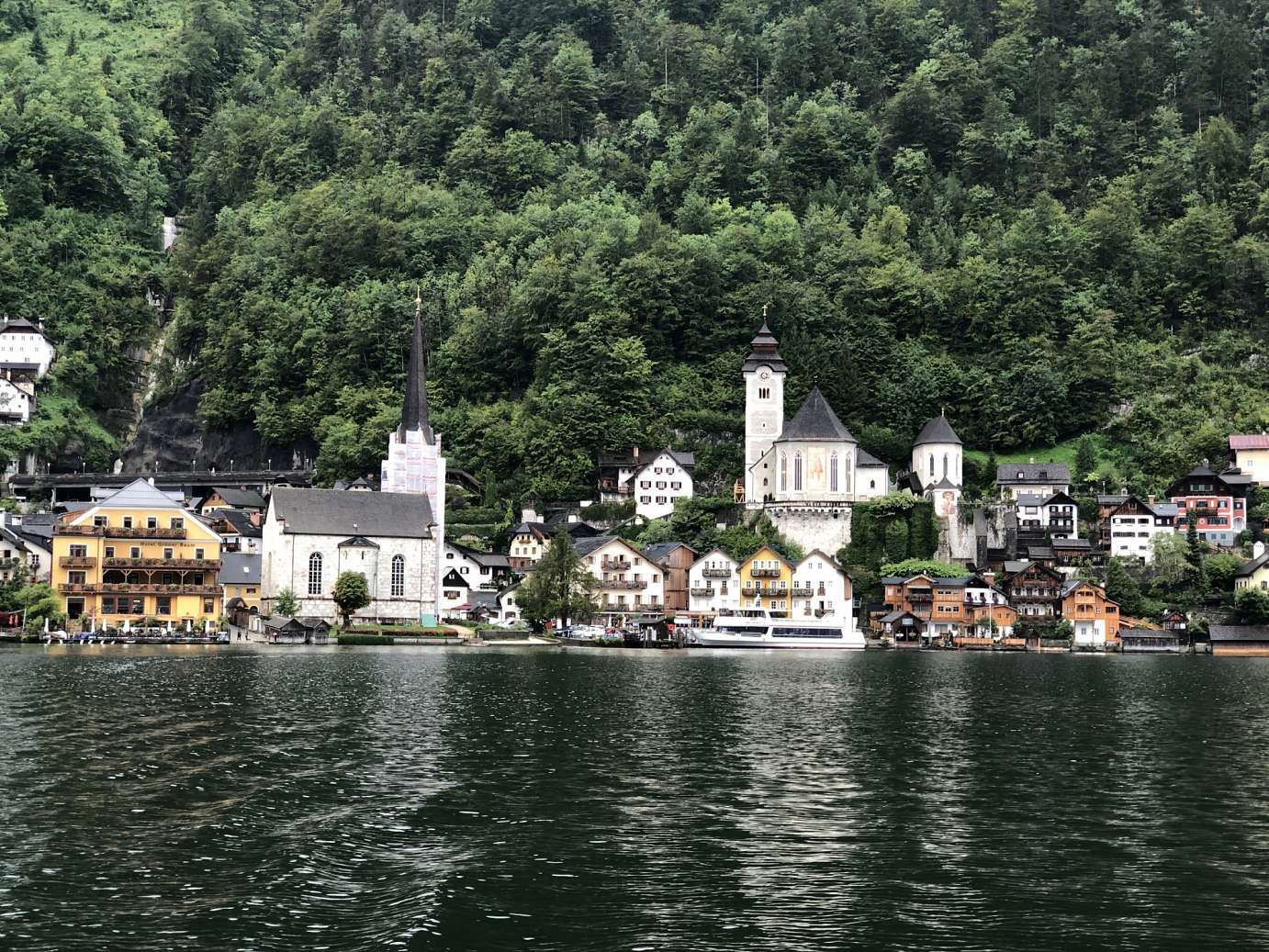 Our view as we left Hallstatt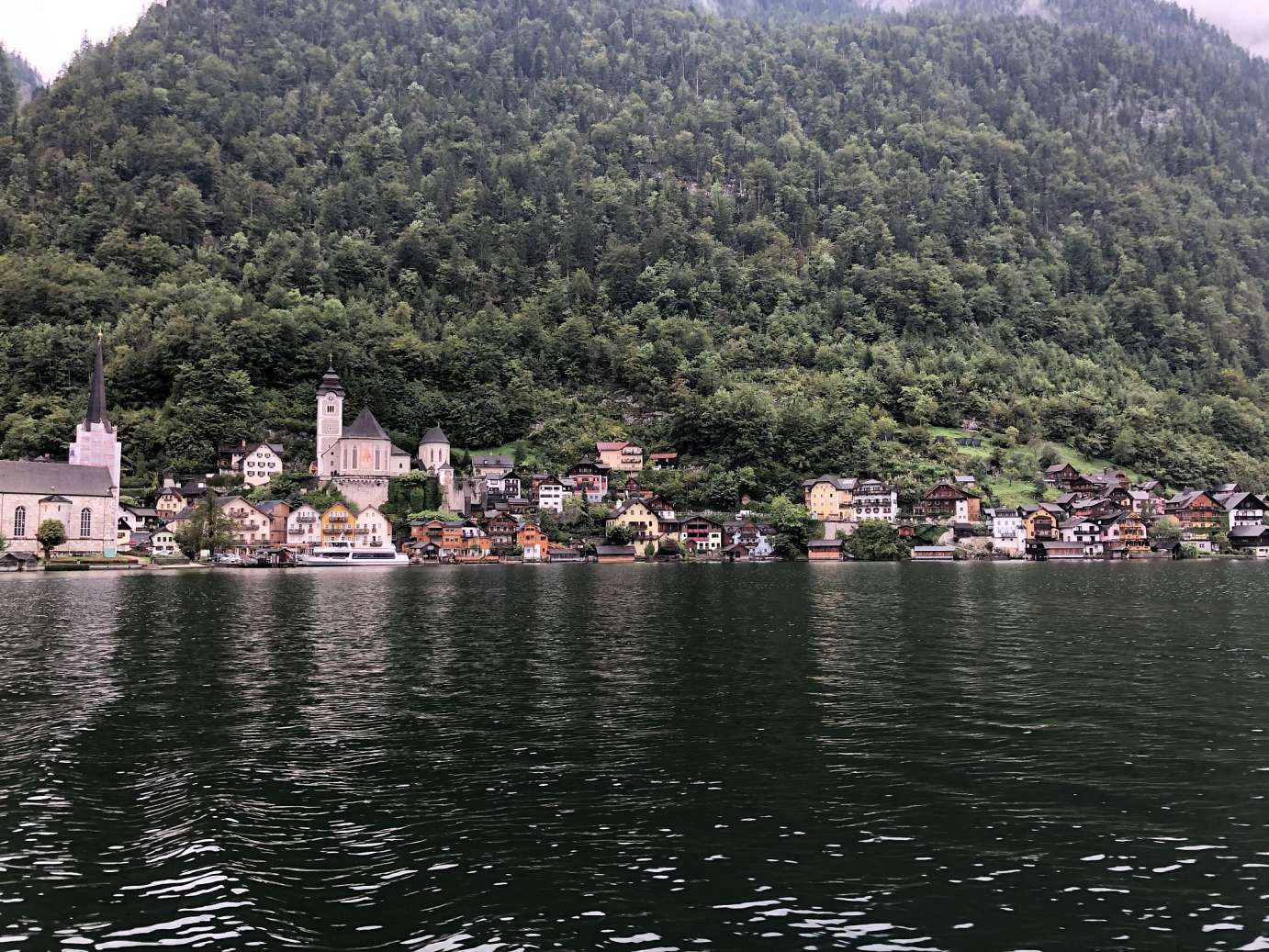 Another view from the boat
View from the train station
Prepare 20 euro bills
We were at the train station before 1:00 P.M. But only a handful of passengers waiting for another train were there.  We had to buy our ticket from an OBB machine tucked in the corner of a room at the back of the station. For some reason, it did not accept card payments at that time (the two guys before us spent a lot of time buying their tickets for what we suspect was the same reason). It did not accept the 50-Euro bill we inserted and a message prompt said it only accepts 20-Euro bills at most. We hurriedly pooled our remaining smaller bills and coins to come up with the amount we needed. We got our tickets a few minutes before the train arrived.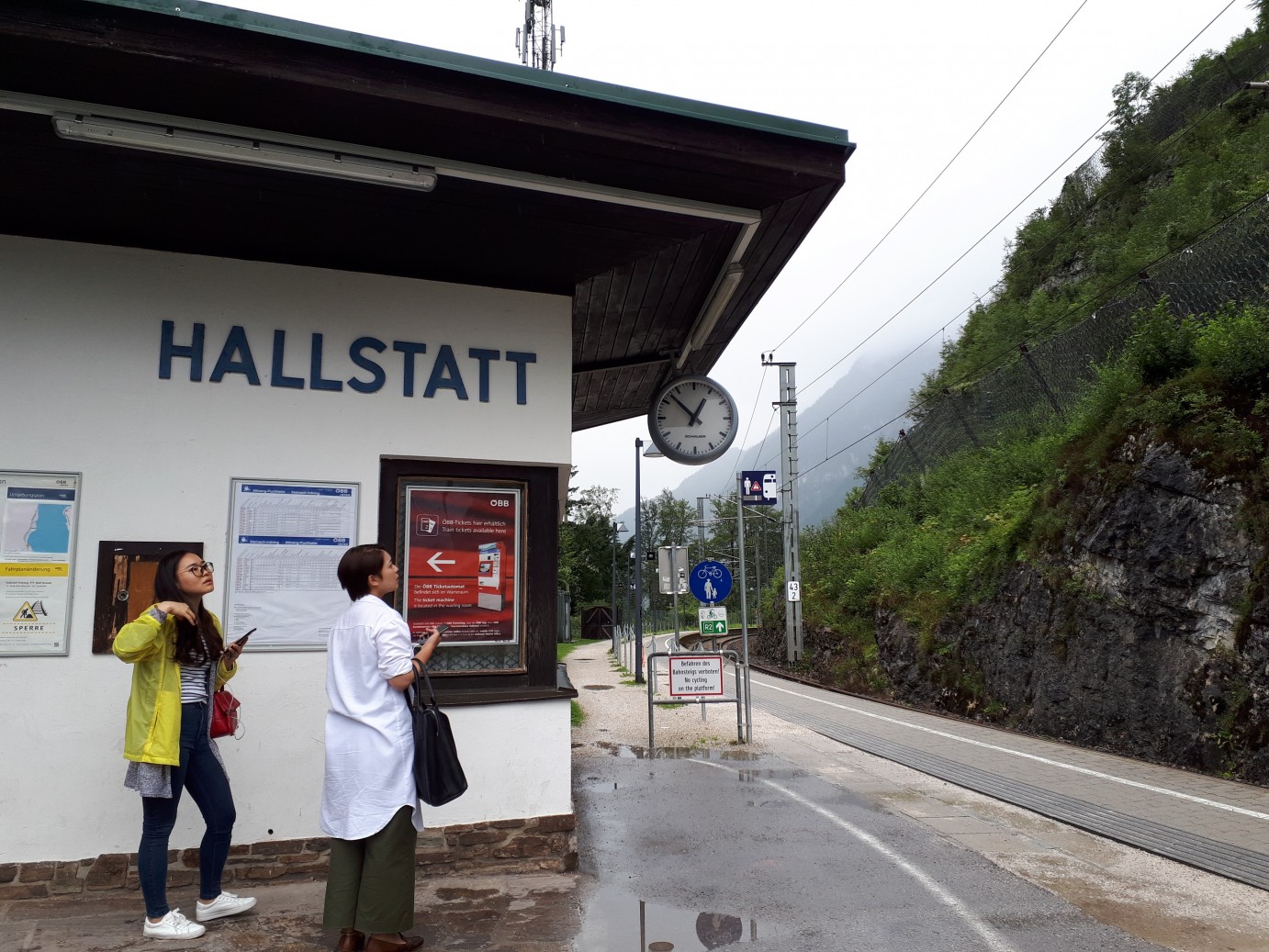 At the train station
Our train is coming
Look outside
If you are traveling by train from Hallstatt, try to sit on the left side if you are facing towards where the train is going. You will enjoy the spectacular views.
One of the Austrians I became friends with during my stay in Linz told me that Hallstatt is not as beautiful as it used to be. That I should have visited 15 years ago. And that there are many more beautiful places to see in Austria. I believed her, but it did not sway me from going anyway. I wanted to see it for myself. And it was worth it. We may not have had the best start with all the rain, missed stop, and delays. But missing our stop led to a series of serendipitous moments that became part of what for me was an epic adventure.