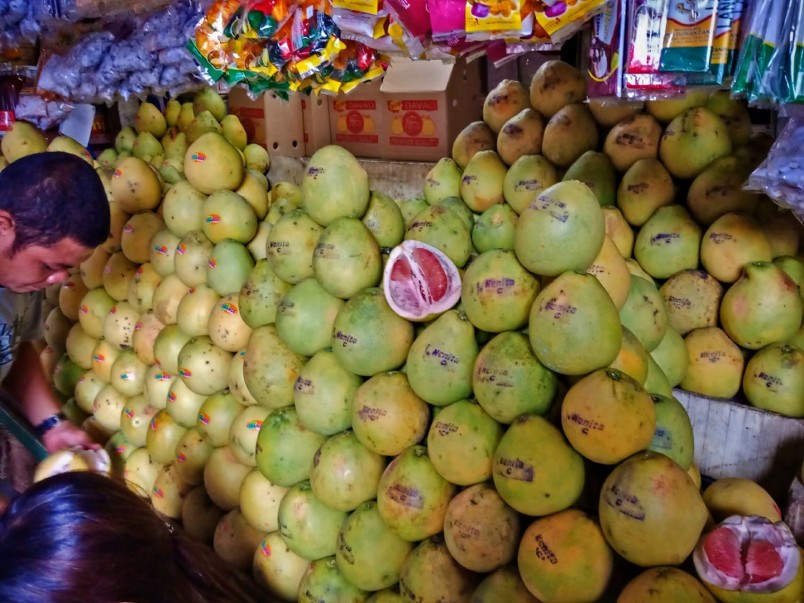 Located in the Philippines' largest city in terms of land area, Davao's perpetually busy and crowded Bankerohan Public Market can be overwhelming. It is also a tourist attraction in its own right. Known for its overabundance of cheap produce from across the Davao Region, it is a great place to find a wide array of fruit. Some of the native fruits you will find there are different varieties of durian that comes with a hard, spiky shell and its trademark overpowering smell many people love to hate. The market is also a good place to buy the purple and round-shaped mangosteen, the flesh inside resembles a white tangerine. Davao is also famous for its sweet and juicy pomelo, a type of citrus fruit that looks similar to a grapefruit. A lot of tourists go there to buy edible pasalubongs (souvenirs) and try its famous tsokolate de batirol (sikwate) a hot and rich chocolate drink made from roasted cacao beans. I am so excited to get my cacao drink on and load up on rich antioxidants.
My friend and I started the day with a pleasant morning walk from the hotel to the market passing through neighborhood streets, main thoroughfares, and alleys that offer a more intimate look to one of the Philippines' highly urbanized areas. It was fairly easy to find thanks to Google Maps.
Entering the market from a quiet street is like stepping into another universe. The first thing you notice is the sea of people and vehicles of all types and sizes hogging what little space left on the road to maneuver. The sidewalks are littered with vendors selling a myriad of items like fresh produce, snacks, and trinkets.
Not far from where we were standing, we see a huge sign that marks the building that serves as the market's fruit hub. Inside, a kaleidoscope of colors brightened the somewhat drab surrounding. Shades of yellows from mounds of lemons and mangoes, the dark red of mangosteens, and the earthy green of durians blend with all the other colorful fruits that dominated the scene.
Durian
Mangosteen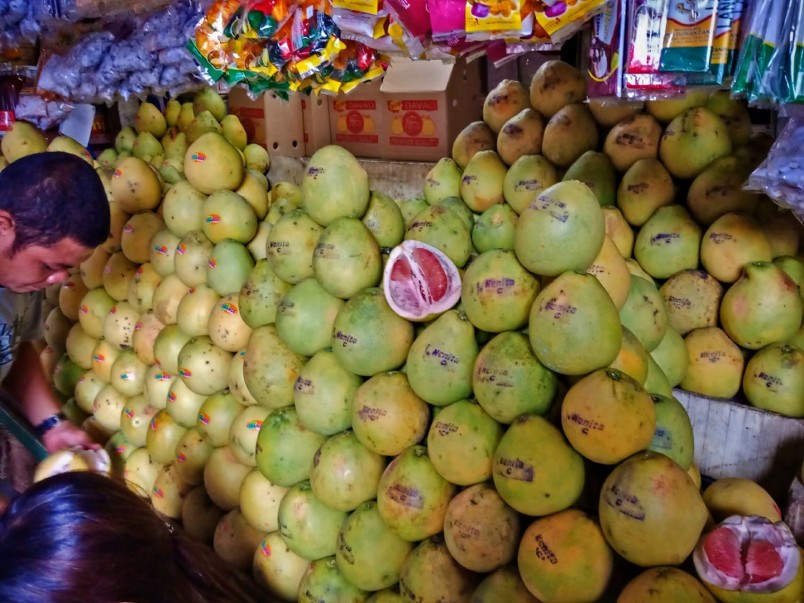 Pomelos
Straight ahead there were several food stalls already teeming with people enjoying a breakfast of sikwate. Vendors prepare the hot chocolate drink using the pure chocolate tablets or discs known as tablea made from cacao beans. Cacao is a type of fruit with seeds that are sun-dried, roasted, and grounded to produce the pure, thick, and rich chocolate. Davao has a thriving cacao industry and is home to the country's finest cacao chocolates. We quickly sat down as soon as we found two empty seats in one of the eateries' stall, ordered the sikwate chocolate drink, and had a great-tasting vegetarian-friendly breakfast in the midst of the organized chaos of the market.
The pot with the batirol which is a traditional Mexican wooden whisk also used in the Philippines to prepare sikwate (hot chocolate drink made from cacao beans)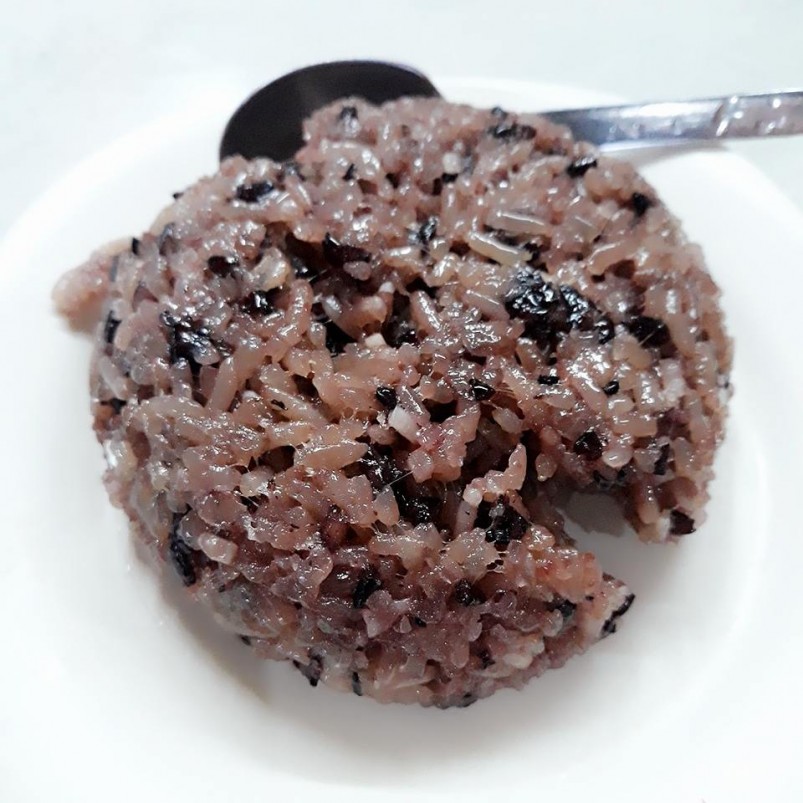 Puto maya made with glutinous rice and coconut milk
2 tsokolate de batirol (sikwate) with milk + 2 putomaya = approximately US$1.10