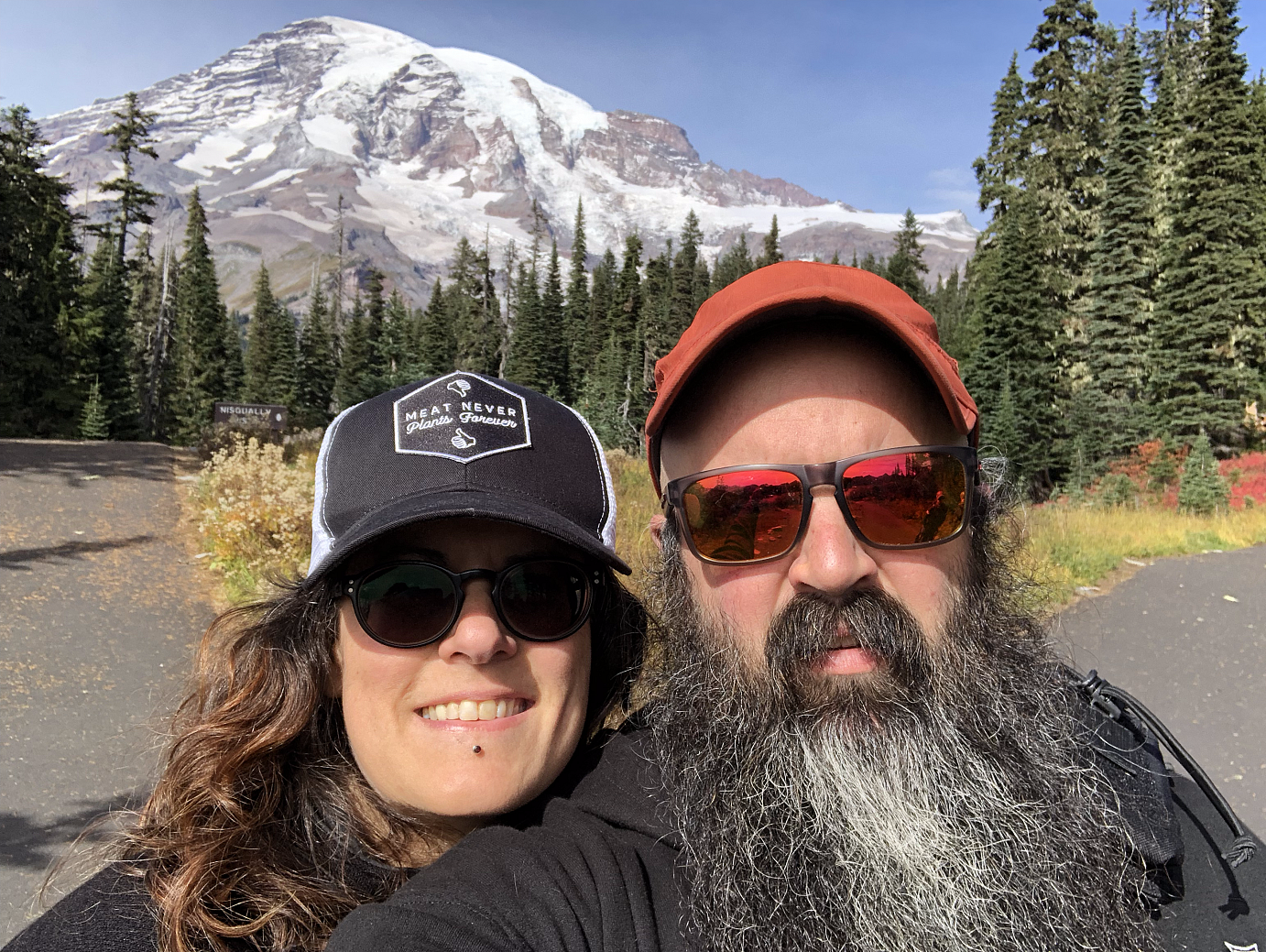 Vegans Laura and Kevin have fully embraced the nomadic lifestyle living and working full-time in an RV. They have been traveling around the country since September 2016 and write about their travels, RV life, and vegan recipes among others on their website the VeganRV. Vegtravelbuddies interviewed the couple to learn more about their vegan RV life, their adventures on the road, and the veg-friendly places for vegan travelers. And if you are thinking of taking on the RV life, they have plenty of great tips to share so read on.
Q: When did you decide to live and work full-time in an RV? And what inspired you to do it?
We were originally planning on traveling internationally. But then we went to Jackson Hole, Wyoming on one of Kevin's work trips in March of 2016. While there we took a snowmobile trip through Yellowstone. We got to see bison, Old Faithful, and other crazy geothermal features.
After that, we decided that maybe we should see more of what our own country had to offer. We already had friends that were living and working full-time in their RVs so we started looking for one of our own.
Q: Is RV life expensive?
RV life is as expensive or cheap as you want it to be. If you mostly stay on free public lands and don't travel many miles, it can be pretty cheap. We like to travel around, see the sights, and eat all the vegan food so we spend more than some might.
Q: What is it like living in a fairly tiny space and being constantly on the road?
When you move from a house into an RV you quickly learn that you didn't need most of the crap that was in your house. Even in our RV we have more than we absolutely need.
We love moving around and see new scenery all the time. If possible, we like to hang out in places for a week or two. But sometimes you've just gotta move on. And that's okay too.
Q: How has RV life changed you?
Once we got rid of all our accumulated stuff, we find that we don't miss it at all. Even things that had sentimental value. We each have one box of keepsakes at Kevin's brother's house and that's it. No storage unit. It's really freeing.
Q: Can you share one of your most memorable adventures on the road?
It's hard to pick one! One time we were in St. John, New Brunswick walking around the harbor area and a man stopped us and asked if we'd like to take a boat ride. Being city folk, we were skeptical, but it turned out he was with the Canadian Navy. They were taking people on free boat rides around the harbor. The tall ships were in port and the navy cruised by them so you could get a look at them from the water. What a cool experience!
Q: What would you say are the best things about living in an RV?
We do love being able to try vegan food all over. And we've been lucky enough to catch several vegan events like Portland's VegFest, a neighborhood veg fest in Vancouver, and the Earth Day Mercado Vegano near Anaheim.
Q: Can you name some of the most vegan-friendly places you have visited?
The Pacific Northwest is trying to murder us with food. Vancouver, Seattle, and Portland are all super vegan-friendly. Toronto was amazing. So was Chicago.
Q: Is there a place that you find particularly challenging to visit as a vegan? Can you tell us about what made it difficult for you?
When you drive around with your kitchen, there's no reason to settle for eating crappy food out. So if an area doesn't have great restaurants, we just eat at home. You can buy rice, beans, and vegetables anywhere. We make sure to keep our staples on hand: nutritional yeast, black salt, flax seeds, etc. And if we're heading into a questionable area, we stock up on tofu and anything else slightly unusual.
Q: Tell us about your website - VeganRV.
At VeganRV.com we document our travels, post tips for living in an RV and post some of the recipes we use. We love that some people that follow us for RVing info have seen our vegan food posts and have tried vegan products because of them.
Q: Any tips for those who are thinking of embracing the RV life?
Hit up RV dealers and tour many different RVs, even ones that don't appeal to you. Even if you have no intention of pulling a 5th wheel, you might get some ideas from the interior.
Go as small as you can. Our RV is 34 ft. and we could definitely live in something smaller. A smaller RV will give you more options, especially if you enjoy national and state parks. Many of those have limited spaces for bigger rigs.
Don't buy a new RV. They depreciate a ton and it'll probably spend much of the first year in the shop getting warranty work done. If you want a newer one, get one a few years old. Then the previous owner has been through that pain.
RVs are fickle beasts. Things break all the time. If you aren't handy you're going to end up spending a lot of money at RV repair shops. Get comfortable with googling and troubleshooting. RV shops are notorious for being backed up 2-3 weeks or more before they can fit you in. Handling everything you can yourself will also save you time.
-----
Follow Laura and Kevin on Facebook, Twitter, and YouTube. 
Website: VeganRV