Summer in Linz
If you want to go somewhere that seamlessly combines the off-the-beaten and vibrant place vibe, head out to Linz -- the capital city of Upper Austria and UNESCO City of Media Arts.
1. VISIT A MUSEUM

Ars Electronica Center
If the museum is not your thing, you might want to make an exception in Linz. The city has several of them. But our top pick would be the Ars Electronica Center (AEC) which is also known as the Museum of the Future. AEC lives up to the hype and will take you to a technology-driven, innovative, futuristic, immersive, and educational experience. The Deep Space exhibition is a mindblowing adventure you would not want to miss. It combines a three-dimensional and 8K resolution features that make  everything seem so realistic. Exploring the outer space like that gives you a broader perspective that will make you rethink a lot of things about your life.
One of the many exhibitions inside Ars Electronica Center
Other fascinating exhibitions you will find are the Understanding AI, Global Shift, and Machine Learning Studio among many others. You can spend a full day here without getting bored. The LED facade of the building is an attraction in itself when it lights up at night. It stands like a beacon that draws you as you stroll across the bridge with the Danube flowing below you.
Lentos Museum
Just across the river is Lentos Kuntstmuseum or Museum of Modern Art. Here you can find many fascinating artworks. Like the Ars Electronica Center, the Lentos museum building also glows in a mesmerizing kaleidoscope of colors at night.
2. STROLL AROUND OR RENT A SCOOTER
Strolling around Linz
Getting around Linz is easy thanks to the trams and buses. But taking a stroll or renting a scooter makes for more fun excursions. Walking along the riverbanks and at the Old Town is something you have to do. Or if you want to cover more ground, a scooter offers a faster and exciting way to take in the scenery. And if you get tired, you can take a rest in the many cafes and restaurants as well as idyllic spots you find along the way.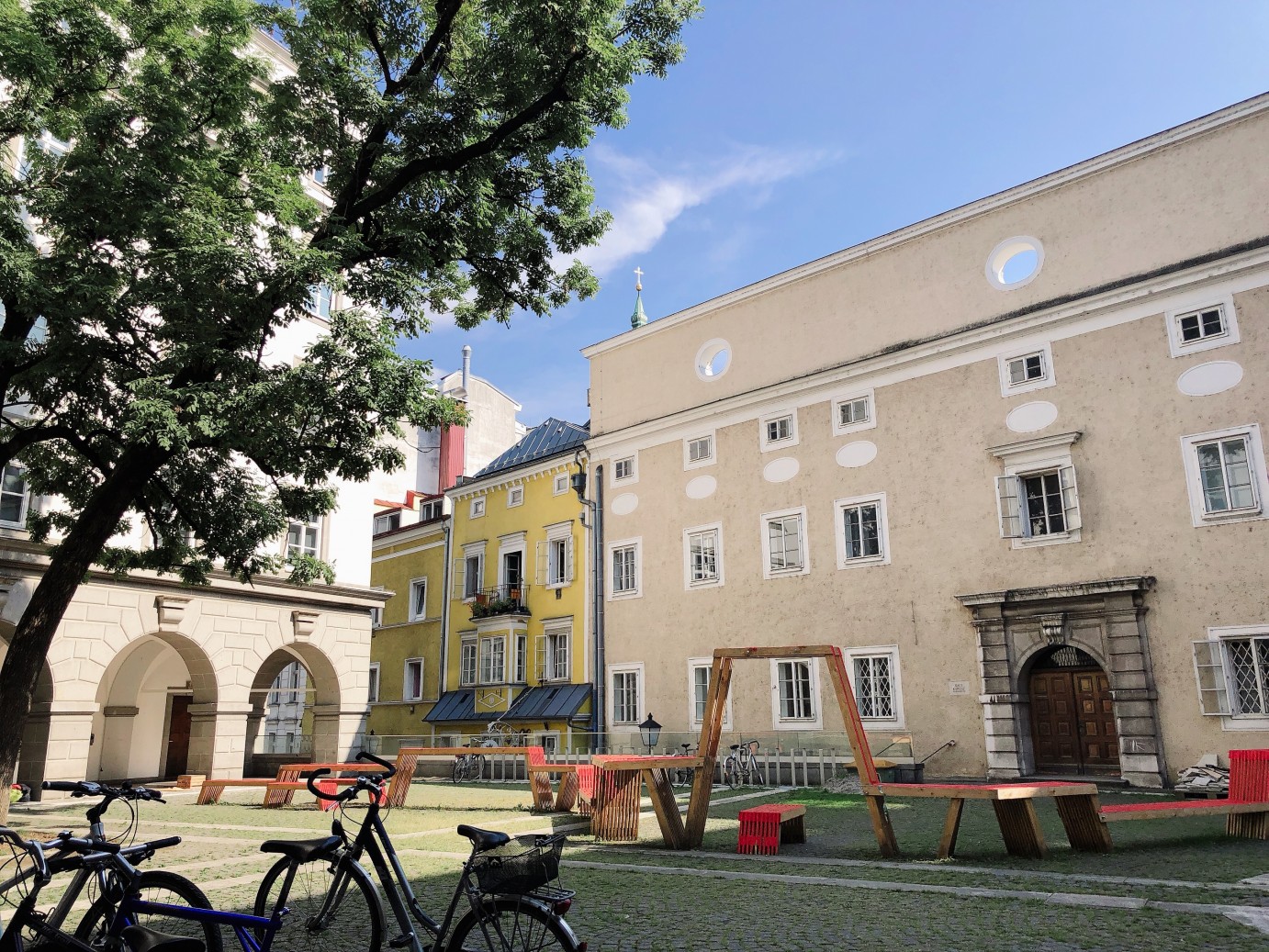 Out and about
3. TAKE A QUICK TOUR ONBOARD THE LINZ CITY EXPRESS
Linz City Express
If you have no time for a leisurely tour, you can still catch a glimpse of the city's historic center onboard the Linz City Express. The bright and cheery yellow road train will take you on a 25-minute tour and enjoy a brief introduction to some of the city's popular attractions. You can buy your ticket at the kiosk located at the main square.
4. EXPLORE HAUPTPLATZ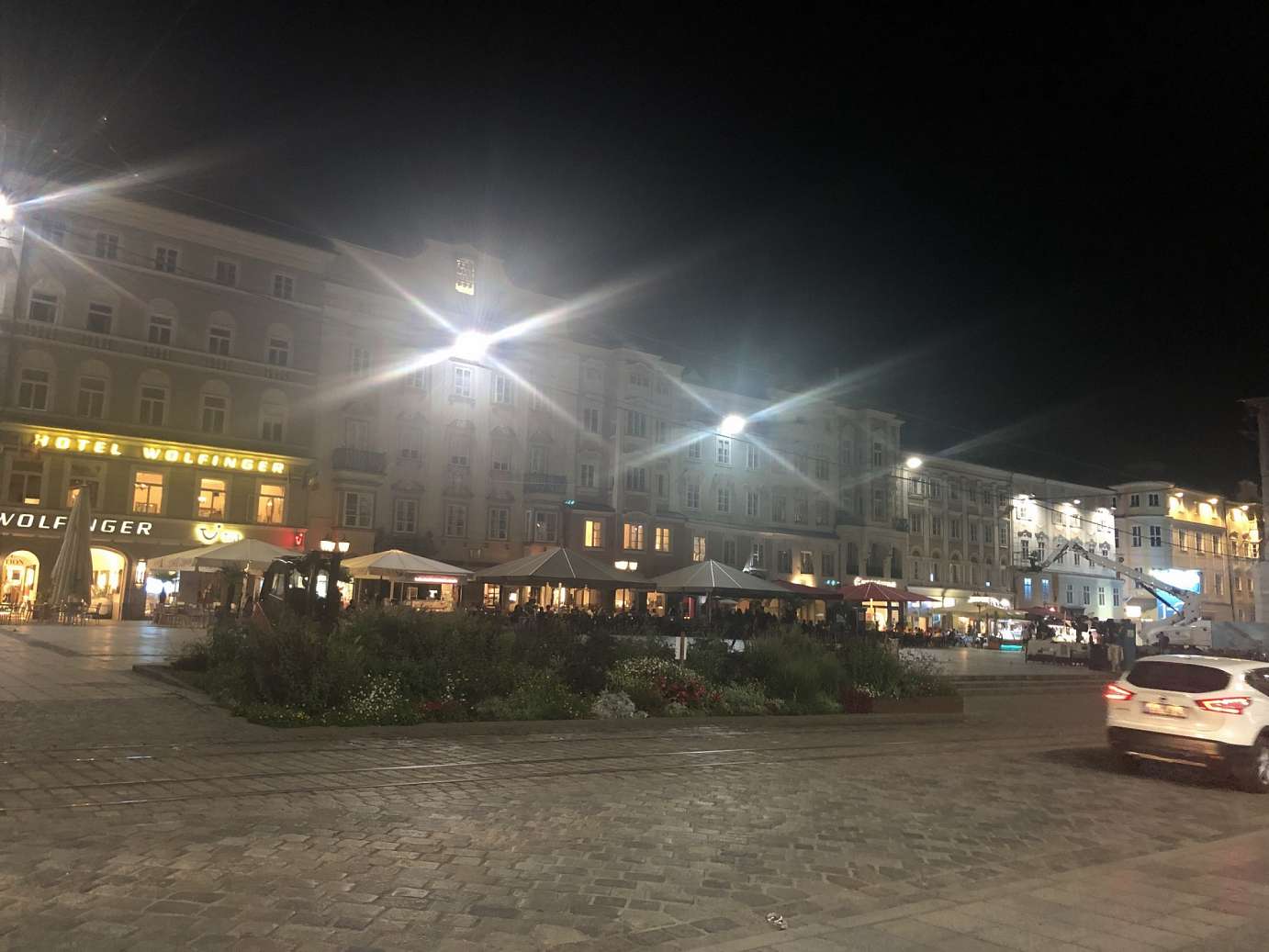 Nighttime stroll
At the heart of the old town is Hauptplatz, the city's main square. This is one spot where it would be best to really slow down to take in everything. You can basically learn a lot about Linz' history just by admiring the many attractions you will find here. The beautiful houses and buildings, towering marble column, the wide array of cafes and restaurants, and so much more make it more interesting. The old square also served as a venue for a big event around the time we were there. So it was particularly busy, but not overwhelmingly so. Roaming around Hauptplatz despite the huge crowd during its busiest times was not stressful at all.
5. RIDE THE PÖSTLINGBERGBAHN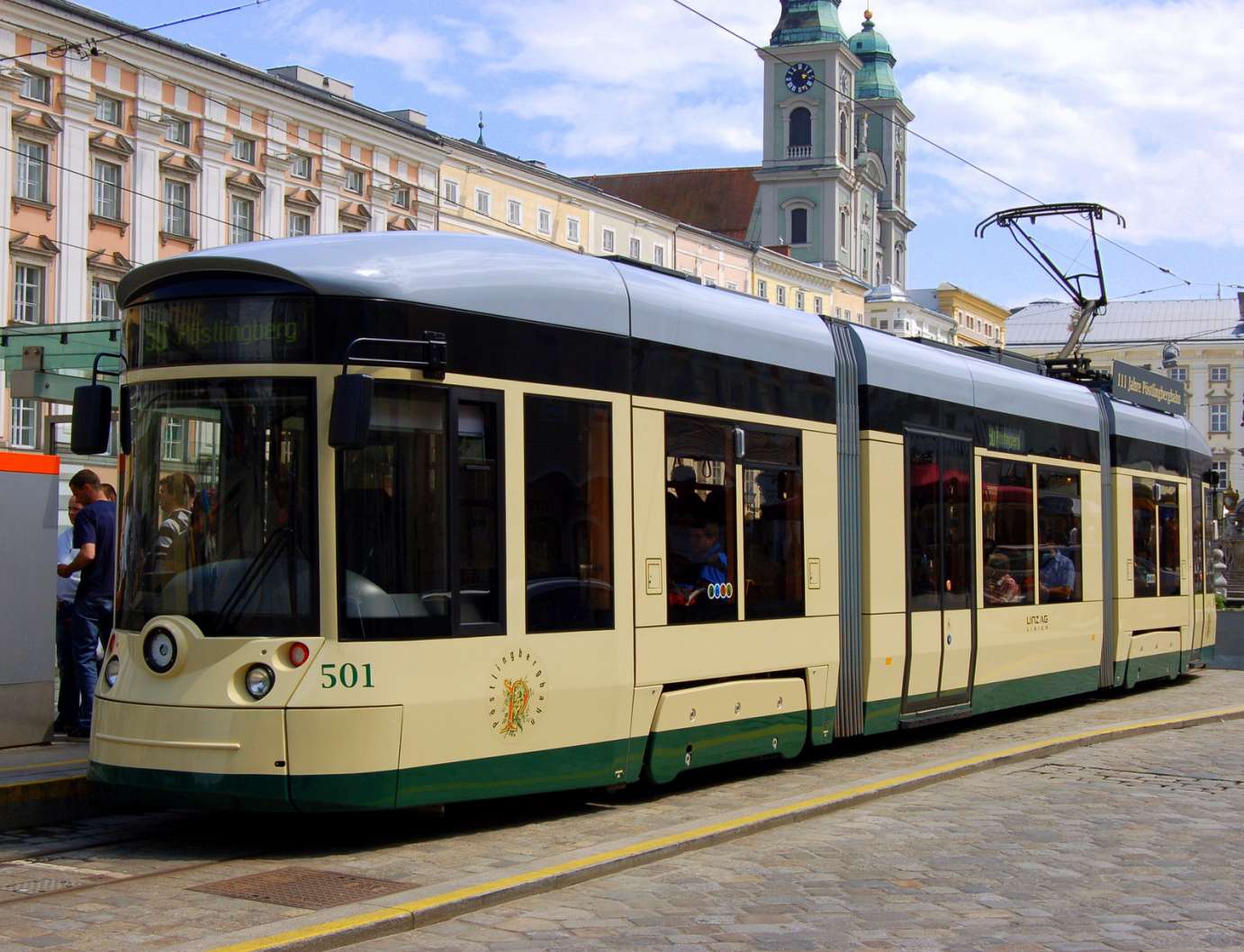 Pöstlingberg tram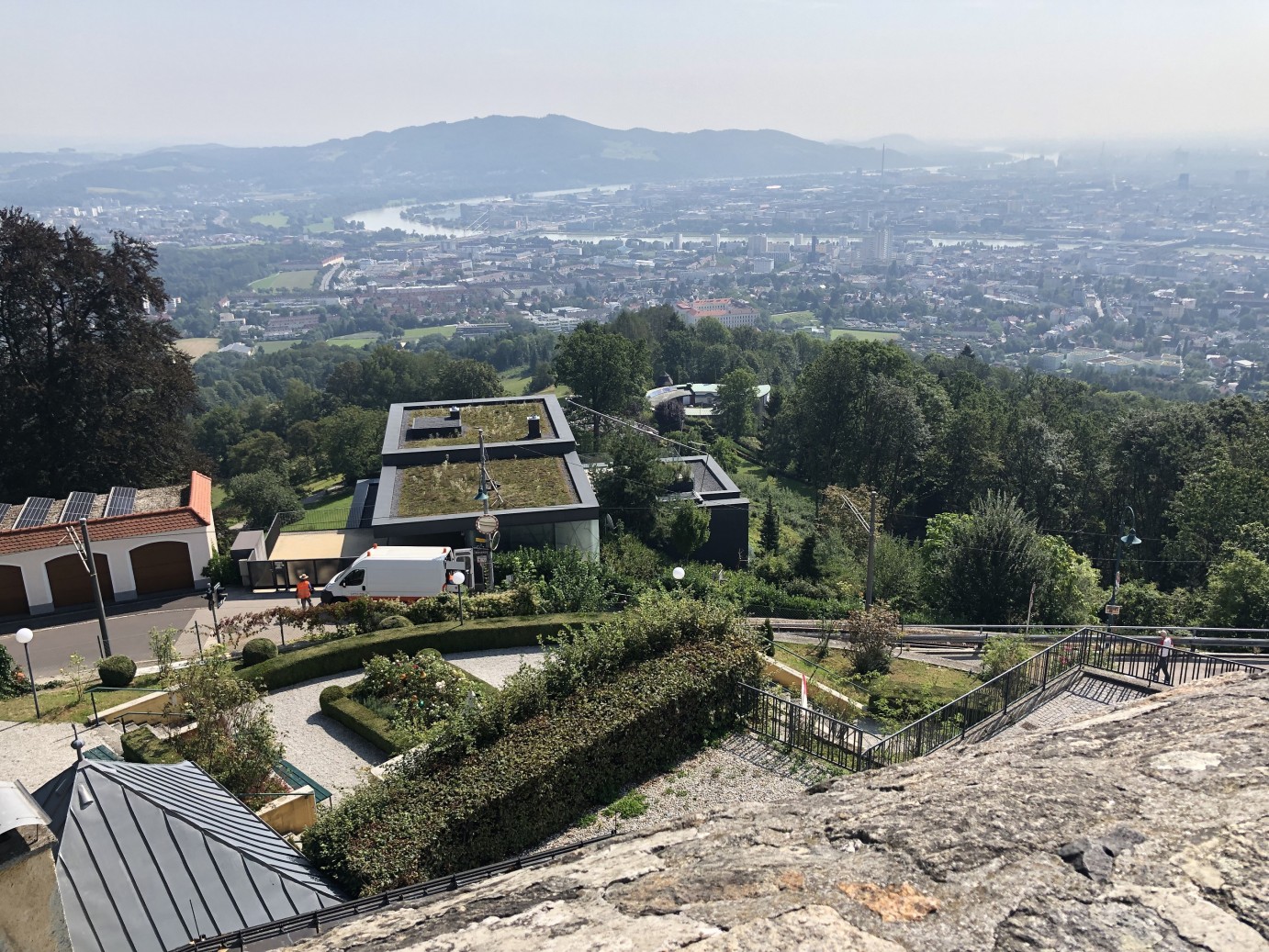 Overlooking the city
From Hauptplatz, ride the Pöstlingbergbahn -- the steepest adhesion railway in Europe. The trip will take you on a roughly 20-minute uphill journey atop the hill. You can buy a ticket from the machine or enjoy the ride for free if you have a Linz card. The ride is one of the best things about taking this trip. You get to see a lot of beautiful houses and properties and scenic views. And as you reach Pöstlingberg, you can enjoy a sweeping view of the city below you. You can also visit the Pöstlingbergkirche, a pilgrimage church built around the middle of the 18th century.
Pöstlingbergkirche
6. ADMIRE THE ARCHITECTURE
Mariendom
Architecture lover or not, it would be hard not to admire the buildings in Linz. You just have to walk in a street or alley to find an impressive Baroque-style building or modern structure. One of the most notable you will find is the New Cathedral (Neuer Dom) also known as the Mariendom. This massive church sits in a large open space where you can take your time as you take in the church facade's intricate design and details.
7. GO ON A BOAT TOUR ON THE DANUBE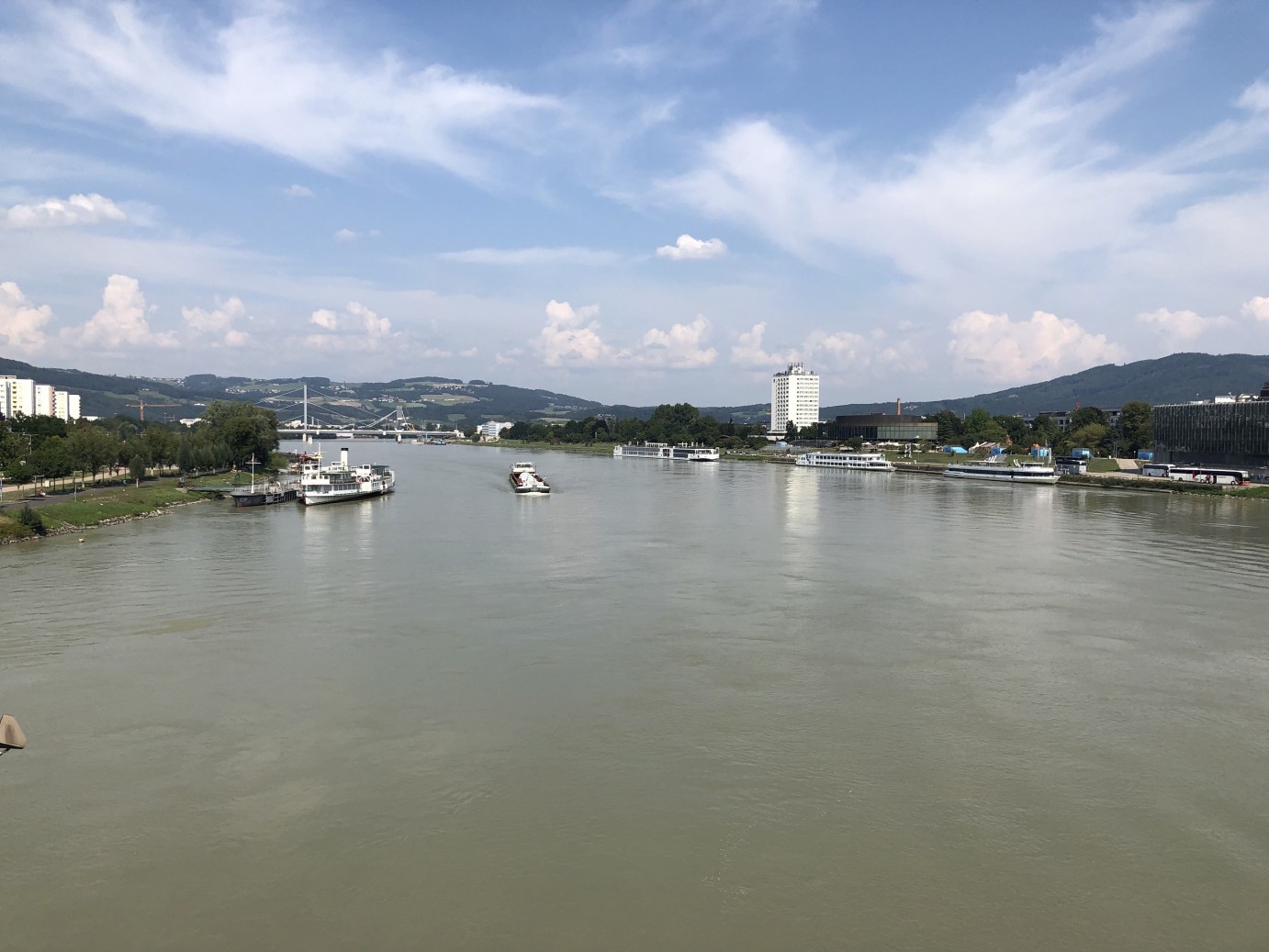 The Danube
The Danube flows through ten countries in Europe. And that makes it so fascinating in our book. Getting on a boat to go on a short cruise across a small section of this river was a great way to see the city from a different perspective. The boat glides smoothly on the river passing by some of the city's top attractions. Not to mention a good view of some of the many graffitis at the Mural Harbour -- an open-air gallery where you can see a wide array of artworks by local and foreign artists. You can also enjoy a delicious snack or meal on board as you soak in the many interesting sights you see around you.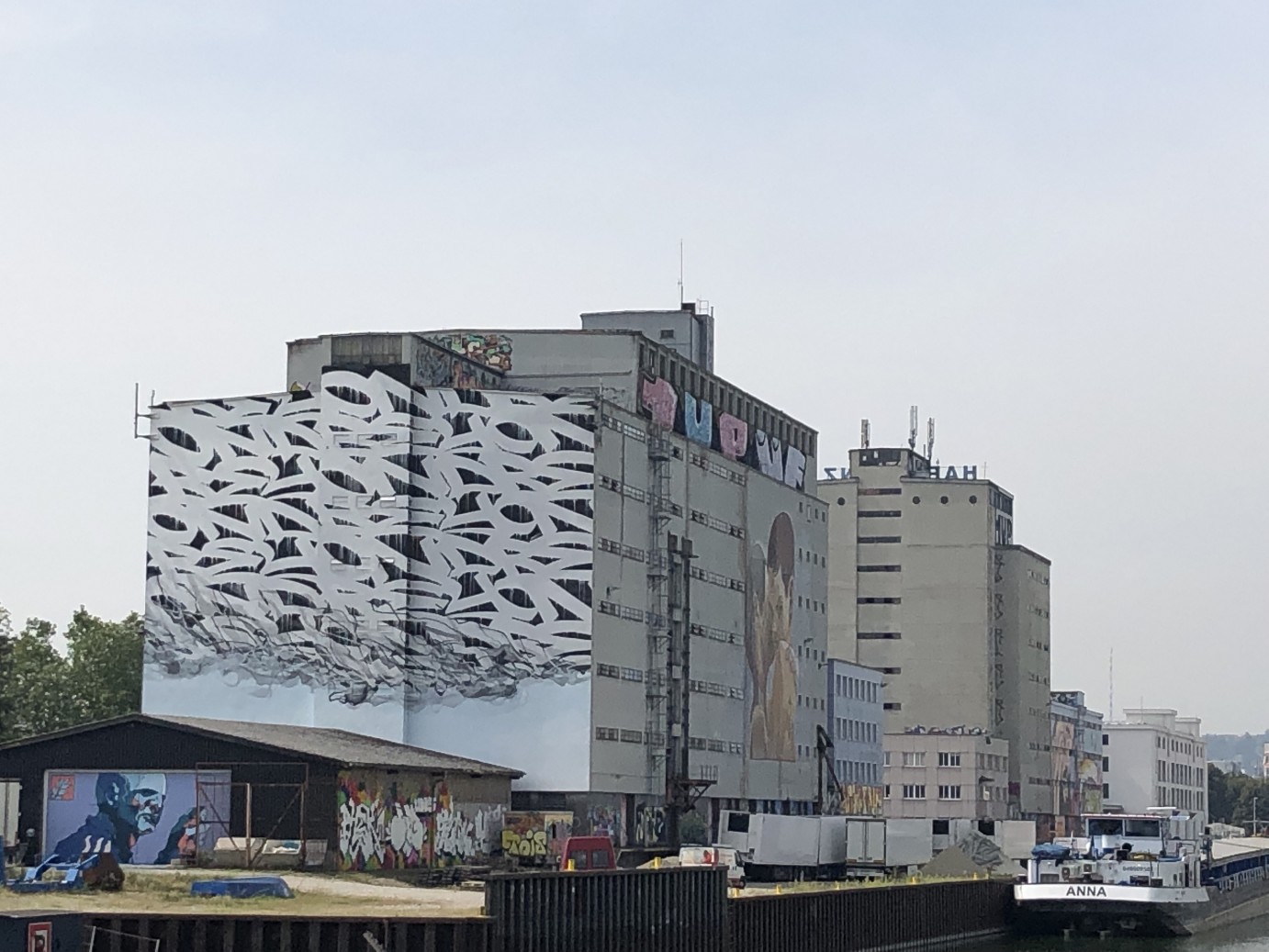 Cruising on the Danube
Mural as seen from the boat 
8. EAT AT VEGAN-FRIENDLY DINING SPOTS
What the city lacks in all-vegan cafes and restaurants it makes up with vegan-friendly dining options. Linz has a surprisingly wide array of cafes and restaurants where you can order vegan food. And they are fairly easy to find using this restaurant finder.
Bratwurstglöckerl
This inn/tavern is approximately a 20-minute walk away from our hotel. We enjoyed a pleasant stroll to have dinner in the garden. They have vegetarian options and you can request for a vegan dish.
A large serving of vegan dish
Location: Angerholzerweg 38, 4020 Linz
Café Traxlmayr
This traditional coffee house dates back to 1847 and is said to be one of the few remaining of its kind in this part of Austria. Unlike the other places we visited, this is not as veg-friendly as most of the food contains meat and dairy. But they have a veg sandwich on the menu as well as coffee and tea. But more than the food, we picked the place for the ambiance. The cafe's interior is typical of the old Viennese coffee houses. And they have nice outdoor seating where you can enjoy the food, conversation, and the sights surrounding the cafe.
Outside seating at Cafe Traxlmayr - a traditional coffee house
Location: Promenade 16, 4020 Linz
CUBUS
This place has vegan and vegetarian options and has a spectacular view of the Danube. Dinner was memorable, especially when the Lentos museum building across the river suddenly lights up at sunset and glowed even more brightly as it got darker.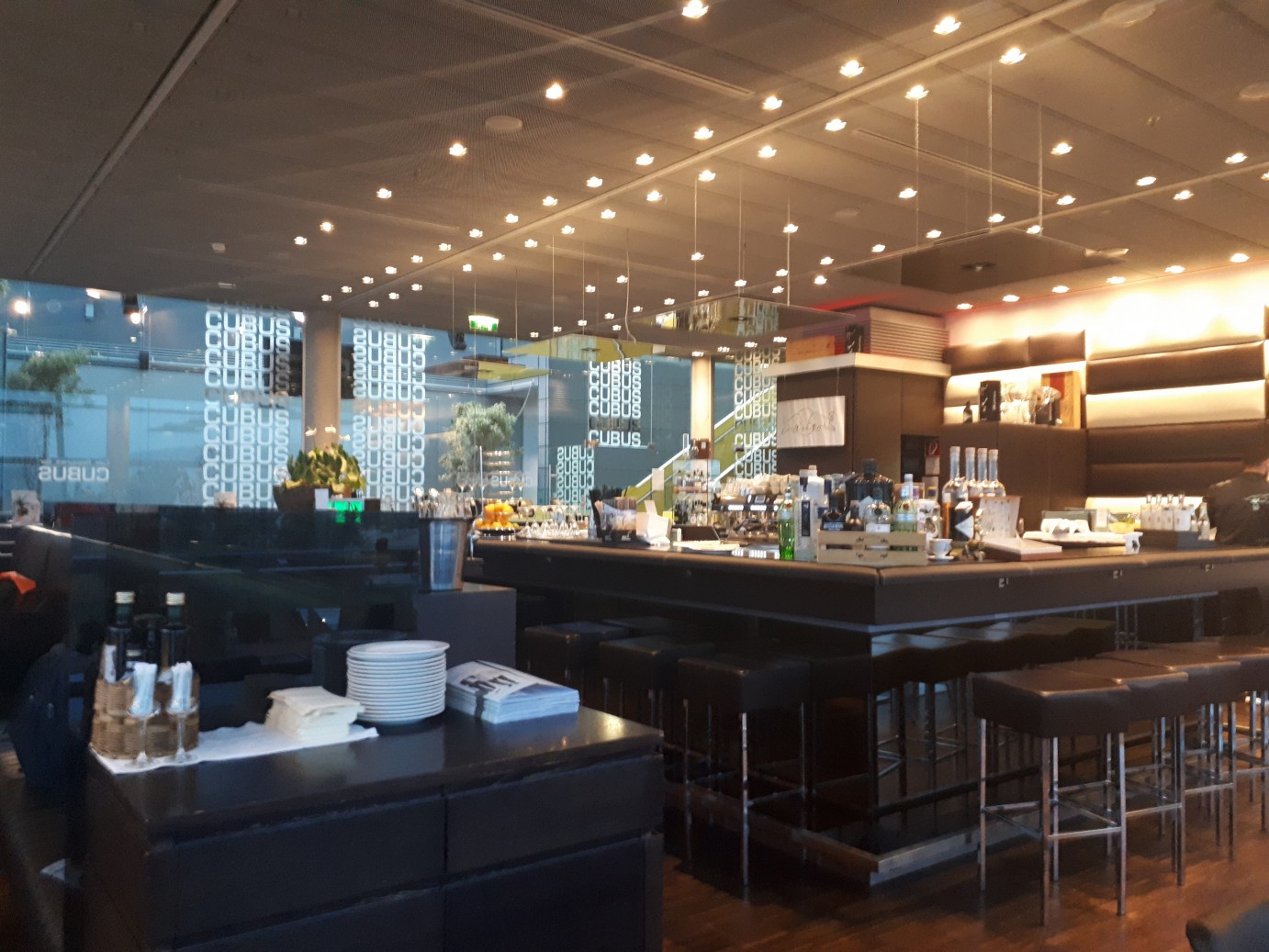 CUBUS
Dinner with a view of the Danube
Lentos Museum across the river glows neon-pink as night sets in
Location: Ars-Electronica-Straße 1, 4040 Linz
Front Food
If you want to eat in an all-vegan restaurant then this is the place for you. And another great thing about this place is its location. It is in the inner city part so you do not have to go somewhere far to eat 100% vegan.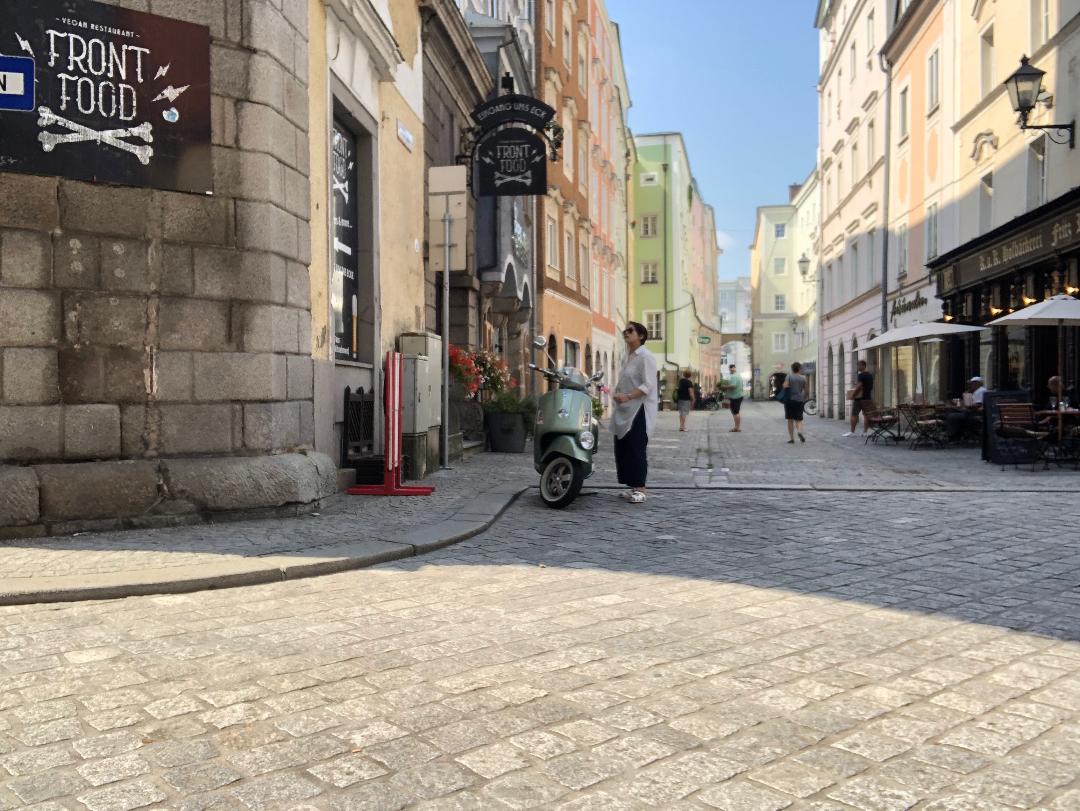 Front Food
Location: Pfarrgasse 20, 4020 Linz
k.u.k. Hofbäckerei
This cafe is best known as the oldest bakery in Linz. Apart from the famous Linzer Torte and other delicious-looking pastries, this place also has vegetarian options.
At Cafe k.u.k. Hofbäckerei
Location: Pfarrgasse 17, 4020 Linz
Linz may not be as popular as some of the more touristy Austrian cities like Vienna and Salzburg. But it is a place that grows on you as you discover more of its charms. Not to mention the richness of the creativity and innovation that thrive in its midst. And as we learned during our stay there, the best way to experience the city is to travel slow.