At Guyam Island
When a friend and business partner invited me for a three-day and three night's stay in Siargao, the Surfing Capital of the Philippines, I imagined it would be as crowded as Boracay which I have visited in the past. Not that I would pass up the chance to finally visit one of the country's top destinations just to get away from throngs of people. But I was bracing myself for it just in case.
We took the direct flight from Davao City to Siargao. Travel time was about one hour and 15 minutes. Philippine Airlines added its Davao to Siargao route in March 2018, a much welcome development as it cuts the 8 to 12 hours travel time by land. We left Davao City at 7:00am and we arrived just a little after 8:00am thus giving us plenty of time for sightseeing and other activities on our first day.
Our travel guides Yang2x and Jojo who are both triathletes and Red Cross certified first aid providers picked us up at the Sayak Airport in Del Carmen. It was the start of our epic adventure with them. These two are the best guides ever and I would highly recommend them to anyone looking for guides in Siargao.
Travelers who have no transportation arrangements through local guides or car rental services can take the van, tricycle, or habal-habal from the airport to General Luna - the main hub of Siargao Island. General Luna is one of the nine municipalities of Siargao that includes Burgos, Dapa, Del Carmen, San Benito, Pilar, San Isidro, Santa Monica, and Socorro. Since most of the island's top attractions are located near the area, it has become the main hub of most tourist activities.
Coconut trees and verdant greenery seem to follow us as we traveled to General Luna. The nature scenery adding to the feeling of anticipation and excitement I had since we started planning this trip.
Since I was able to entice my husband to join on us this trip, I booked an additional room in Cherinicole Beach Resort where my friends already made their reservation. The resort sits in a quiet spot in town with a great view of the ocean. It is also conveniently located near cafes, restaurants, and the market thus making it one of the widely popular places to stay in the area. While it was nice and comfortable, I was not entirely happy with the service. I was told that even if I made an advance booking I may still not get a room. And I was surprised to find that they did not provide us with toiletries. Had I known, I would have brought my own.
The somewhat disappointing experience with our accommodation, however, did not diminish the fun we had on our trip. As soon as we finished checking in, we headed out to start exploring the island.
Our guides planned everything for us so we just hopped on their van and let them take us around some of Siargao's must-see destinations. For a short visit, we were able to visit and experience a lot of the island's best-known attractions.
The Boardwalk at Cloud 9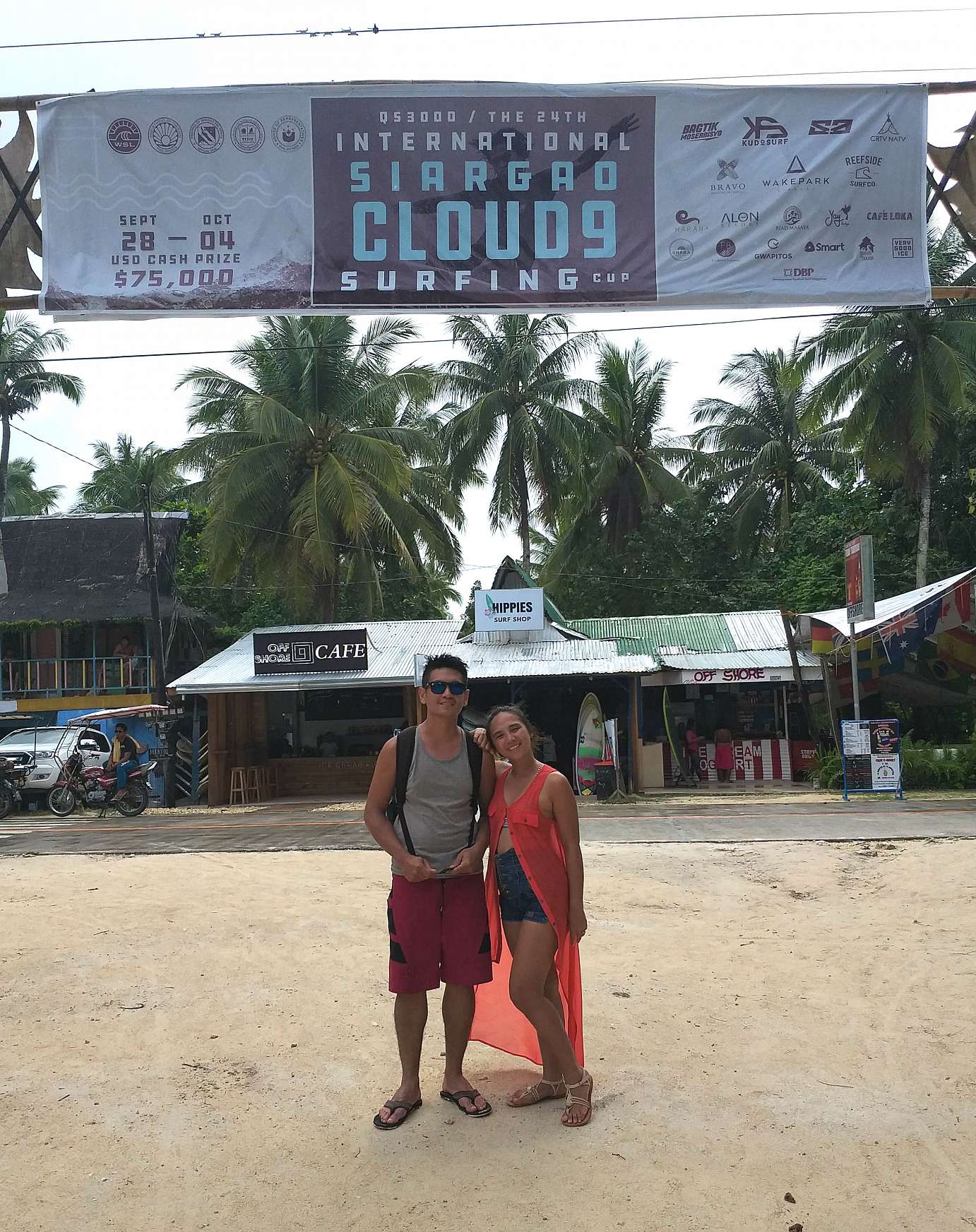 With the signage for one of Siargo's annual surfing events behind us.
Cloud 9 Surf Resort
Cloud 9 is easily one of Siargao's most famous surfing waves. Surfing enthusiast or not, it is an unmissable spot in the island that you can enjoy from the viewing deck on the boardwalk. Local and foreign visitors can pay the Php50 entry fee to access the 300-meter wooden walkway that offers a scenic view of the waves that have long served as a playground for surfing enthusiasts including the pros from around the world. The spot is also a popular spot for sunset viewing. Just watching the waves and the vast ocean will make you feel that it was well worth the trip.
Daku Island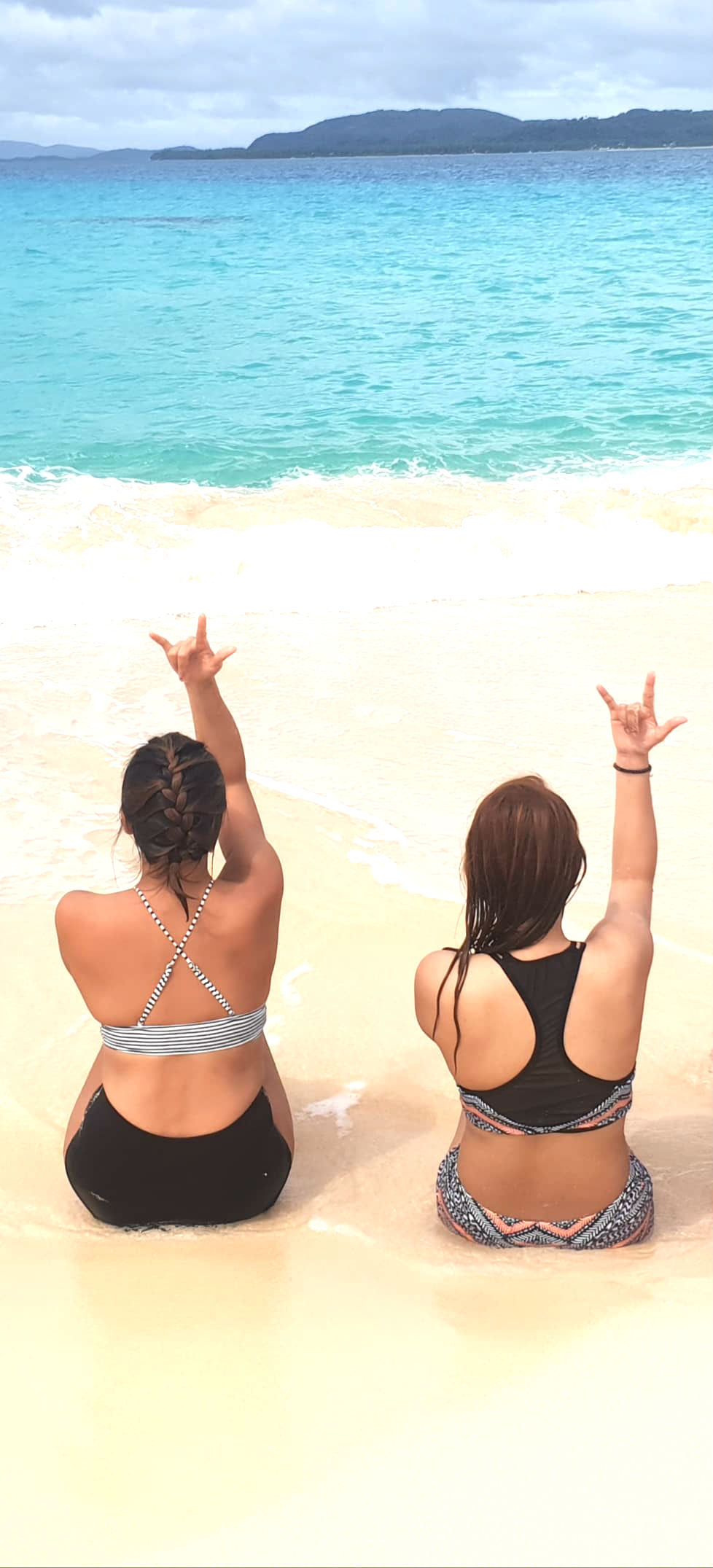 At Daku Island
My friend Vanessa at Guyam Island
Siargao may be one of the world's famous surfing destinations, but it has more to offer for travelers looking for a more relaxing way to enjoy the sun, sea, and sand. Daku Island is one of Siargao's picturesque and not-to-be-missed islands along with Guyam Island and Naked Island. It is a gorgeous spot for swimming with clear turquoise water, powdery sand, and a wide shoreline. Since we could not stay there forever, we tried to squeeze in as much fun as we can in that picturesque surroundings.
Not to be outshined, Guyam Island gave us more reason to believe that nature has truly blessed Siargao with so much beauty. The island is said to be the most beautiful of the three islands and we could not help but agree. The green spaces made up of coconut trees and grasses that reminded me of the waves as they sway when touched by the breeze. Here you can pick a cozy spot under the shade and completely immerse yourself into the tropical island vibe.
Kawhagan Island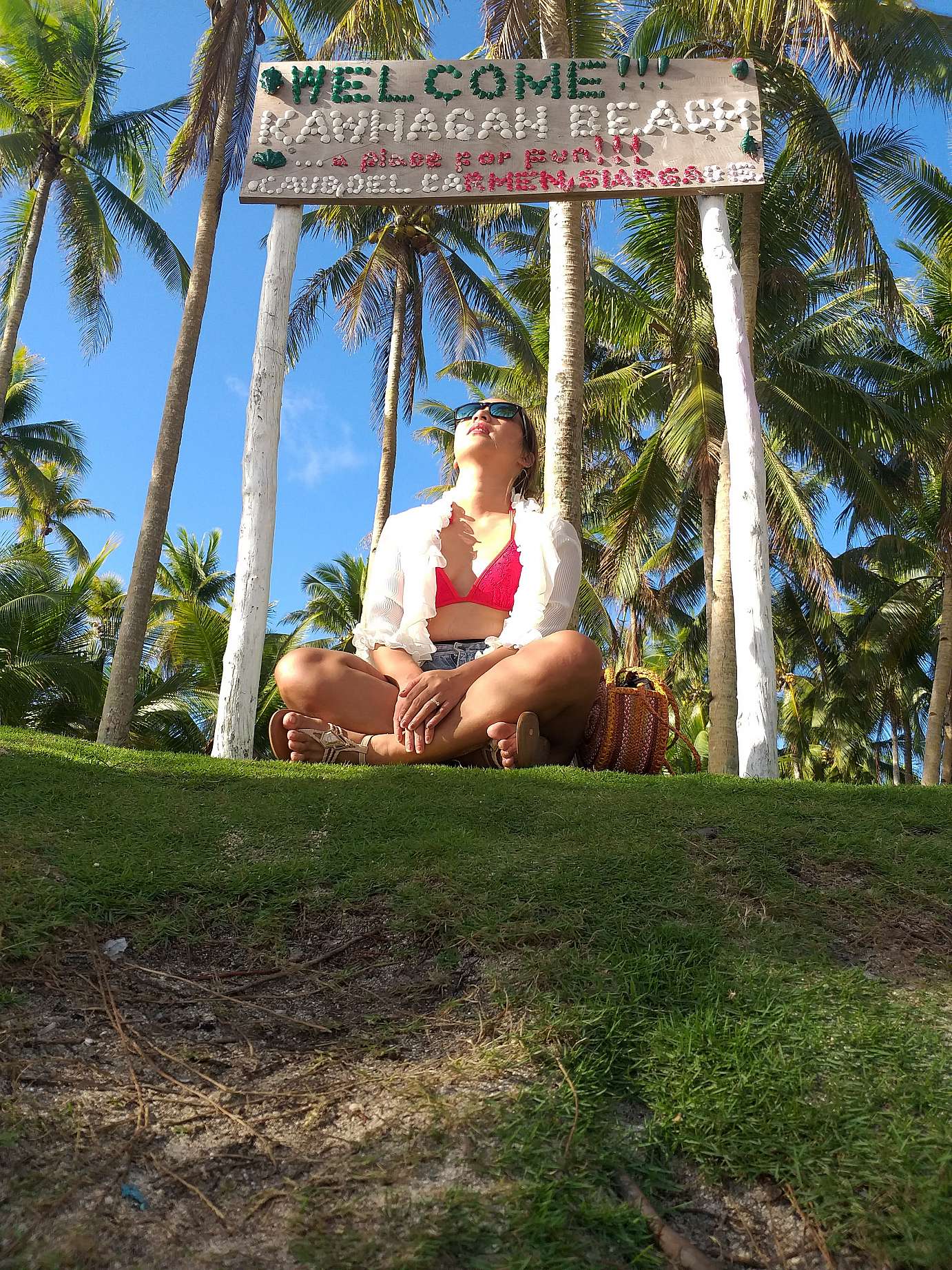 Kawhagan Beach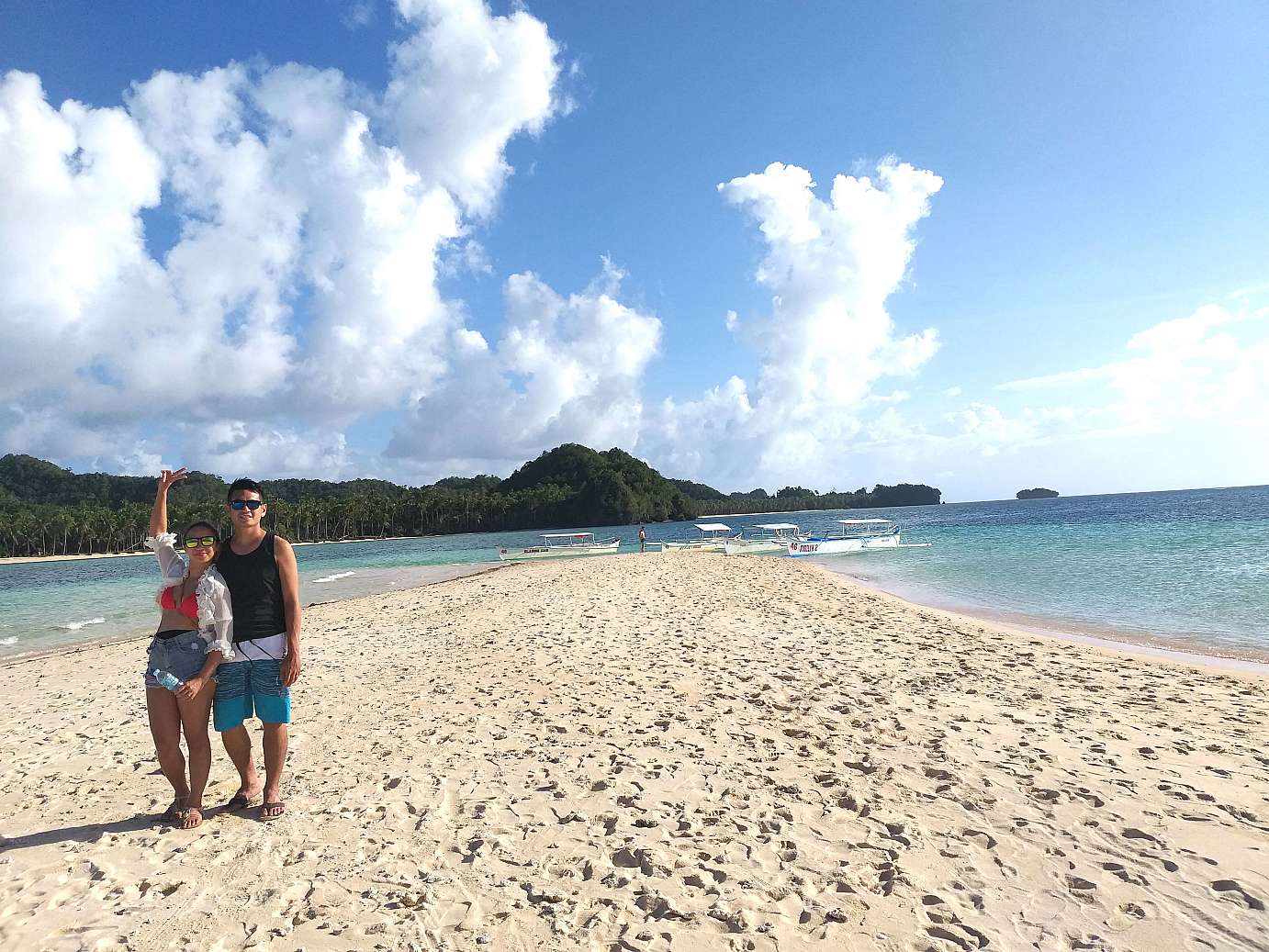 Kawhagan Island
Kawhagan may not be as famous as the other three island destinations around Siargao, but it still packs a punch on the gorgeousness scale. Its sandbar, fine white sand, and the ubiquitous coconut trees that abound in Siargao provide a lovely backdrop. We heard that it was also a popular spot to view the sunset something that we cannot confirm as we did not stay there long enough to see it.
Magpupungko Beach
Fresh young coconut juice and biko
Known for its tidal flats and natural rock formations, Magpupungko beach has become one of my favorite places in Siargao. The scenic beach was a great place to chill out. My husband and I bought some fresh young coconut juice from one of the food stalls there and were pleasantly surprised when the vendor gave us bamboo straws to use. We also had some biko (sweet rice cake) served on banana leaves. This reminded me of my conversations with a friend about the zero-waste lifestyle. I was impressed by the measures the residents follow to keep promote sustainable tourism on the island.
Naked Island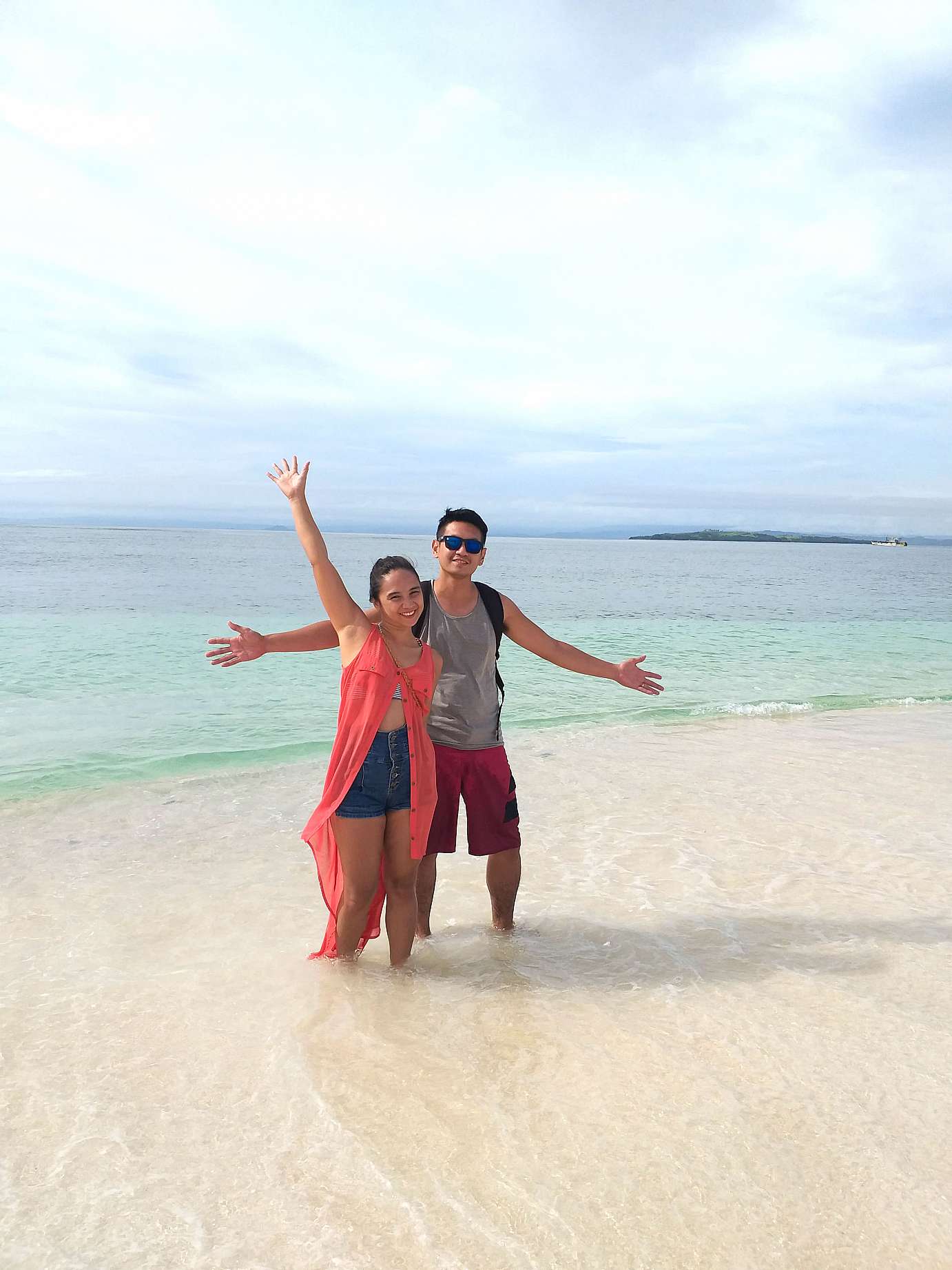 Naked Island
The island's name speaks for itself. The sandbank is as bare as an islet can get. There are no palm trees or rock formations that would offer a cool shade to anyone who wants to escape the heat. But fret not, because hiding in the shade would be the last thing on your mind here. We made the most of our stop here by enjoying the cool and clear water. This is a good reminder that some of the most beautiful things and places in the world take on the simplest and barest forms.
Pagbasayan Islet
Pagbasayan is an islet located in the municipality of San Benito. It sits in the midst of a lush seaweed plantation. It is surrounded by clear and shallow water perfect for swimming, especially for those with children in tow.
Sugba Lagoon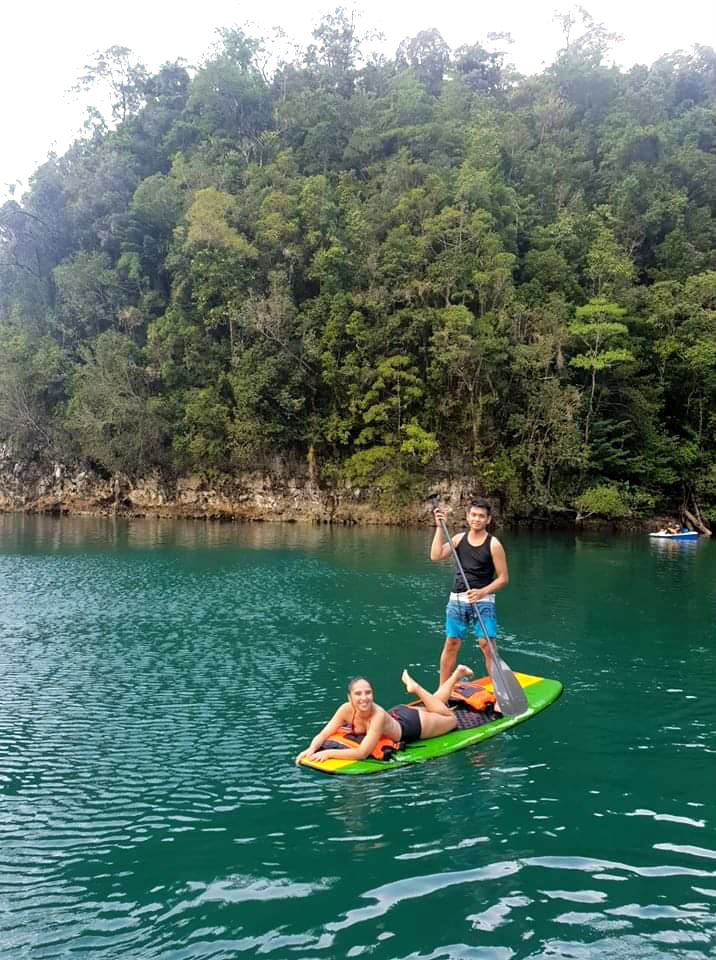 Paddleboarding in Sugba Lagoon
Diving platform at the pontoon house
This is probably one of Siargao's most famous non-surfing spots. And I now know why it is so popular. Sugba Lagoon is a breathtaking place perfect for chilling out. The crowd is not overwhelming despite its growing popularity mainly because the place is vast and there are plenty of areas to see and explore. It is about an hour and a half boat ride away from General Luna. Another option going there is to go to the wharf in Del Carmen and take the one-hour boat ride to Sugba Lagoon. There is a pontoon house overlooking the main lagoon which serves as the central area where you can get a table and chairs to hang out or eat. We rented a paddleboard for Php300/hour -- money and time well-spent as we were able to immerse ourselves into the tranquil surroundings and see some of the awe-inspiring scenery from up close. We also did some diving from the platform at the pontoon house.
Tayangban Cave Pool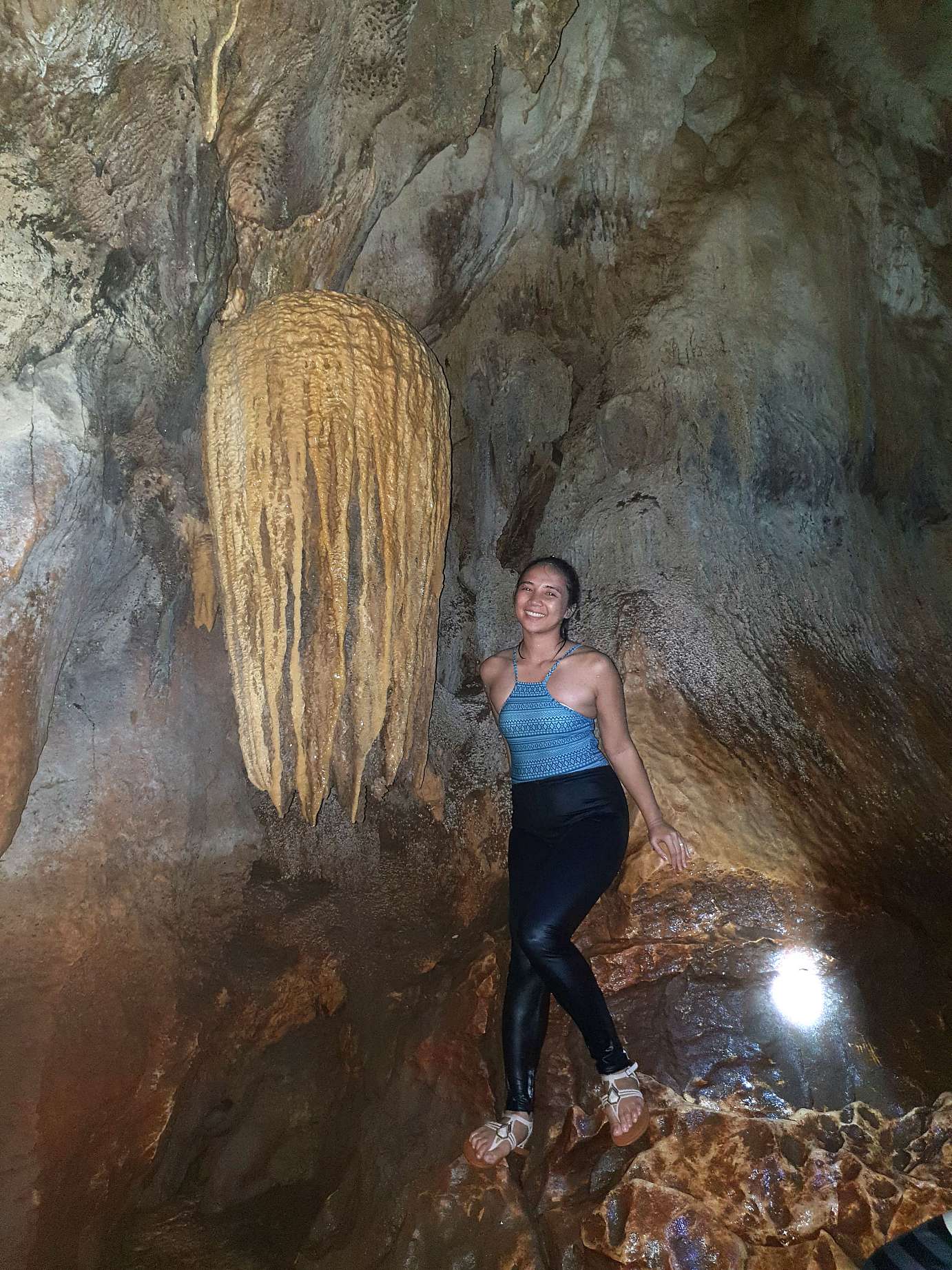 Caving experience in Tayangban Cave Pool
Siargao's scenic attractions are so diverse. The Tayangban Cave Pool located about thirty minutes away from General Luna showcases the wealth of natural treasures the province has to offer. We paid the Php70 entrance fee. There are guides who will take you inside the cave. Swimming and caving experience go hand in hand here. There are parts where we had to wade chest-deep in the cold water surrounded by darkness and the occasional sound of bats flying around. After about 15 minutes of swimming, while navigating our way around the caves, we passed in an archway and came out from the cave. Some people were already in the cliff jumping spot with vines that let you swing and dive into the deep waters. From there, it was only a short swim back to where we stayed. I have not done much caving before so this was a fun experience for me.
Nature and the wide array of enchanting sceneries are not the only reasons to visit Siargao. Vegetarians, vegans, and plant-based eaters will be happy to know that there are plenty of dining options available. Most of the restaurants we visited in General Luna have vegetarian and vegan selections on the menu. It is the most veg-friendly place I have visited so far here in the Philippines.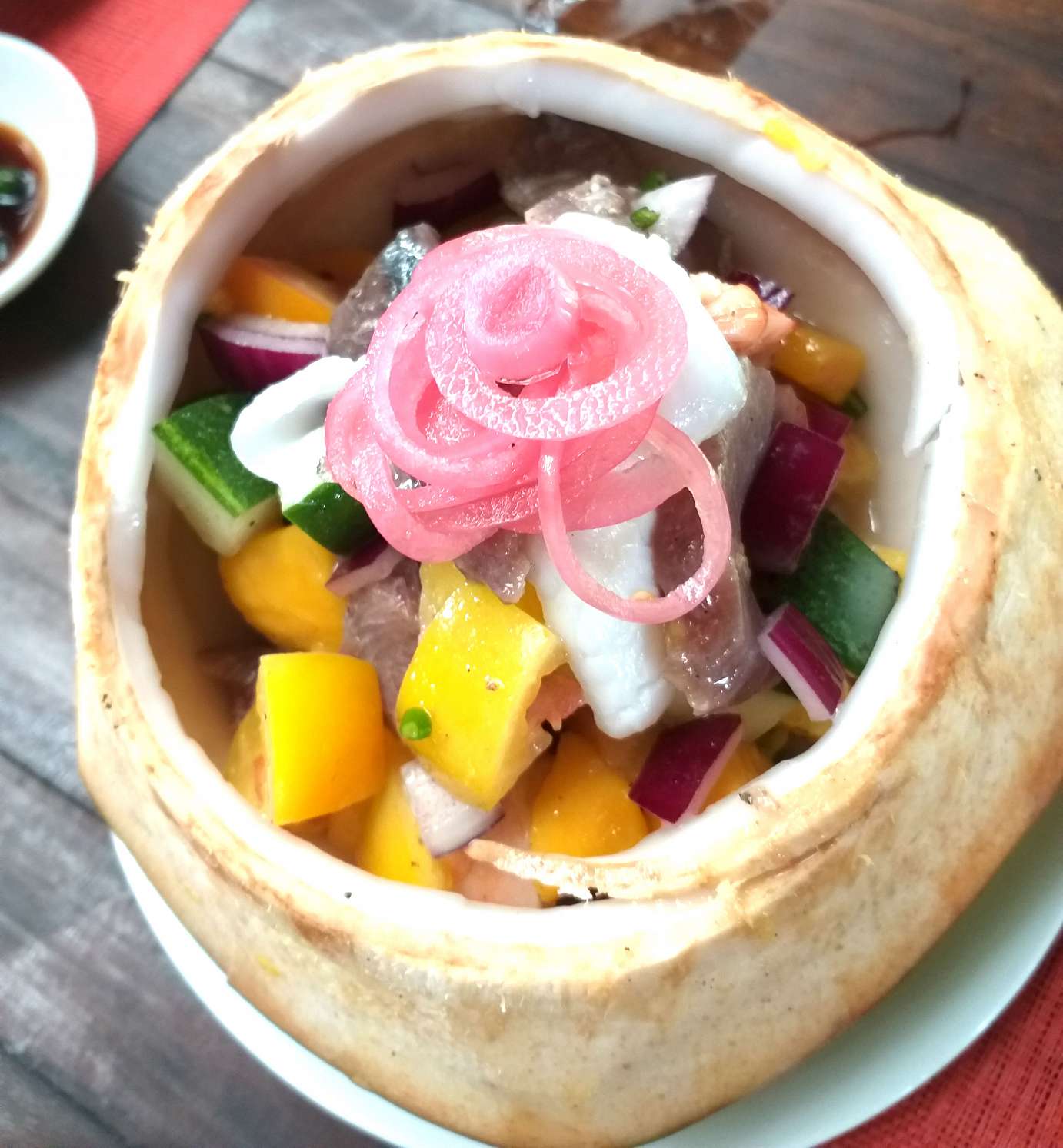 Fresh fruit and veg salad at Harana Surf Resort Restaurant
The menu at Kermit Surf Resort Restaurant
Vegetarian pizza at Kermit Restaurant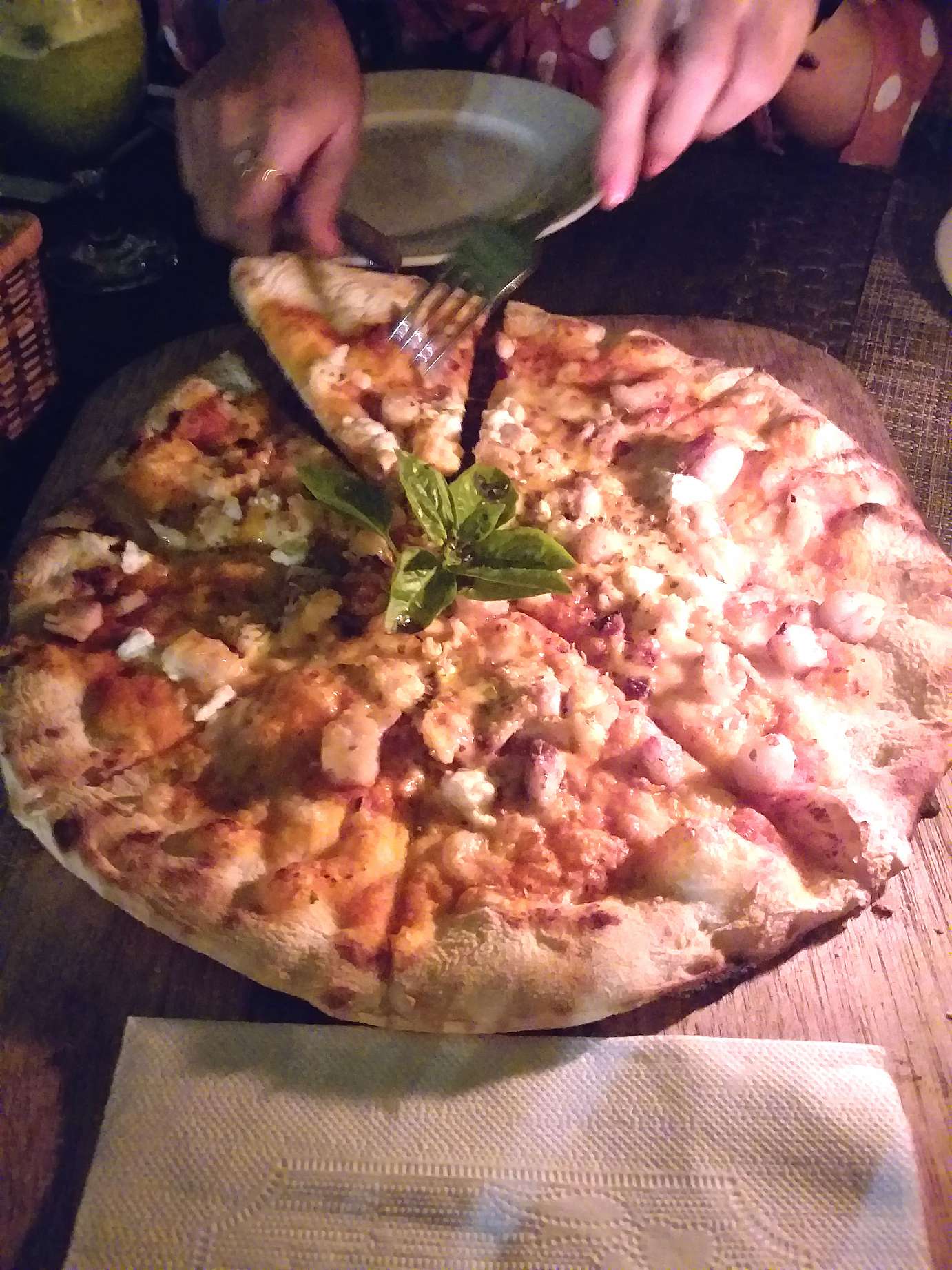 Vegetarian pizza at Kermit Restaurant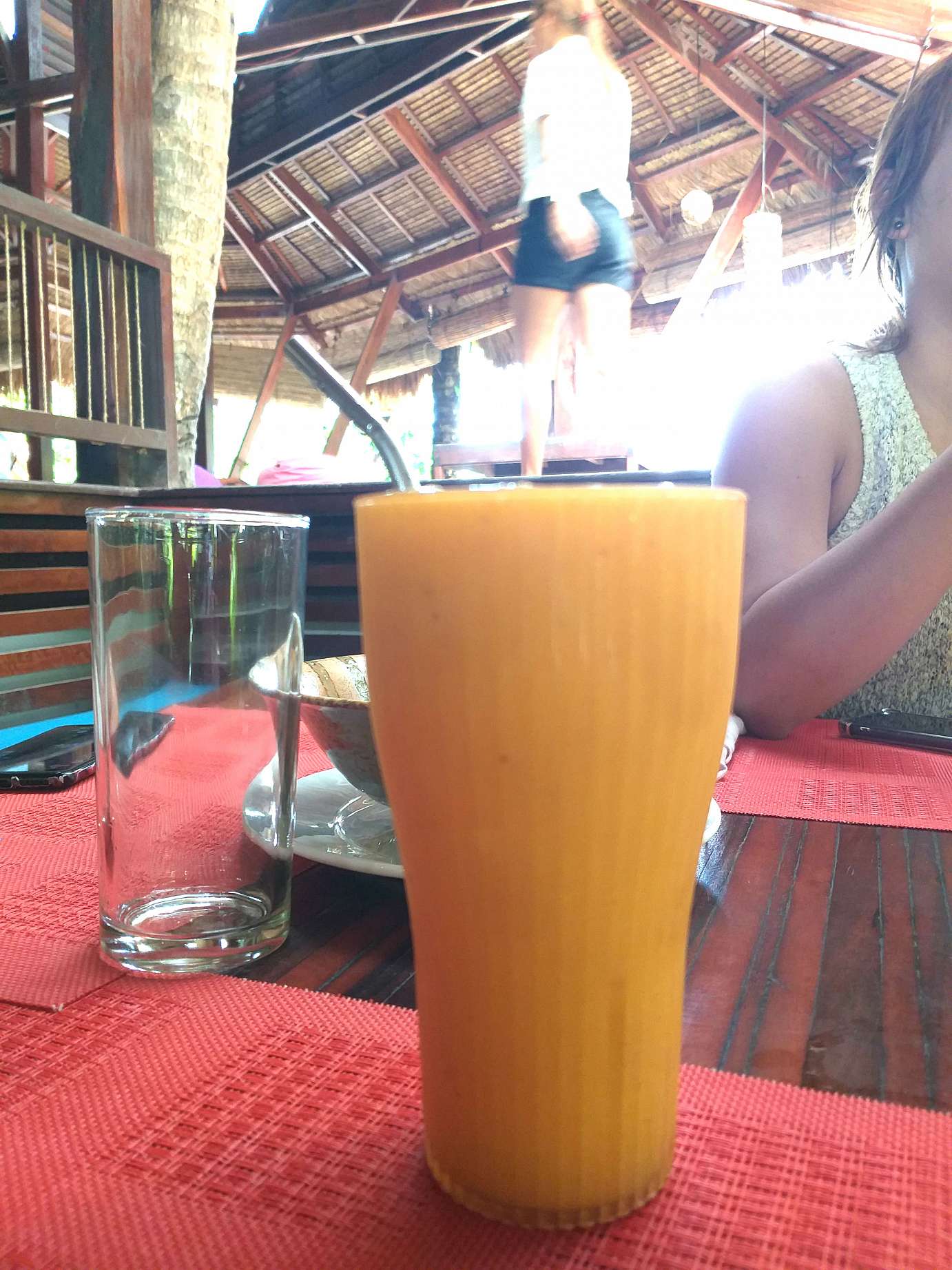 Fresh mango juice
Three days and three nights are too short to see more of the province that has put the Philippines in the world's surfing map. But it was enough time for me to experience its charms. It also made me realize that no matter how crowded it may get during the tourist peak season, it has a treasure trove of places that still remain under the radar.  Anyone who wishes to go off the beaten paths can choose to visit the less-touristy municipalities and travel slow around this beautiful island where sustainable tourism is alive and thriving.