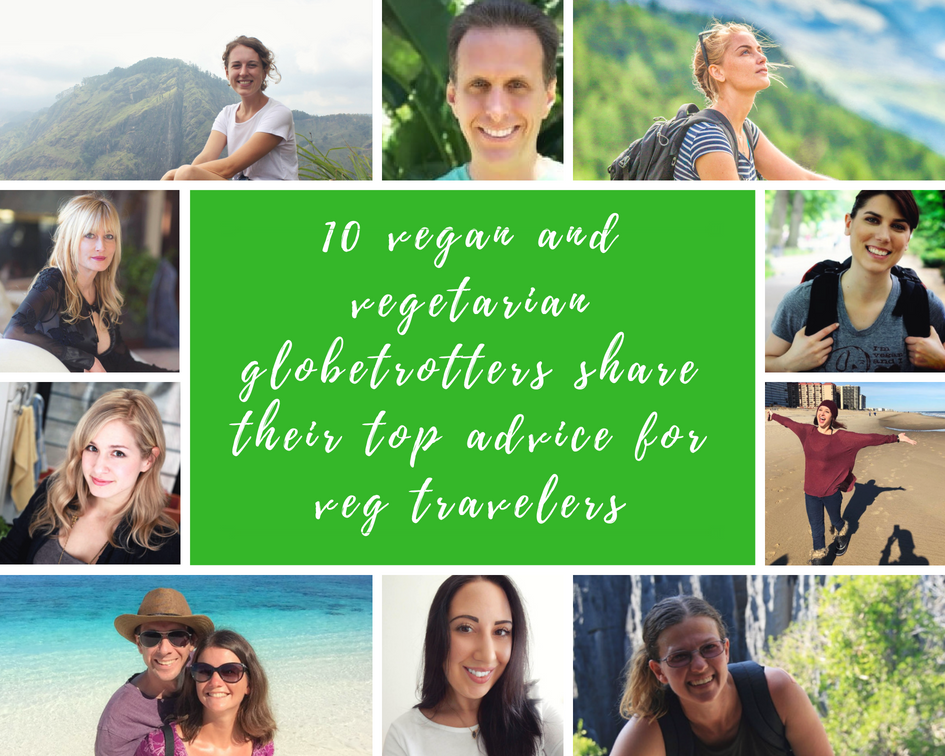 Vegan travel is growing and showing no signs of slowing down. As veganism goes mainstream, we are seeing more people seeking out veg-friendly destinations to explore. In the past six months, we have interviewed vegan and vegetarian travelers and influencers who shared their own experiences traveling the world. Here we rounded up the top advice they have for veg travelers. 
Charlie Marchant - Charlie on Travel
"Carry peanut butter and snack bars on you. It's a great way to ensure you're getting enough iron and perfect for emergencies."
Eric Brent - HappyCow Founder and Director
"Download the HappyCow app. We do charge for the full version of the app. It's just a small one-time fee which goes towards the development of the app. It's expensive to develop so you're also supporting it. For me, it's so worth it in terms of making your life easier when you travel.
There are also other places for finding vegan restaurants like Google, Yelp, and TripAdvisor. But none of them are moderated content. HappyCow is 100% moderated by people - vegans who know what they're doing and understand the difference between menus. A lot of times if you look on Yelp or another site you'll find something that says its vegan. But when you actually go there you see it's like a meat restaurant that has a couple of vegan options. The reviews and opinions on HappyCow would be from people who probably think more like you than a meat-eater. For that reason, that's super useful."
Evelina Utterdahl - Earth wanderess
"To always have snacks in your bag. And to not be picky, you can't expect people to understand or be able to fulfill your requirements of a decision that is in some ways a question of luxury. I'm not saying you should eat meat, but maybe in some cases, it's better to just pick whatever it is you don't eat off of your plate than to complain. And to not be too hard on yourself."
Karenna Love - Vegan Green Planet
"Polish up your language by learning French if going to France, it will make a huge difference! English is spoken almost everywhere but to show them you care, it makes a difference. Be polite and courteous and don't be picky about oils, etc.   Vegan is already enough. Highly recommend the Happy Cow App, and being open to adventure safely off the beaten paths. Enjoy your journeys wherever you go. To be vegan and travel is a blessing."
Kristin Lajeunesse - Will Travel For Vegan Food
"You must start before you're ready because you're never going to feel 100% ready to jump into a big trip. You can do all the planning and get your things in order, but it'll still feel nerve-wracking at first. Choose courage (and pack snacks just in case your long flight has crappy food). ;)"
Marisa Miller Wolfson - Vegucated Writer and Director
"The HappyCow website/app has been a great resource. I don't know what we would have done without it in Buenos Aires, Rio, Hong Kong, etc. I would encourage vegans to ask if dishes at vegetarian (not vegan) restaurants have dairy. In Madrid I had ordered a side of green beans and had to run to the bathroom soon after because it contained butter. That really put a damper on our romantic evening. I would say also to stay open to non-vegan establishments. The best meal we had on vacation ever was at a non-vegan hotel on the English countryside, where the world-renowned chef went to town with fresh plant foods. We still groan with pleasure when we talk about how good that food was."
Megan Griffith - Crunchy Vegan
"Do your research ahead of time. First, there are the basics: if you're traveling to some country where you don't speak the language, at least familiarize yourself with words like "meat," "dairy," "egg," "animal," "vegan," etc. It doesn't hurt to learn a little about local food traditions, either, so you can know what to avoid. Also, pack some goodies to hold you over during long trips. And look into your travel plans to make sure that you're supporting businesses that are having a positive impact on the world."
Rachida Brocklehurst - The Green V™
"Be positive and don't base your travel purely on food. It's brilliant to visit the cities that cater well for vegans, but travel is about so much more than just food. Create memories and experiences that will shape your future and expand your mind. It's also wise to remember that in some countries they won't know all about veganism, or perhaps won't fully understand it, so be polite and gracious – even if it may take a while to sort out your meal. Learn the basic words of the local language, embrace the culture and do your research before. Most importantly, enjoy yourself!"
Simon Fairbairn and Erin McNeaney - Never Ending Voyage
"Plan in advance – find out what local dishes are vegetarian and which restaurants have vegetarian options. I create a custom Google Map with the restaurants as well as the sights I want to see so that I can find the nearest place to eat. The HappyCow app is also useful for this. There's nothing worse than being starving and not being able to find somewhere to eat. And carry snacks just in case!"
Wendy Werneth - The Nomadic Vegan
"Don't limit yourself to places that have a reputation for being vegan-friendly. You can be vegan anywhere. Just do some research ahead of time and go into the experience with an abundance mindset."